St. Anthony, Hennepin County • No fee
Silverwood Park is a small but lovely park embedded in urban St. Anthony with attractions for hikers, bikers and paddlers. Hikers are welcome all year long.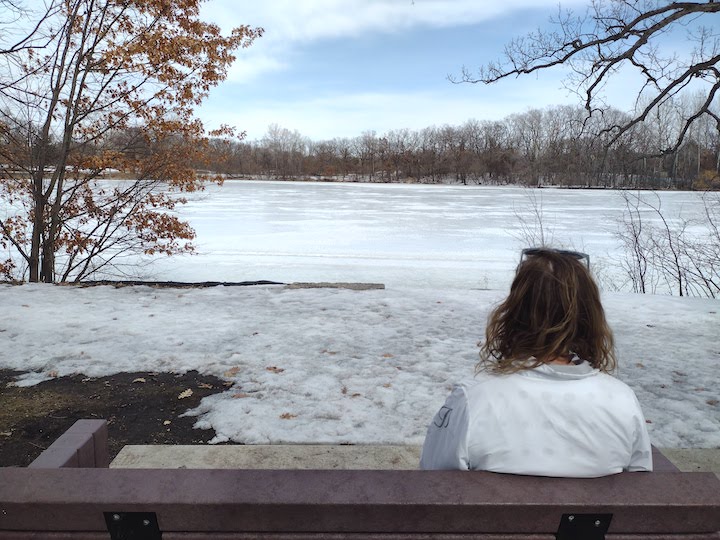 In this March of 2023 there was still plenty of snow on the ground (a high-volume year for us). But the paved trail that encircles Silver Lake is kept plowed throughout the winter for cold-weather hikers.
Early spring isn't necessarily the prettiest time of year here in the Twin Cities, but we enjoyed our hike anyway. Give us mature trees and a lake and we think it's beautiful any time of year, right?
Hike along Silver Lake and through Woods
There's only 1.6 miles of hiking at Silverwood, so if you're looking for miles upon miles, this isn't for you. It's great, though, for families with young children and anyone else just out to enjoy a mile or two through woods and along shoreline.
You can park and access the trail in several different spots: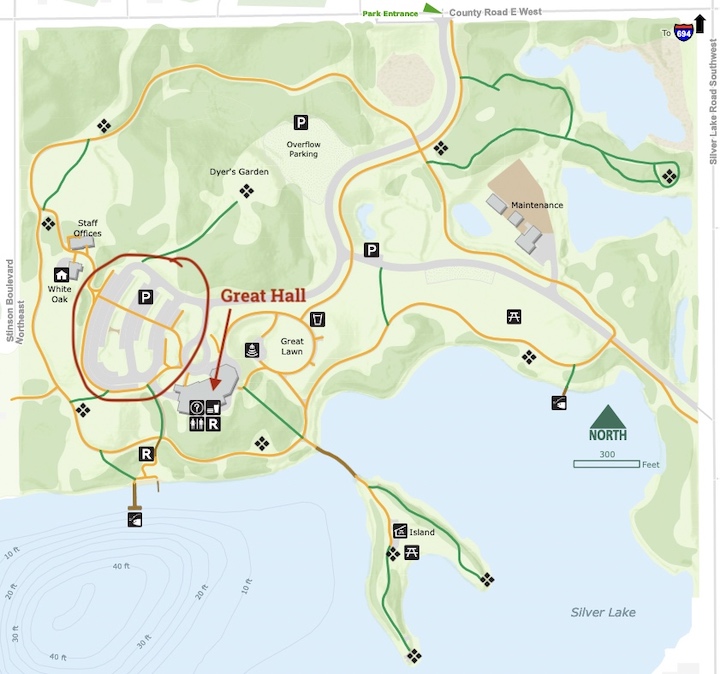 We parked in the large main lot next to the Great Hall (as shown above). Then we took the paved trail (shown in yellow) up through the Staff Offices to where it connects to the loop.
While most of the unpaved trails (shown in green) were under snow, we went out to the island to the tips of both peninsulas.
Silver Lake's ice was in the early stages of melting, which I think is always so pretty.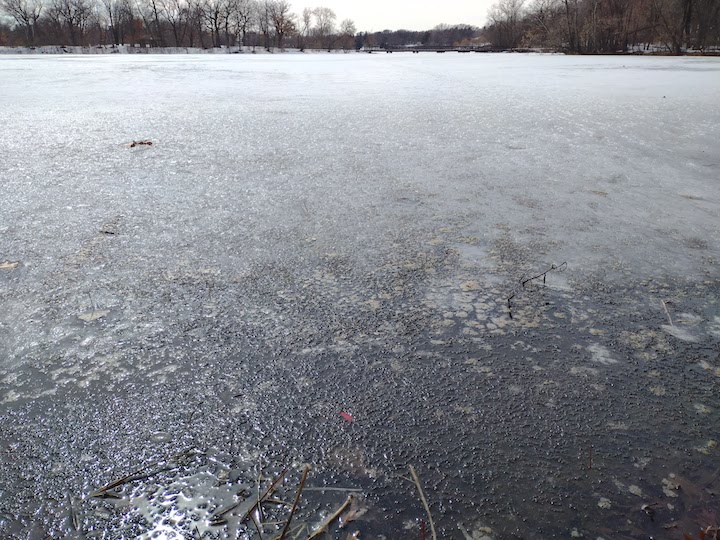 There are lots of benches along both the paved and natural-surface trails (marked by the diamonds on the map above). It's especially nice that there a several next to the lake.
Sculpture & Poetry Tour and Formal Gardens
Something unique about Silverwood are the various outdoor sculptures on the property, accessed by the trail system. There are interpretive markers for those who want to know more about them.
Our favorite was the huge kaleidoscope…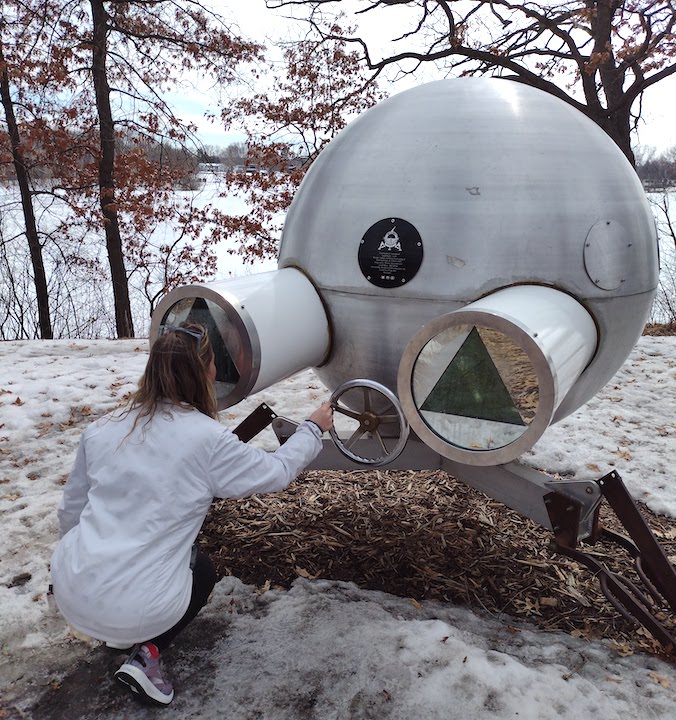 I want to get back there during the summer so I can see their formal flower gardens, too.
Visit the Coffee Shop
One fun attraction at Silverwood is the coffee shop in the Great Hall. Emilie and I stopped in there after our hike for some iced coffee and more conversation. They offer a wide variety of hot and cold coffees and teas, plus a few goodies.
The Great Hall also offers a venue for arts and crafts consignments by local artisans, as well as weekly activities for all ages.
Three Rivers Parks is making great use of this property!
Year-Round Activities
As I already mentioned, the paved trails are kept plowed throughout the snowy months so winter hiking is always a possibility. Of course hiking is popular here the rest of the year, too. The paved trail is also open to bikers.
You can rent a canoe or kayak during the summer to paddle Silver Lake's 49 acres. This lake would be a great place to teach kids how to paddle because of its small size—or really for anyone just learning to paddle.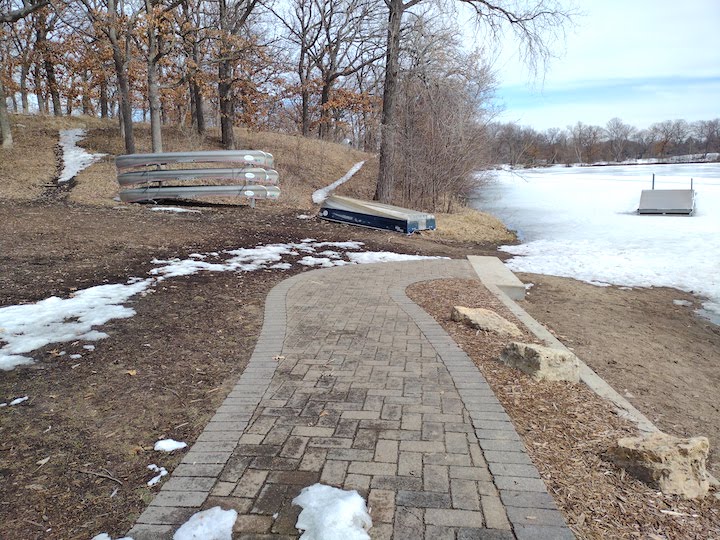 There are many lakeside homes across from the park, so I don't know how busy it gets with local boats during the summer. We'll find out, as we want to get out there on our paddle boards sometime.
There's also a public beach on Silver Lake adjacent to Silverwood that's not part of the park. Just FYI in case you want to add that to your to-do list while you're there!
How to Get There
Silverwood Park is at 2500 County Road E in St. Anthony. It's just southwest of the 694/35W intersection.
The most direct way is to take Silver Lake Road south from 694 to County E and take a right. You'll see the park entrance on your left.
Learn more about Silverwood Park and all it has to offer (it's also a wedding venue) by going to the Three Rivers page. You'll find maps there, too.
You'll like these, too…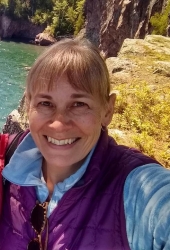 Latest posts by Sharon Brodin
(see all)