Stillwater/Washington County • Daily or annual park pass needed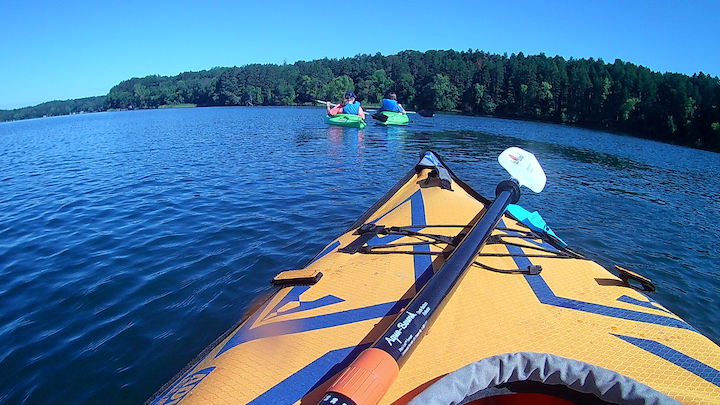 The centerpiece of Square Lake County Park is 200-acre Square Lake, our kayaking destination on a gorgeous summer day.
The Metropolitan Council has designated the park a regional "Special Recreation Feature" because of the lake's outstanding water quality. It's known as one of Minnesota's clearest lakes—something not necessarily expected right in the Twin Cities!
I've been canoeing the Boundary Waters for over 30 years, so I've seen a lot of clear water—and yes, Square Lake is beautifully clear!
About Paddling on Square Lake
203 acres isn't a large lake, so the water clarity plus the accessible shoreline make it a super local paddling destination. There's a nice boat launch and a beautiful beach at the park, too, so it's easy to get in and out and would be a great place to spend a day.
We went out on kayaks, but canoes and stand-up paddle boards are also grand here, of course.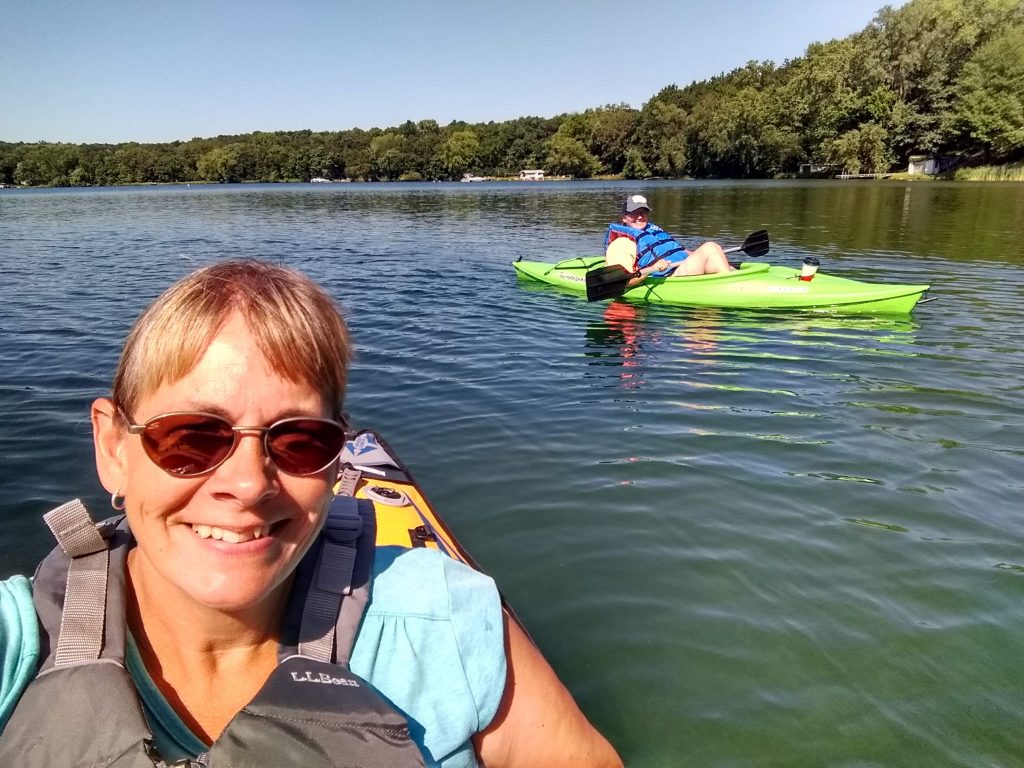 Motor Boat Traffic
We were there on a Wednesday morning in mid-August—a perfect time for kayaking the lake. I'm sure weekends are very busy with motor boats, both from the lake's residents and the park's visitors.
Even though there are no-wake zones, it's so much more relaxing to paddle when we're not dodging faster boats!
Paddling the Shoreline
There are plenty of homes around the lake, but there are also stretches of natural shoreline, which was nice to see.
In order to really enjoy the water clarity, you need to paddle in shallower water so you can see the bottom, the fish and the vegetation. So it's nice to have some areas where that's possible.
We took our time, made it around the whole lake and were out there about 2 hours, to give you an idea—including a lunch stop on the water (we brought lunch along).
Local Wildlife
The definite highlight of our morning was seeing this fawn eating along the bank: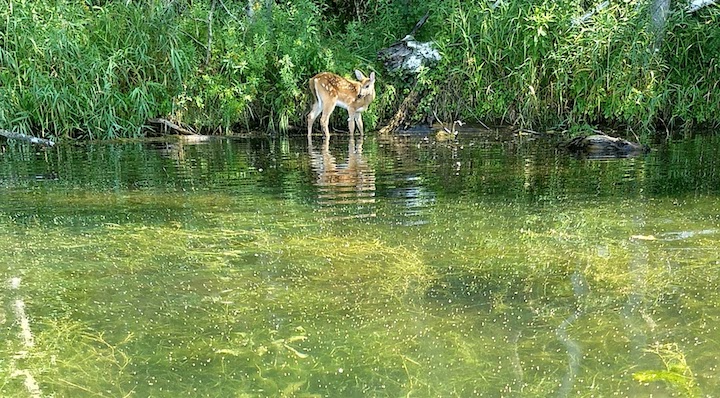 We watched it for a good 10 minutes from quite a ways out, thinking it would trot off if we got closer. But it was still there, so we quietly ventured in towards it. It was completely unconcerned about us, and just kept browsing on the water veggies.
You can get an idea of the water clarity in the foreground of this photo: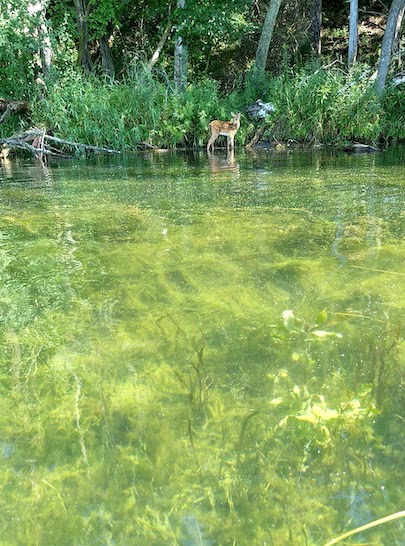 Finally it decided it had had enough and ambled back up into the trees. Even though we see deer often around the Cities, it's still a treat to see one up close!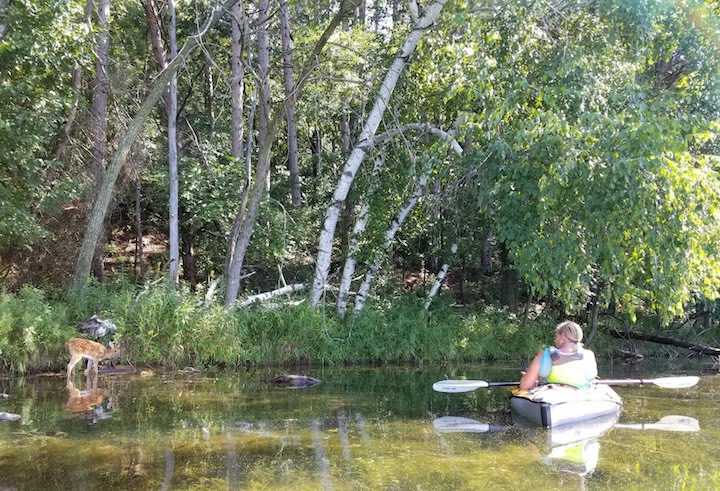 A loon and an eagle were also in the neighborhood.
What Else is at Square Lake Park?
The main attraction here is the lake, so it's all about water activities: paddling, boating, fishing and swimming. It's also popular with scuba divers, due to the water clarity. There were none there the morning we paddled, but they'd be fun to watch and talk to.
The beach is large and beautiful. As mentioned, the boat launch is nice, too. There are picnic tables, grills and plenty of mature shade trees.
NOTE: Dogs are not allowed in Square Lake Park, so keep your pooch at home.
How to Get There
Square Lake Park is just north of Stillwater between Highway 95 and Manning Trail (15), off Square Lake Trail N. The park is on the east end of the lake.
It's surrounded by beautiful rolling farm country.
You'll like these, too…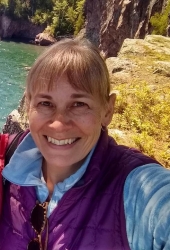 Latest posts by Sharon Brodin
(see all)