St. Francis to Ramsey/Anoka County • Vehicle permit needed in Rum River Central Regional Park • No on-site rentals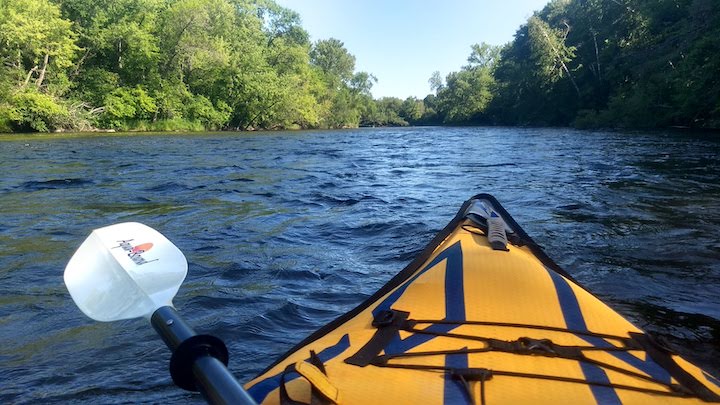 The Rum River is one of the Twin Cities' most popular kayaking and canoeing destinations, and for good reason.
The Rum is a designated Wild & Scenic River and a state water trail. The water is clear and clean, the shores are wooded the whole way, the launches are accessible and easy to use.
My friend, Niki, and I kayaked 13 miles of the Rum River last week: from Rum River North County Park to the south end of Rum River Central Regional Park.
It was the first time for both of us—a good example of living next door to a wonderful outdoor destination for many years without taking advantage of it! Now that I've been on it once I hope to make it an at-least-annual event.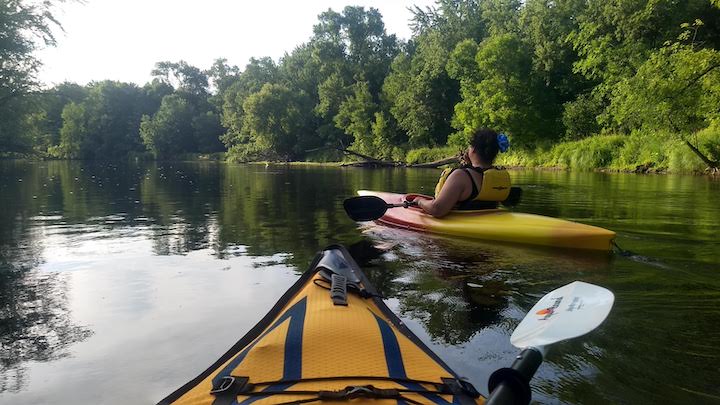 What's to Love about Paddling the Rum River
Clear Water & Clean Shores
Much of the water in the metro area is murky and weedy. But the Rum River is beautiful! As mentioned already, the water is clear and clean. We didn't see any trash along the banks, so the people who use it are respecting it.
There's plenty of private property along both shores, but it's all wooded and natural. Once we were within Rum River Central, it's park on the west shore and private property on the east shore.
Class I & II Rapids for a Little Excitement
I'm not necessarily looking for excitement when I paddle—at least from rapids! But the several stretches of Class I rapids on the 13-mile section we kayaked added some pizzazz.
I should qualify that: the rapids sections were all in the first 9.5 miles from Rum River North to the north end and first canoe launch of Rum River Central. The current was moving along at a good clip in that section.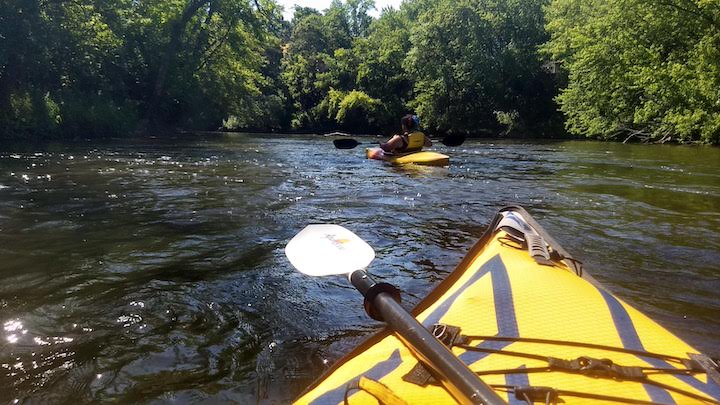 The 3.5 miles between the two canoe launches in Rum River Central seemed to us to be slower and calmer.
Early in the season and after a lot of heavy rain, the river is higher and will be faster, with bigger rapids, I imagine, probably Class II. (I'm not an expert on rapids classes!)
Wildlife
We saw three bald eagles, lots of ducks and lots of turtles while we paddled, including several large snappers! Watch out for your toes if you're going to be in the water 🙂
We got on the water about 3:00pm and off just after 7:00. We were talking the whole way, otherwise it's possible we could've seen deer or other wildlife if we'd been paying more attention.
Early mornings would be a lovely time on the river, and also prime time for animal spotting.
About the Rum River State Water Trail
The Rum flows out of Mille Lacs Lake and runs 145 miles south, then east, then south again until it reaches the Mississippi River in downtown Anoka. The entire river is a state water trail. The Twin Cities portion is in western Anoka County, starting at the border of Isanti County on the north.
This GeoPDF map (great for mobile devices) shows launches, parking areas, mileage and canoe campsites along the way for the section from Isanti south to the Mississippi.
What to Know about Paddling This Stretch of the Rum River
I don't know stats on which are the busiest sections of the Rum, but I'm guessing this is one of them since it's within the Twin Cities. The river gets a lot of use from kayakers, canoeists and "floaters"—people going down the river on tubes.
If you do this trip on a summer weekend, I advise arriving early in the morning to get a parking spot. If you can kayak or canoe it mid-week instead, there will be fewer people on the water and no problem with parking.
One of the tricks of river paddling is working out transportation for a one-way trip. Here's what we did:
We left one vehicle at Rum River Central Regional Park. You'll need an Anoka County or Washington County Parks permit. You can either come out at the boat launch on the north end of the park, or the canoe launch at the south end. There's a nice parking lot at both places.
Most people get out on the north end. But if you'd like to add another hour or so to your trip, follow the signs to the south canoe launch instead. Here's the summer park map. That's what we chose to do.
Then drive up to Rum River North County Park in St. Francis (no vehicle permit needed) to the canoe launch there, which also has a nice parking lot. Launch from there. Here's the map.
It took us 4 hours to kayak the 13 miles between the two canoe launches. We paddled the whole way, as opposed to floating, although not strenuously. We took a 10-minute break at the boat launch on the north end of Rum River Central to stretch our legs for a bit.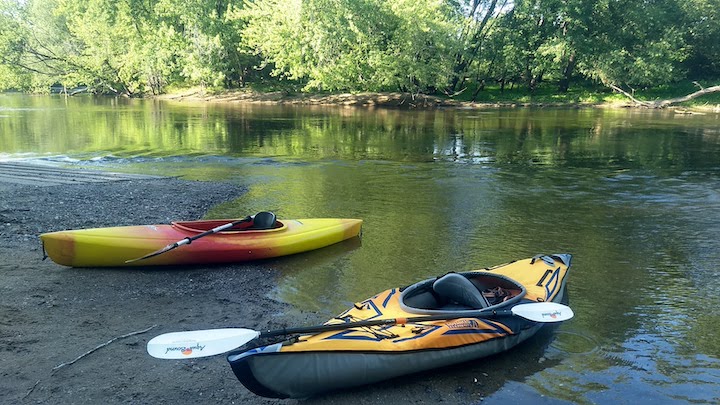 A tip on canoe launches: I like to know where I'm getting out so I don't miss it! After parking at the south canoe launch in Rum River Central, we walked the trail to the river to check out landmarks before driving up to launch at Rum River North.
I'm glad we did that so we recognized it immediately. But the Parks folks also put up a couple large signs letting us know #1. it was coming, and…#2. when we had reached it. That's very helpful, too!
How to Get There
Rum River Central Regional Park is off Highway 7 in Ramsey, at 17955 Roanoke Street NW. You can follow Highway 7 north then, and follow your GPS to 23100 Rum River Boulevard NW in St. Francis. It's about a 15-minute drive between the two parks.
Another option is to start at one of the launches at Rum River Central and paddle south to the confluence with the Mississippi River. It's 14 miles from the north launch and 10.5 miles from the south launch.
If you choose that route, the southern portion will get into urban neighborhoods and businesses in Anoka, and you'll have to portage around the dam in town.
You'll like these, too…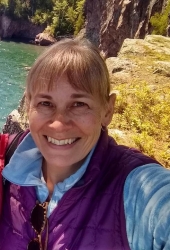 Latest posts by Sharon Brodin
(see all)