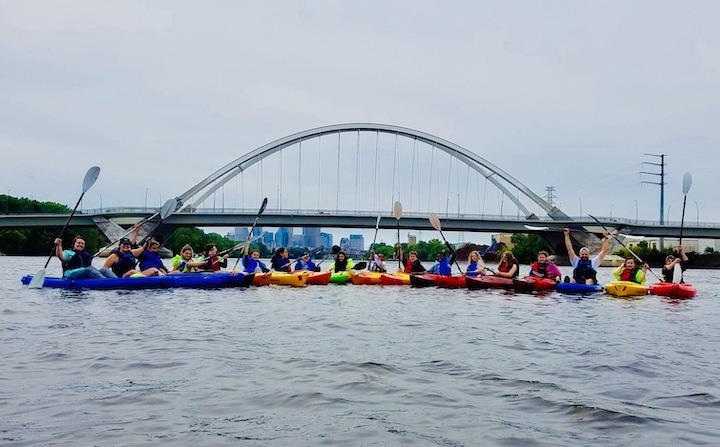 John Schulte, owner of Twin Cities Kayaking, has a unique approach to renting kayaks. Instead of asking you to go to him, he brings his kayaks to you.
John has several kayak routes he serves. He'll meet you and your group at the launch with his kayaks, get you going on your route, and then meet you at the end to pick the kayaks up.
On river routes, customers use two cars, use Uber, and sometimes even bikes to get back to their cars.
This service is perfect for groups of 2-4 or more who don't have their own boats and gear but still want to explore our local waterways.
Route options include:
Mississippi River from River Park to Boom Island
Mississippi River from Hidden Falls to Harriet Island
Rum River from St. Francis to Ramsey
Rice Creek from Circle Pines to Shoreview
Minnehaha Creek, depending on water conditions
Kinnickkinnic River in River Falls, Wisconsin
Most trips can be guided or self-guided
John also gives beginner paddling lessons on Lake Johanna in Arden Hills on Wednesdays, along with open rentals there at the lake, too. Both stand-up paddleboards and kayaks are available.
Get all the details on the Twin Cities Kayaking website.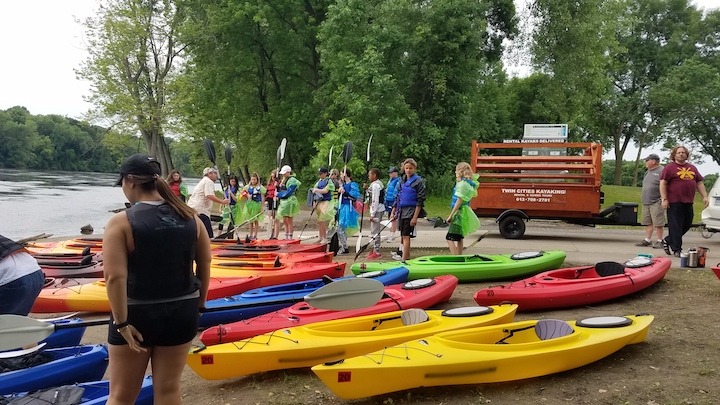 John and I had a video chat recently where he gave me the scoop on Twin Cities Kayaking:
How did you get started with Twin Cities Kayaking?
JOHN: I was introduced to kayaks about 20 years ago and always had a couple. I've always had people ask me to take them kayaking, since I had two. After I turned 60, I thought about starting a kayaking business. I came across a winter sale on kayaks, bought some, and test marketed it. It seemed to go well, so I bought more the next year. I'm in my third season now.
I started small and grew it. I've lived in the City my whole life but never wanted to live in the city! So this is how I get to be in nature and not sit at a desk 8-10 hours a day. This is how I'm going to end my career.
What's your favorite thing about owning this business?
JOHN: The kids—their smiles and faces. They're excited they can actually do it. Lots of kids do this who are around 8-9 years old. A lot of them do really well at that age. I remember from when I was a kid, some of these trips will be with them forever. It's fun to be a part of it.
I'm mostly around happy people. The paddlers come out with big smiles. I've only come across one or two grouchy ones, if they lost their stuff or didn't pay attention to instructions.
How many customers do you serve each season, on average?
JOHN: I can tell this year's busier than ever, right around 400 people. I'm very relaxed, and usually will do just one group each day. Sometimes I'll do a short event in the morning then another later in the day.
I'm not focused on "production." I'm old—I don't like watching the clock!
Go out and have fun, I'm not counting minutes. There are no fines if you're late. Call me when you're done and I'll pick you up. I do as many people as that allows.
The paddling lessons at Lake Johanna have been very popular. I give people a jump start with the paddle strokes they need to know to advance their skills quickly. It's all about being able to steer. I give a quick overview of our recreational kayaks and paddle strokes. We practice on land then get on the water.
I have one additional independent guide right now, Molly, who's doing a tremendous job. She knows all the runs we do and leads our lower Mississippi Two Rivers Tour into Saint Paul.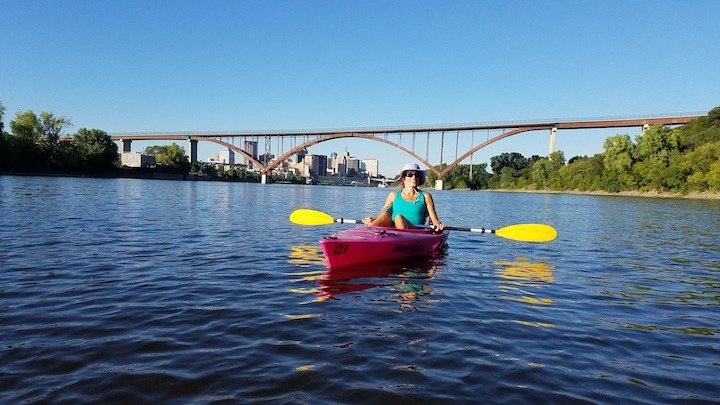 She also helps me load and unload kayaks when we do big runs together. She's been a real life saver for me at my age!
When I expand the business, it'll be through independent operators like Molly. I'll handle the marketing, advertising and booking for them and get a percentage of their earnings in return.
In your opinion, what are the best water trails or locations for Twin Cities paddlers?
JOHN: That's like picking a favorite kid! My first love is the Mississippi, but they're all a different and a unique experience. I love them all.
I can say what I like the least—I'll never do the upper Rice Creek again. It's over-choked with Eurasian milfoil and other weeds. We can only do it early spring anymore. The section just below Baldwin Lake to County Road I is wonderful, though, as is the final miles to the Mississippi when the water levels allow.
The Mississippi is easy, kind of like a slow-moving lake. There are no sharp turns…it's good for beginners. Rice Creek is slow-moving and a good place to practice your turning skills. The Kinnickkinnic is faster—the lower Kinni is Class II, so you have to know what you're doing. But the upper section we do is gorgeous and fairly easy for most paddlers.
When I think of adding a potential run, I think "Is this going to be a great experience?" I'm giving people water experiences. I won't put anyone on a piece of water I don't like just to rent them a kayak.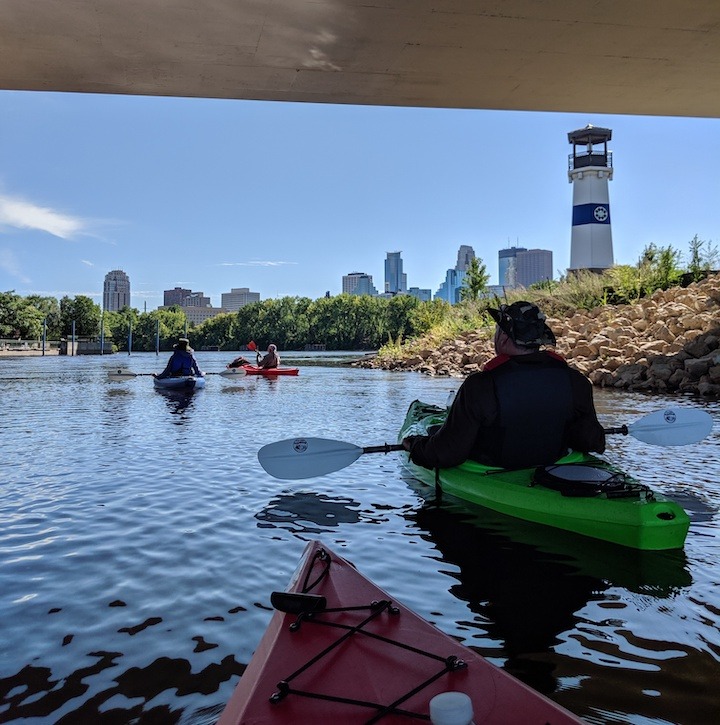 What's your most popular trip with your customers?
JOHN: The Mississippi, to see the City. I get a lot of people from out of the country and from different states.
Everyone in the world knows about the Mall of America and the Mississippi River. It's world-famous. It's something they can talk about when they get home.
Unlike further south, it's safe to paddle the Mississippi up here. A week ago I did a family from Spain and they were so excited. They were taking pictures of the skyline, etc. That was a guided tour, so I showed them the best spots for photos.
My next most popular is Rice Creek, then the Rum. The Kinnickkinnic is fourth, but we just started that one.
Twin Cities Paddle Club
John is founder and moderator of the Twin Cities Paddle Club, too. This public Facebook Group has 1,700 members.
You're welcome to join, too, to meet other paddlers, get destination suggestions, ask questions and talk paddling. Click here to join and participate.
Last words from John:
"You have one life—kayak it well!"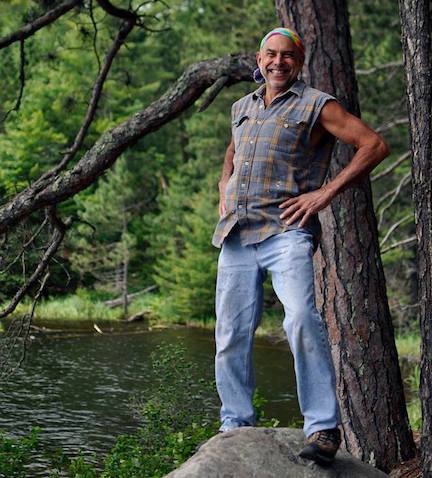 For all days, times and prices for your next kayak trip, go to: TwinCitiesKayaking.com. For video highlights of the trips, check out their YouTube channel.
You'll like these, too…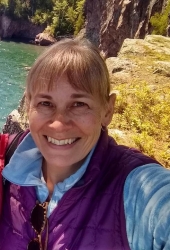 Latest posts by Sharon Brodin
(see all)