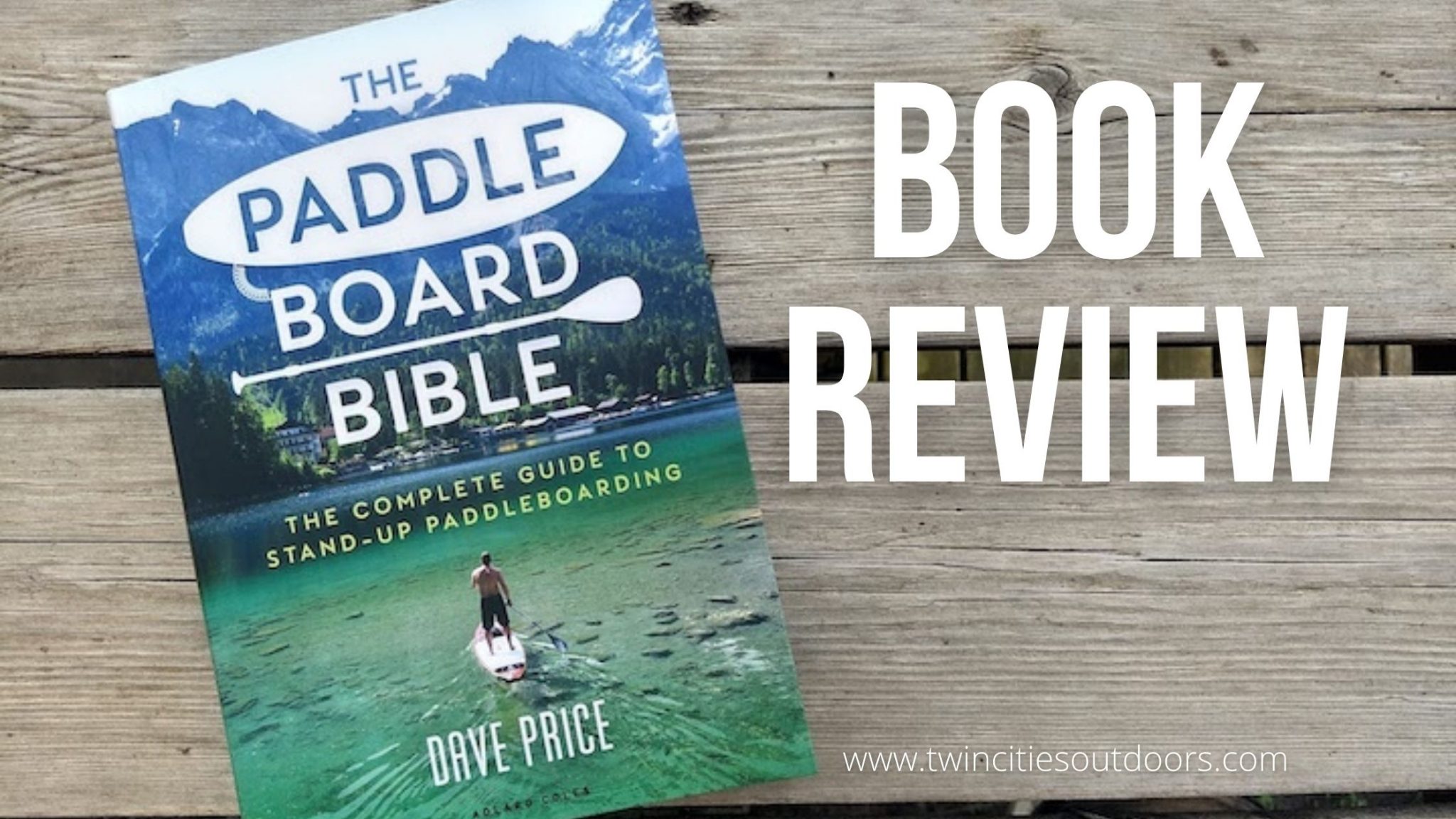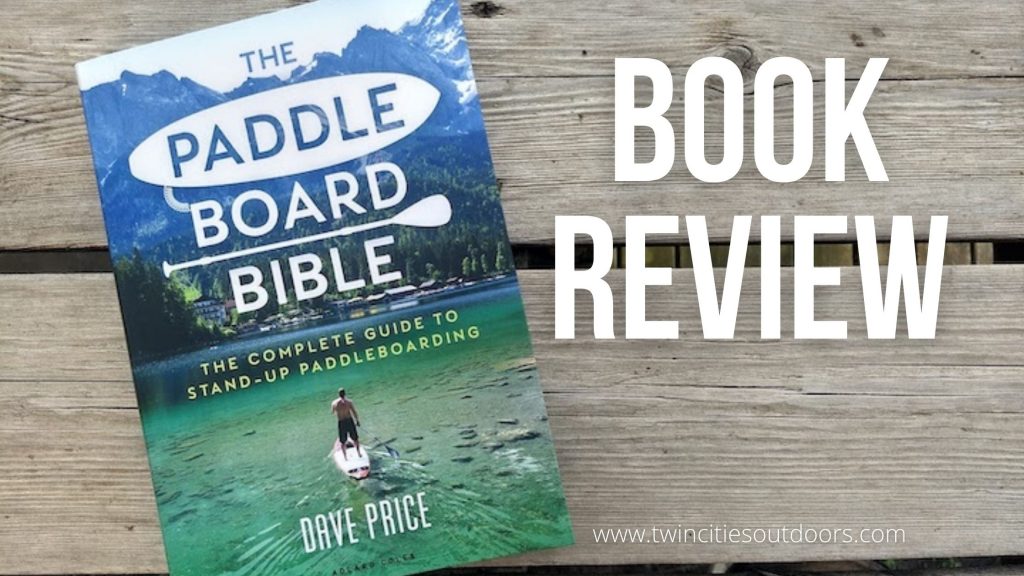 The Paddleboard Bible: The Complete Guide to Stand-Up Paddleboarding, by Dave Price, truly is a complete guide to one of Minnesota's favorite water sports.
Stand-up paddleboarding (SUP for short) has been growing in popularity since the Outdoor Foundation started keeping track of it here in the US, beginning in 2010.
With over 1,000 lakes, three major rivers, and smaller rivers and creeks, the Twin Cities metro is a wonderful place to SUP. Any lake with a public access is fair game, plus the many parks scattered throughout the area.
The Paddleboard Bible is a super resource to have on hand while you learn and as you grow in your paddling skills as a SUPer.
What We Like about "The Paddleboard Bible"
GREAT FOR NEW AND EXPERIENCED PADDLEBOARDERS. There's something for everyone in this book—good "how to" for beginners and plenty of tips for those who've been SUPing for a few years, too.
LOTS OF PHOTOS AND ILLUSTRATIONS TO SUPPORT THE TEXT. Since paddleboarding, like a lot of outdoor activities, is best learned by doing, it's essential that a book have plenty of visuals. This one does.
WRITTEN IN A FRIENDLY, INFORMAL STYLE. Dave Price knows his stuff, but he never talks above our heads. It's easy to read, fun to read and understandable for the paddling lay person. And since Dave is from the UK, there's some British jargon sprinkled in here there that's fun for us Americans to read!
FUN TO HAVE INSIGHT FROM OUTSIDE THE U.S. Paddleboarding is, as the book says, the fasted growing paddlesport in the world. So looking at things from a European perspective is kinda fun. Makes one want to do some more traveling!
INCLUDES HOW SUP BOOSTS OUR HEALTH. Paddlesports are all extremely healthy pursuits, and SUP just may be the best of them since it involves the entire body more than the others. It's good Dave stresses the health benefits we get from paddleboarding.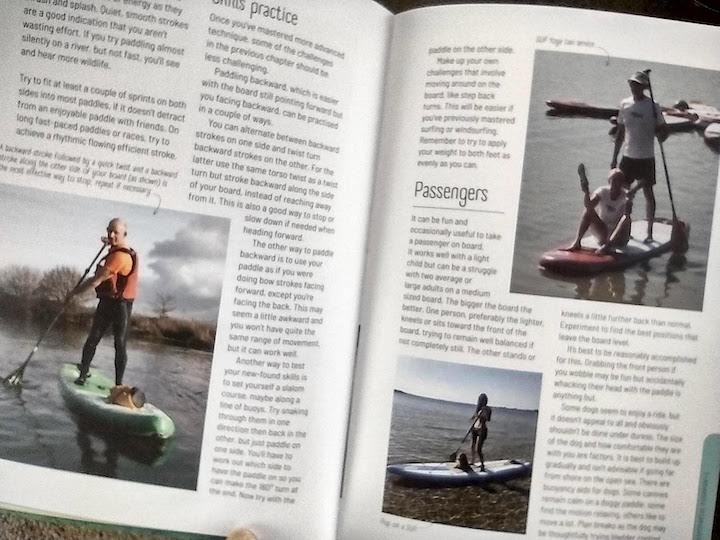 IDEAS FOR SUP GAMES. This is something I haven't seen elsewhere! Great ideas for families with kids, camps, teachers/coaches, and anyone wanting more challenge, creativity and fun with SUP.
ADDRESSES HAZARDS AND SAFETY CONCERNS. Paddlesports are very safe generally, but anytime we're on water there's risk involved. Beginners, especially, need to be aware of potential hazards on rivers, on big water, or on cold water.
TALKS ABOUT DIFFERENT TYPES OF SUP. Recreational SUP—paddling around a lake or down a river—is just one type. There's SUP surfing, SUP racing, SUP yoga, SUP touring. The author gives an overview of the possibilities.
EMPHASIS ON NATURE AND WILDLIFE. Being nature lovers ourselves, this is an added bonus! The author includes plenty of nature in the photos and text.
Anything We Didn't Like?
AT SOME POINT YOU NEED HANDS-ON LEARNING. This is an obvious limitation of a book. But the author doesn't intend for a reader to use only this book for learning more about SUP. Being an instructor himself, he understands the need for both education and hands-on doing.
For new SUPers, you'd do very well to read this book, then sign up for a lesson or series of lessons with one of our local instructors.
A BIT ON THE PRICEY SIDE. The cover price is $25, which is more than we're used to spending on what's called "trade paperback" books. But for a niche book of this type and quality (it's printed in full color on hefty paper), it's not overpriced.
It's not the kind of book you read once then give to Good Will. It's a reference book you will keep going back to, especially as you move on in your SUP journey.
About the Author
"Dave Price is a certified SUP instructor at Easyriders, one of the UK's leading watersports centres, as well as The Watersports Academy, home of stand-up paddleboarding on the south coast. As well as teaching beginners, he also leads SUP expeditions, and his wildlife tours are especially popular. He has been featured in the Guardian's Weekend magazine for his SUP activities and is the author of The Paddleboard Bible." (from the publisher's page)
Where to Buy It
The Paddleboard Bible is available on Amazon.
(Disclaimer: I received a review copy of The Paddleboard Bible at no cost to me. I was not paid to write this review. All opinions are my own.)
Here's more…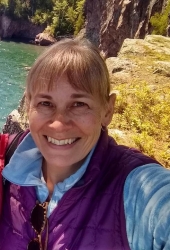 Latest posts by Sharon Brodin
(see all)