Shoreview/Ramsey County • No vehicle permit needed • No rentals available
On the first day of summer, my friend and I met at Snail Lake Regional Park to paddle board the lake. We were excited to see first-hand what it offers local paddlers.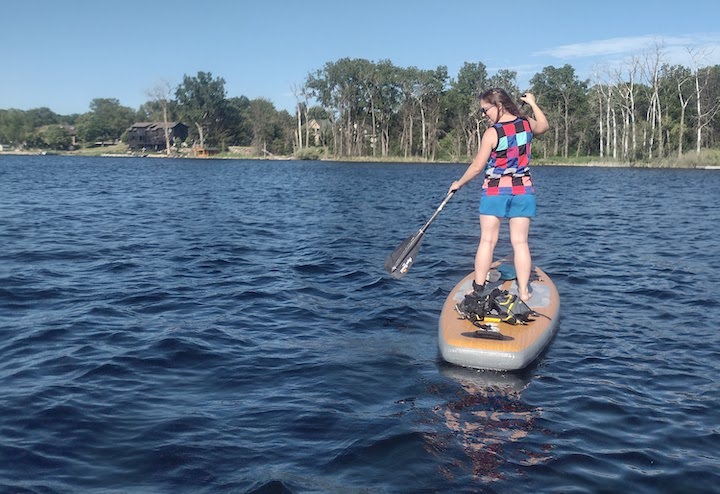 Neither of us had been on Snail Lake before, in any type of boat. And I was particularly excited because it was my maiden voyage with my new inflatable board and my new paddle—gotta love that!
What's to Like about Paddle Boarding Snail Lake
There's a lot in favor of paddling on Snail Lake via the regional park:
Easy to Access
Snail Lake Regional Park is just 11 miles north of downtown Saint Paul. It's location makes it easily accessible to thousands of people within the metro area.
What sets it apart from the other dozens of lakes in its vicinity is the lovely park with plenty of parking, including a separate boat launch.
If you have a trailer, you can park and launch at the boat ramp area, which is separate from the main parking lot. We both had inflatables so we parked in the shade in the main lot and carried our boards to the water via the beach.
Big Enough, But Not Too Big
At 190 acres, Snail Lake is big enough to enjoy an hour or two of paddle boarding (also known as SUP—stand-up paddle boarding). But it's not so big that waves are an issue or that you can't see it all in those couple of hours if you want to.
Because there was a strong headwind against us as we headed north from the beach, it was tough going for awhile. So we made it as far as the narrow, distinct point on the west side as the lake opens to the left.
We decided we had had enough of the wind, and found a deep, non-weedy spot for a swim.
Clear, Clean Water
At least during this third week of June, the water was clear and clean. When we jumped in for a swim it was refreshing—not cold, but not bathwater.
I love to be able to look into the water, especially while standing on a paddle board. That's one of the advantages of being higher off the water.
The water is clear enough that if we would've stuck closer to the shorelines we could easily have seen fish swimming around.
Beautiful Neighborhood with Friendly Folks
I've always enjoyed being in the Snail Lake area. The surrounding neighborhoods are lovely. The shoreline is partly protected natural areas and partly residential homes.
We were out on our boards in the evening with highs in the low 80s that day. I imagine the lake gets busy on the weekends, as the homes all have docks and boats. But there were only a couple pontoons and another SUPer or two on the water that night, as well as a handful of folks at the beach.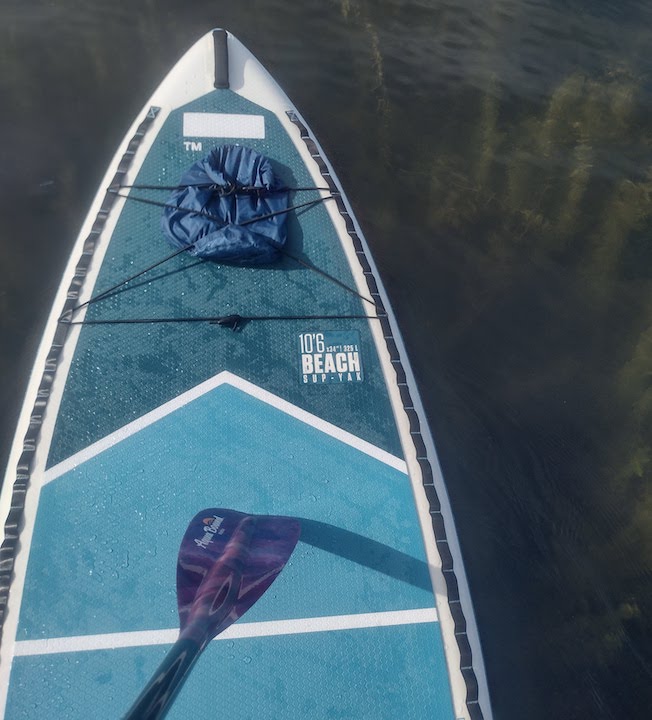 As we were swimming, we had been in the water long enough for a local resident to become concerned about us. He came out on his jet ski just to be sure we didn't need any help. Wow! We really appreciated that he cared, even though we were doing fine.
On-Site Building with Restrooms
If you're coming from work like Emilie was, there's a nice building within an easy walk from either parking area with restrooms and space to change.
Paddle Boarding & Swimming in Snail Lake
There are two main reasons why I love to paddle board:
It's the best workout of any of the paddlesports because it involves all your major muscle groups and…
It's easy to get in the water for a swim and climb back on your board. That feels SO GOOD on a hot day!
We both knew swimming was on the to-do list that evening so we paid close attention to what was below the surface.
Snail Lake is, apparently, not real deep as we could see plenty of aquatic vegetation, even out in the middle. We were able to find a couple of likely spots, though.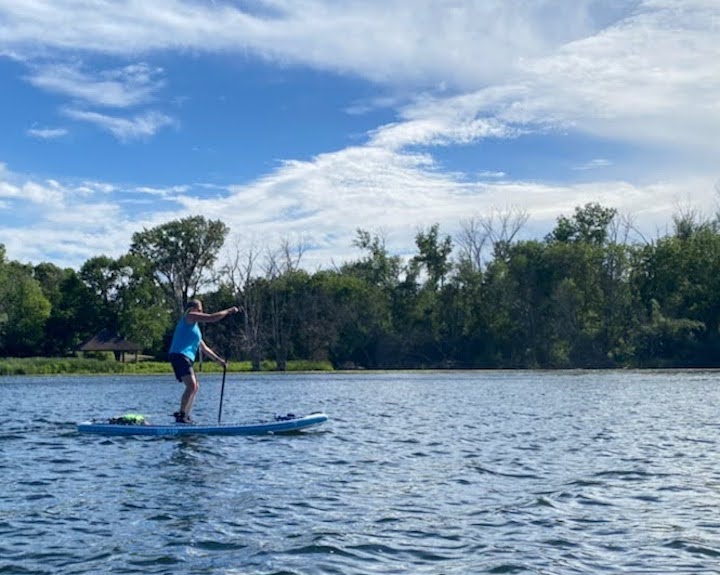 We didn't get into the northwest section or close to the east side, so there could be more swim-able spots than we found.
What About Kayaking & Canoeing?
Kayaking and canoeing would also be fun on Snail Lake. In gusty wind, kayaks are by far the easiest to paddle. But either of these would also be good options to explore the lake.
The boat launch area gives you much closer access to the water than the main parking lot. So you'll want to park there if you have a longer, heavier boat.
What Else is at Snail Lake?
Snail Lake Regional Park isn't large, just 459 acres. It's mostly known for the beach, boat launch and picnic areas.
If you park there, though, you have access to hiking and bike trails most months of the year. In the winter you can access cross country ski trails from the boat launch parking area.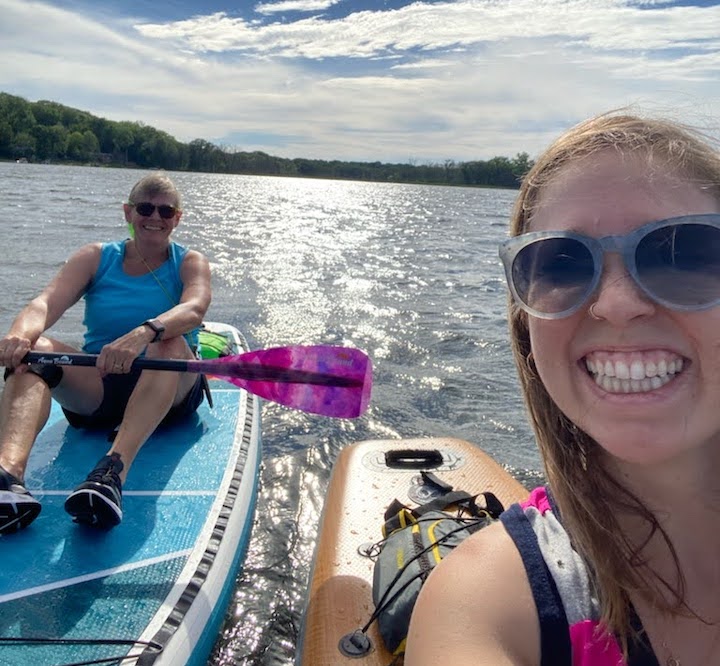 How to Get There
Snail Lake Regional Park is between I-694 and Highway 96 in Shoreview. From 694 take the Victoria Street exit, north to Snail Lake Boulevard. From 96, go south on Snail Lake Blvd.
The address is 4191 Snail Lake Blvd.
Here's more…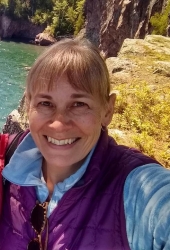 Latest posts by Sharon Brodin
(see all)