Lino Lakes/Centerville, Anoka County • No fee for Peltier Lake Public Access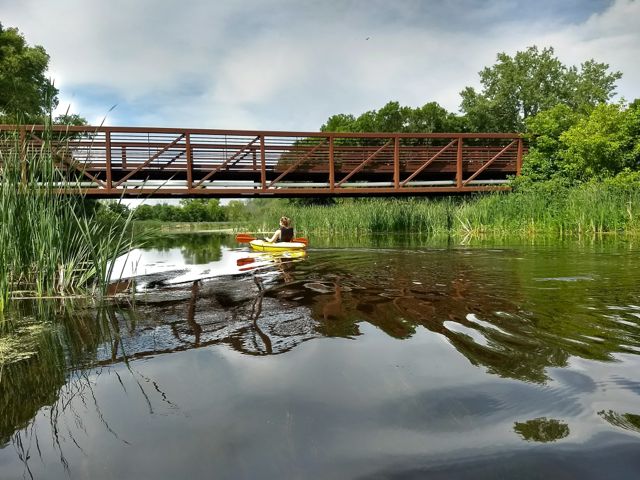 The Rice Creek Chain of Lakes Park Reserve has one of Anoka County's three main water trails (the others are the Rum River Water Trail and the Mississippi River). You can paddle within the Reserve and have plenty of room. Or continue down Rice Creek as far as the Mississippi River.
My friend, Elizabeth, and I had a fun 5 hours of kayaking. Here's what to expect:
What's Great about Paddling in Rice Creek Chain of Lakes
IT'S QUIET—These lakes are very shallow and mostly within the Park Reserve. So—at least on this Friday—we didn't see any motor boats on the water. We saw a handful of other paddlers and a couple fishermen. I assume it's busier in the evenings and on weekends.
IT'S SCENIC—One of the things we liked best was the variety of scenery. Going from lake to creek back to lake back to creek…Lots of trees, several bridges to paddle under. Water lilies are one of my favorite wild flowers, and they're abundant in early-to-mid-summer.
Honestly, I'm used to canoeing and kayaking in the clear, deep lakes of northern Minnesota. Shallow lakes like these with lots of vegetation don't appeal to me. But, hey, it's a local place to paddle that's not full of motor boats!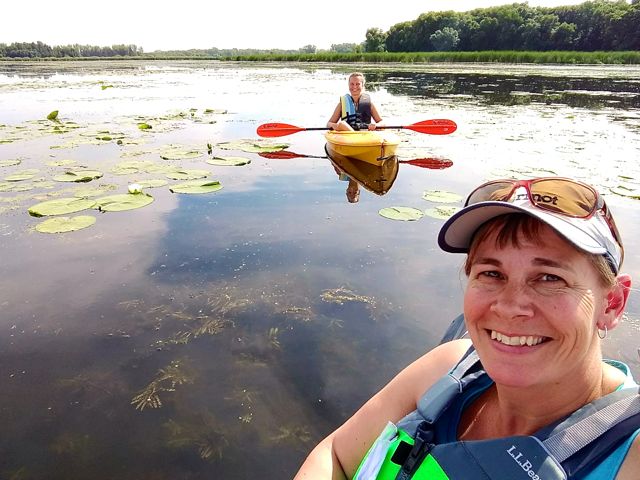 IT'S ACCESSIBLE—We put in at the Peltier Lake Public Access, just below the dam. There's no charge to enter or park here. There are several other access points along the water trail, too, so you have a few options to launch or leave from. It just depends on how much time you have and where you want to paddle.
THE WILDLIFE—I've never seen so many blue herons in one day (or realized they make the throaty noise they do!). We saw great blue herons, egrets, geese, ducks, osprey and one green heron. I didn't take pictures of the birds because I didn't have my Nikon with me—but I could've gotten several good ones from my kayak with a nice zoom lens.
We also saw turtles, fish and a couple critters swimming we couldn't identify—maybe an otter or muskrat.
What to Know Ahead of Time
PRINT & BRING THE MAP—If you want to paddle the whole chain, you'll need the map (click and then scroll to the bottom of the page). It's not at all obvious where the creek meets the lakes in most places. Print it out and take it in a gallon-size clear Ziplock bag to keep it dry and readable.
LOW WATER—As I said, these lakes are very shallow. If there hasn't been much rain or if it's the end of the summer check the water levels to be sure you can paddle through…especially in a canoe. You can check water levels here.
CATTAIL SHORELINE—While pretty, having a shoreline of mostly cattails makes it hard to find a place to pull off and get out if you want to.
INVASIVE AQUATIC SPECIES—[2022 update] I haven't personally been through the chain since I wrote this back in 2017, but my daughter and her husband took a canoe on George Watch Lake last summer. They said the weed mats were so thick they could hardly paddle the canoe. So early/mid spring is usually the best time for paddling here.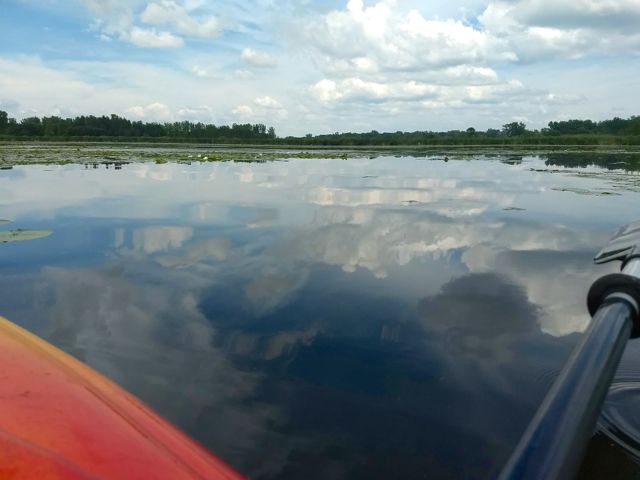 What's Up with the Hodgson Road "Portage"?
Elizabeth and I had planned to put in at the Peltier Lake Public Access and continue to the access point at the Rice Creek North Regional Trail parking lot on Lexington Avenue (outside of the Park Reserve).
We knew there was a short portage at the bridge at Hodgson Road (between Rice and Baldwin Lakes) because of the electric fish barriers the Rice Creek Watershed District installed. It's cited on the RCWD website and the Anoka County Parks website.
There were two definite issues here:
The "Portage Here" signs are on the east shore, but the shoreline there is completely cattails with no visible portage. If it's there, it's not maintained. We ended up getting out across the creek on the west side where there was a solid shore.
There's a chain-link fence blocking the river on the other side of the bridge. So it's impossible to portage across the road—which is what we assumed we were supposed to do—and put in on the other side.
I emailed the Rice Creek Watershed District office the next day to ask about it, and got a prompt reply on the first business day possible. The gentleman said the barrier isn't operational currently and apologized for the confusion. They changed the info on their website immediately. Now it's clear what to look for and when.
Hooray for great work there, folks!
How to Get There
If you have your own boat, use the public access at Peltier Lake, on Highway 14 in Lino Lakes. If you need to rent a canoe or kayak, go to Wargo Nature Center, also located on Highway 14 in Lino Lakes. You can start on the water trail from either of those points.
There's also a small parking lot and access off Aqua Lane, between Marshan and Rice Lakes on the west side of the Park Reserve. That's where we pulled off for lunch so we could get out and stretch our legs a bit.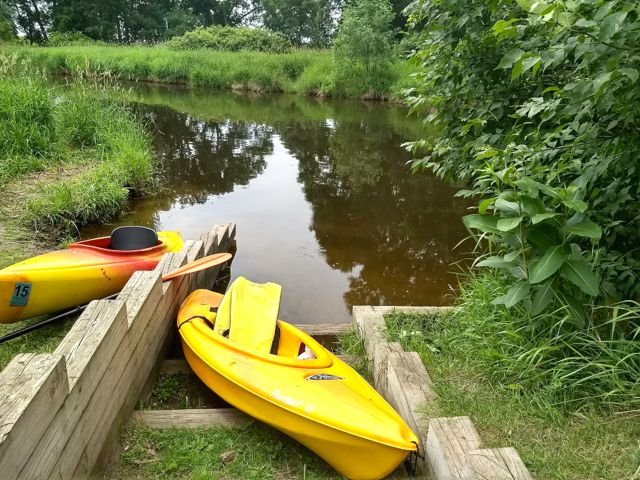 You'll also like: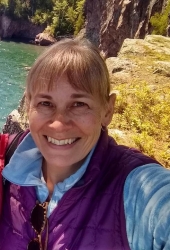 Latest posts by Sharon Brodin
(see all)