Rockford/Hennepin County • No vehicle fee
Lake Rebecca Park Reserve, on the western edge of Hennepin County, has a huge trail system for hikers, both paved and natural surface.
This lovely 2,577-acre park is located between Rockford and Delano, and is worth the drive! Even on this spring day before the trees were budding and things were greening up, I was struck by the beauty of the landscape.
What Hikers Will Love about Lake Rebecca
Lake Rebecca is right up there as having the most trails for hikers of any park in the metro area. The summer map shows 26 miles—8 miles on paved trails and another 18 unpaved. The vast majority of the unpaved are horse trails. You're welcome to hike them, too, but give horses the right-of-way, please, and watch where you step 🙂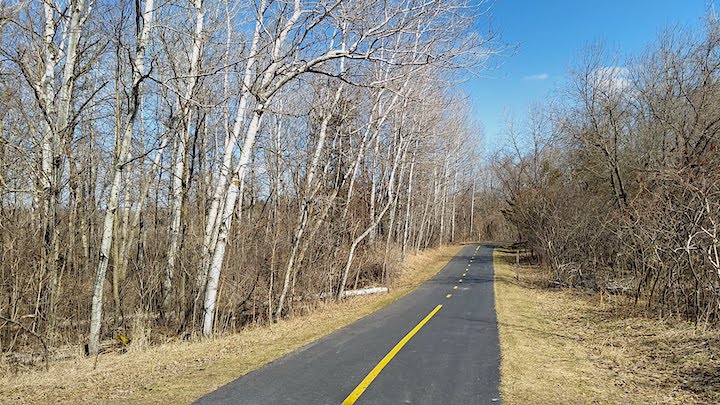 Then there are an additional 13+ miles of dirt trails in the single-track bike park on the west side of Lake Rebecca that are also open to hikers. You can see that map here.
If there's a disadvantage, it's that much of the trail system involves long loops. So if you're just there for a short distance, plan on an out-and-back hike. The trail around the lake is 6ish miles, the horse loop, about 10.
Last week, we hiked the route shown below in blue—it was beautiful!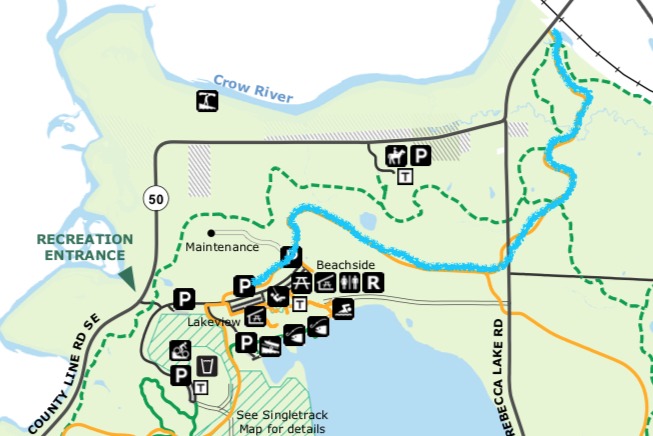 If you're a photographer or birder, this park reserve is known for its wildlife. It's part of Three Rivers' Trumpeter Swan Restoration Program. Several hundred of these striking birds congregate in the fall, and there's a large nesting population.
A Great Park for Trail Runners
With so many miles in one place, Lake Rebecca is a super location for trail runners, especially for long runs. I wish I would've known about this park back in my days of half-marathon training!
Winter at Lake Rebecca
During the snowy months, 10.5 miles of the trail system is open for multi-use: hikers, cross country skiers and snowshoers. Nothing is groomed. Here's the winter map.
What Else is at Lake Rebecca
There are a ton of outdoor rec activities available here. Besides hiking there's:
Biking—both on the paved trails and the mountain bike/single-track park
Horseback riding (bring your own horse!)
An amazing playground (shown below)
Swimming beach
Boat launch for your canoe or kayak. But, this is a motorized lake, so watch out for boat traffic on the weekends and holiday.
Group camping for tent campers. Both Group Sites have direct access to the trail system.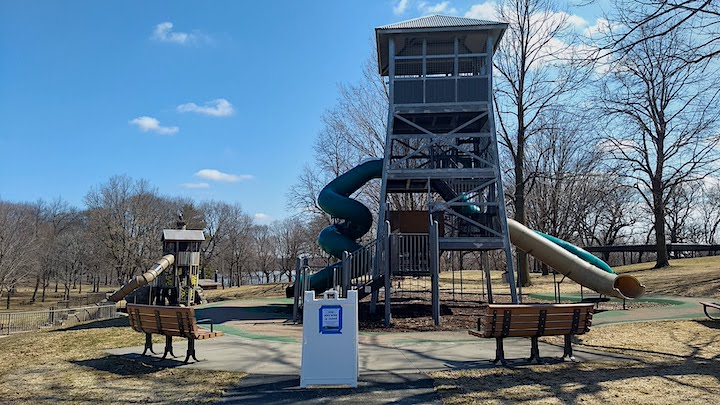 How to Get There
The address for the park is 9831 Rebecca Park Trail in Rockford. It's on the western edge of Hennepin County, not far off Highway 55. The recreation entrance is on the west side. There's lots of parking available.
Even though it's a haul for most Twin Cities' residents, it's worth it! Very beautiful and a ton of stuff to do.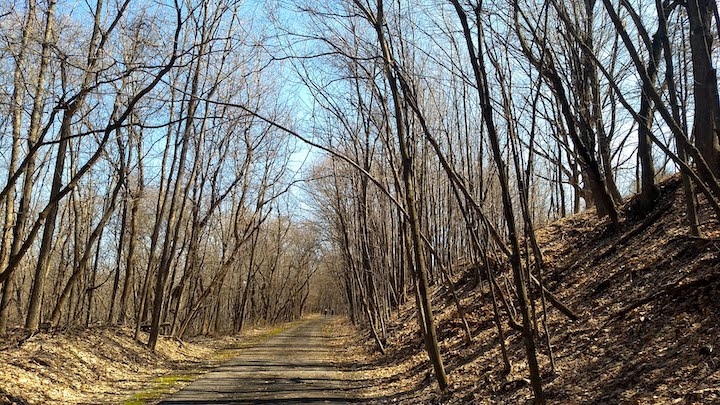 You'll like these, too…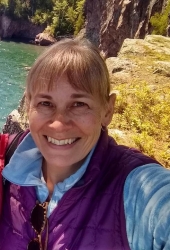 Latest posts by Sharon Brodin
(see all)