Saint Paul/Ramsey County • No vehicle permit needed
Indian Mounds Regional Park in Saint Paul has a unique place in the Twin Cities park system for a couple of different reasons.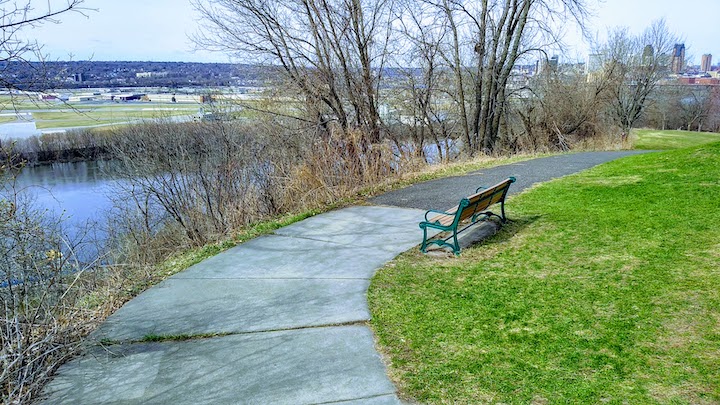 First, it's the burial grounds of several different indigenous people groups, covering a history of over 1,000 years. It's the only burial mounds preserved within the Twin Cities Metro.
Second, this small park has spectacular views of the Mississippi River and downtown Saint Paul.
Why We Love Indian Mounds
THE QUIETNESS—Though within sight of downtown Saint Paul, Indian Mounds Regional Park is set in a primarily residential neighborhood off a relatively quiet street. Though busy, it's not noisy with traffic and other industrial sounds.
I visited the park on a weekday in early spring, so didn't have the sounds of children playing or families gathering. It's possible it's not as quiet on the weekends and in the evenings in the summer—but those are good noises!
THE VIEWS—Especially in the cooler months, November through April, when the leaves aren't on the trees, there are spectacular views of the Big River and the Saint Paul skyline to the west.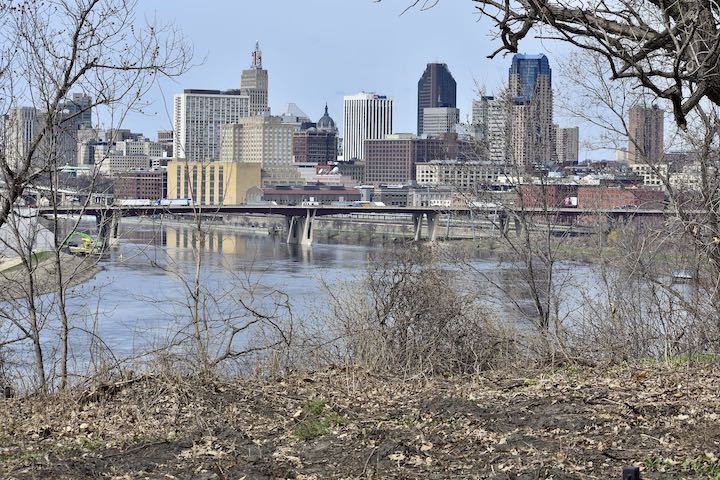 As you hike further east to the other end of the park, there's a beautiful overlook downriver, too.
THE HISTORY—Those from the park system have done a nice job fencing off the Mounds, still sacred to the Native people. There are interpretive signs in various places, too, so we can educate ourselves on why this area is so special to them.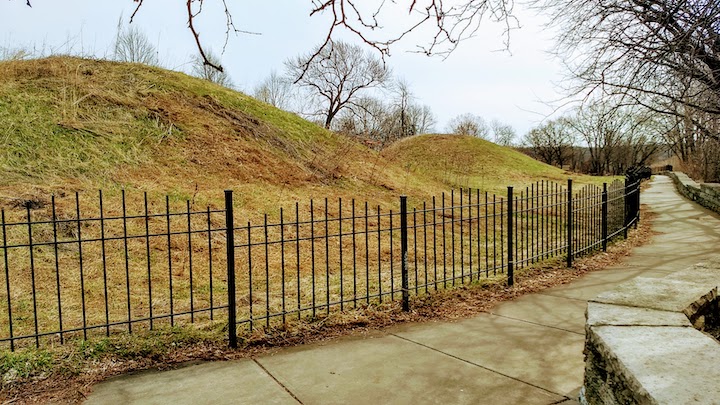 A NICE HILL WORKOUT—Whether hiking, running or biking, there's a nice long uphill segment of the trail!
Educational Opportunities at Indian Mounds
While you hike, consider educating yourself and your family in some of the ways the park system has provided:
INDIAN MOUNDS PARK TREE TREK—Pull up the Tree Trek map and take it with you as you walk through the park. The different tree species are labeled so you know what you're looking at! A great field trip for homeschool families.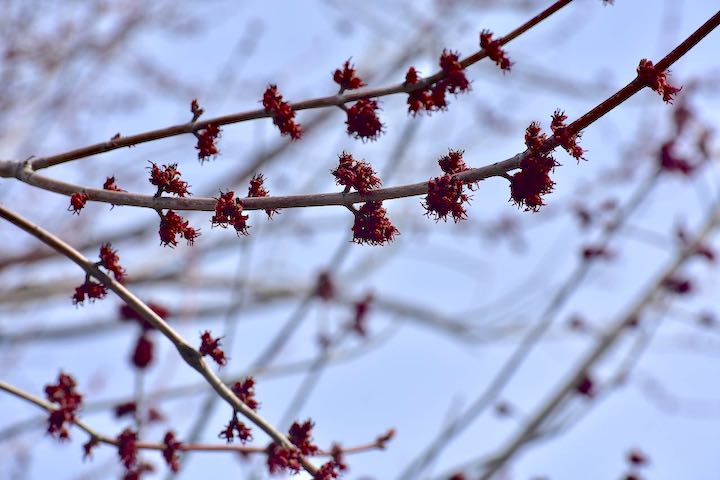 CULTURAL LANDSCAPE AND MESSAGING PLAN—Download this free PDF book (it's over 200 pages!) and learn more about the American Indian heritage of the Mounds. Produced for the City of Saint Paul by several collaborating groups.
Though small, this regional park is worth a visit for its great views and important historical and cultural significance.
Here's more…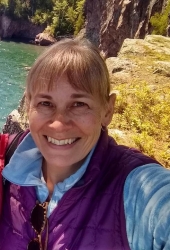 Latest posts by Sharon Brodin
(see all)