Skijoring is relatively new outdoor winter activity in the Twin Cities, and is becoming more and more popular in recent years, particularly the dog kind. That's usually what we think of here in Minnesota when we hear the word skijoring.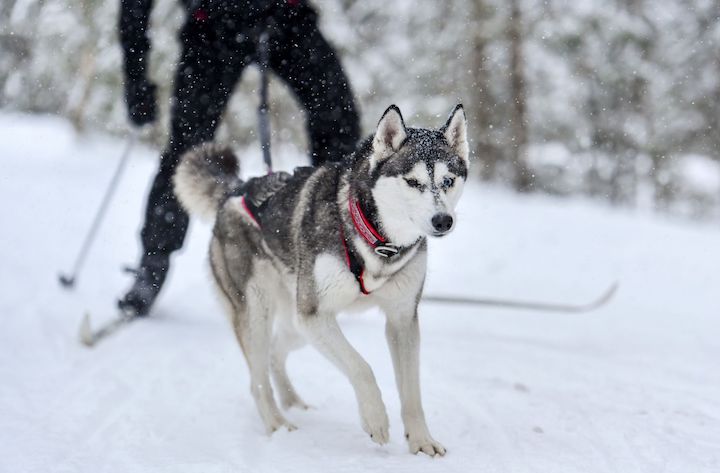 Skijoring comes from the Norwegian snørekjøring, which means ski driving. "Getting dragged across the snow by horses, planes, reindeer and dogs is a unique sport that's at least 1,000 years old," says this article on the International Skiing History Association website.
There are several skijoring courses in Twin Cities' parks, and I'm quite sure none of them allow you to bring a horse, reindeer or plane to pull you! Our local skijoring culture —at least in the parks—limits us to partnership with our dogs.
Skijoring is a kind of first cousin to dog sledding, but with a lot fewer dogs (usually just one) and skis instead of a sled.
Whether you dream of competing or just want another fun way to get out and move with your dog, here are some things to know about getting started with skijoring here in the Twin Cities:
Gear You Need to Skijor
Cold Weather Apparel
Skijoring is a winter sport, so you'll want all the cold weather gear for an energetic outdoor activity. Dress like you would for cross country skiing or running and you should be fine.
That would include:
Wind-resistant or windproof materials for your upper and lower body, plus your head, face and hands.
A light insulating layer for both upper and lower body. How much insulation will depend on the outside temperature and your own body's thermostat.
Ski Gear
Skijoring is done with cross country skis, probably starting with the ones you already have.
If you and your dog find you love it and want to pursue it as a serious hobby or even competitive sport, you can get more focused on picking up some dedicated skis down the road.
Most people like to use skate skis for skijoring, especially for groomed skijoring trails. They're shorter and more maneuverable than classic (touring) skis, and the skating technique is much faster than classic. For competition, skate skis are a must.
As noted by Skijor USA, though, classic or touring skis are definitely suitable for recreational skijoring, especially if you don't want to invest in a new ski package.
Consider wearing a helmet. Remember: you'll be traveling at a relatively high speed with a relatively unpredictable large dog pulling you on trails with hills, trees, ice and other possible hazards.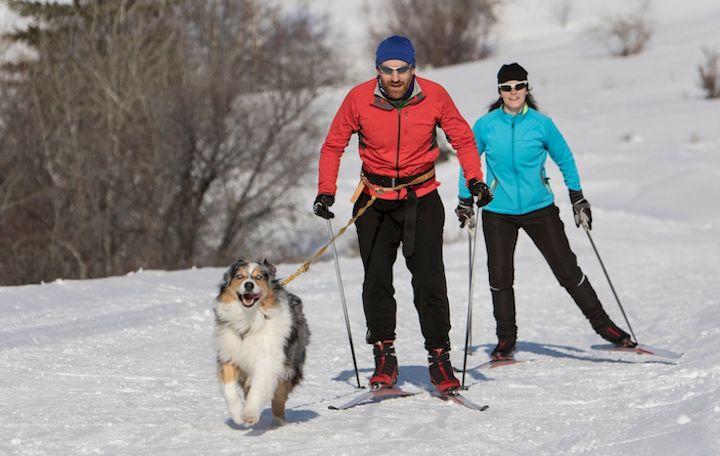 Skijoring Gear
Besides your own apparel and ski gear, there are gear items you'll need for both you and your dog to skijor:
HARNESS AND TOW LINE for your dog. You need a harness that's designed for towing, as it spreads the weight load evenly over your dog's body. Pups Pal has lots of recommendations, and this article on Norwi Ski has some excellent information.
A good fit for the harness is important. You don't want it too small to be uncomfortable or too loose for your pooch to slip out of it. Never use a neck collar for skijoring!
There are skijoring-specific tow lines that are about 9 feet long and have a bungee included, for some forgiving slack.
HIP BELT for you. Your dog pulling you over a few miles can get hard on your back. Hip belts made specifically for skijoring offer good back support. A quick-release clip that holds the tow line is essential in case you have to separate yourself from your dog in a hurry.
DOG SLEDDING BOOTIES are optional. Their purpose is mostly to protect your dog's feet on icy snow and other rough conditions that could cause injury. If you want to try them, maybe buy cheap ones first and let your dog wear them around the yard. Some dogs hate them and will just chew them up anyway!
As an alternative, a lot of skijorers recommend Musher's Secret ointment, "a 100% natural, food grade wax that forms a breathable barrier for your animals' paws."
How much will you spend?
Assuming you already have your cold weather and ski gear, you can expect to spend between $120-260 for new skijoring gear—the harness, tow line, hip belt and foot gear.
In a recent post on Skijor Minnesota's Facebook Group, members offered several great suggestions for both new and used skijoring gear: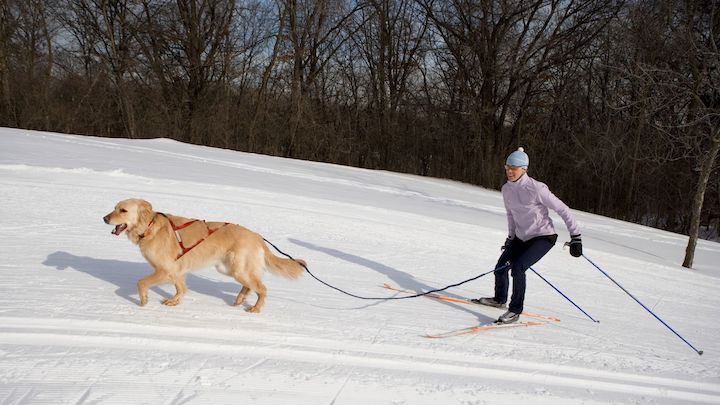 What Kind of Dog is Best for Skijoring?
In theory, any dog over 35 pounds is a candidate for skijoring. But the best breeds for this sport are athletic, love to run, have lots of energy and don't mind the cold. If you can't get your dog to stop pulling on the leash during your walks, this could be a match made in heaven!
Huskies, malamutes and samoyeds are obvious picks, since they're commonly seen on dog sled teams. Pointers, retrievers and border collies are high on the list, too, because of their high energy and working instincts.
Aside from breed, though, are a few requirements for skijoring success:
You're confident your dog will listen to you in public. If your dog is the Alpha instead of you, focus on obedience training for awhile.
Your dog is in good physical condition and can handle the rigors of the trail.
Your dog isn't aggressive with other dogs. You'll likely find others skijoring on these public trails, too.
What Skiing Skills Do You Need?
Experienced skijorers recommend that you be able to cross country ski at an intermediate level before attempting to learn skijoring.
Adding a dog into the mix brings a whole lot of unpredictability! You don't want to have to focus on controlling your skis at the same time you're trying to control your dog if it happens to, say, start chasing a squirrel.
If skijoring is a dream for you but you lack the skiing skills, that's easily fixed by taking some lessons or joining a local ski club to get more practice.
Beginner Skijoring Tips for Safety and Fun
OK, so you have the dog, the gear and you're confident in your own skiing skills. Now what?
Most of us will have to start teach our dog how to pull when wearing the harness. This article from Daily Puppy has some great tips on that.
ALWAYS pick up after your dog when out on the trail. Bring a couple of plastic bags along with you every time you go out. The quickest way for the parks to start closing skijoring trails is for skijorers to leave the trails a mess!
Join the Skijor Minnesota Facebook Group. Anytime you can get into a local, friendly community of like-minded people it'll enhance your experience. Ask questions, go watch other members skijor, go to a couple competitions.
The About page of SkiJor USA has loads of great information for both beginning recreational skijorers and racers. Check it out!
Have patience with yourself and with your dog, and have fun!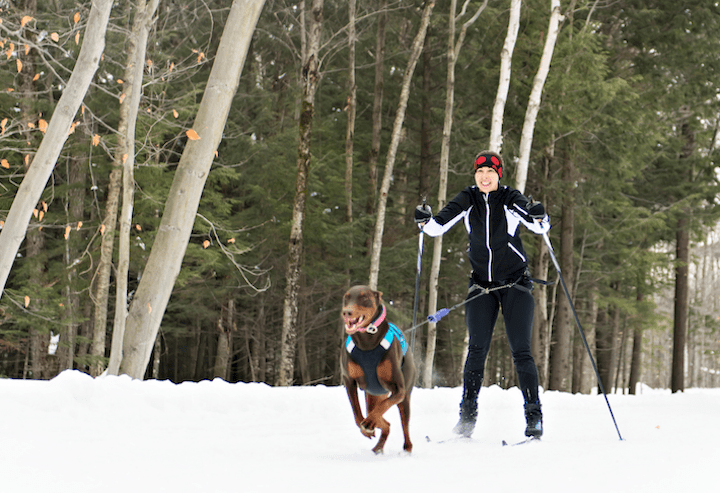 Twin Cities Parks Open to Skijoring
As of this writing there are a dozen local parks that have either a designated skijoring area or allow skijoring on their multi-use trails. Your dog must be licensed and on the tow line or leash at all times to be in the parks.
Anoka County
Bunker Hills Regional Park (Andover/Coon Rapids) has 12 km of dedicated skijoring trails on its west side. You'll need a Minnesota Ski Pass. Here's Bunker's winter map.
Dakota County
Lake Byllesby Regional Park (Cannon Falls) welcomes skijoring on its 5 km multi-use winter trail. No ski pass is needed. Here's the Byllesby brochure with trail map.
Hennepin County
Baker Park Reserve (Maple Plain) welcomes skijorers on its 5-mile multi-use trail. No ski pass needed. Here's the Baker park page with link to the winter map.
Chain of Lakes Regional Park (Minneapolis) welcomes skijorers on its cross country ski trails. These are unique in that much of them are over the frozen lakes. You'll need the Loppet Ski Pass. Here's the Chain's ski map.
Columbia Golf Course (Minneapolis) welcomes skijorers on its 3.5 km of cross country ski trails. You'll need the Loppet Ski Pass. Here's the ski map for Columbia.
Crow-Hassan Park Reserve (Hanover) welcomes skijorers on a 2.6 mile section of its ungroomed trails. No ski pass needed. Here's the park page with link to the winter map.
Eagle Lake Regional Park (Plymouth) has 1.6 miles of multi-use winter trails that welcomes skijorers. You'll need the Three Rivers Ski Pass. Here's the park page with link to the map.
Elm Creek Park Reserve (Maple Grove) welcomes skijorers on a 4.5 mile multi-use trail loop. No ski pass is needed. Here's the Elm Creek page with link to the winter map.
Hiawatha Golf Course (Minneapolis) welcomes skijorers on its 4.1 km of ski trails. You'll need the Loppet Ski Pass. Here's Hiawatha's ski map.
Theodore Wirth Regional Park (Minneapolis) welcomes skijorers on several of its trails, totaling about 8 kilometers. You'll need the Loppet Ski Pass. More about skijoring at Wirth.
Scott County
Cleary Lake Regional Park (Prior Lake) designates 1.5 miles of its trails for multi-use, including skijoring. Three Rivers Ski Pass needed. Here's the park page with a link to the winter map.
Murphy-Hanrehan Park Reserve (Savage) has almost 6 miles of multi-use trails open to skijorers. No ski pass needed. Here's the park page with a link to the winter map.
(All photos from Canva)
You'll like these, too…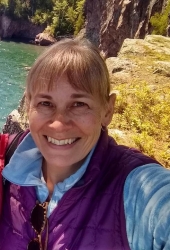 Latest posts by Sharon Brodin
(see all)