Over the Hill Outdoors offers outdoor recreation instruction for adults, serving the Minneapolis/Saint Paul metro area. These private and semi-private lessons give clients the confidence they need to pursue an outdoor activity that could become a lifelong joy for them.
Founder and owner, Natalie Griffith, and I met recently over video chat so she could tell me about her business…
What Over the Hill Outdoors Offers
Natalie is a certified instructor in several different outdoor activities. Her main focuses are archery, kayaking and cross country skiing:
Archery
Looking at Natalie's archery credentials (including Minnesota regional and state championships and national placements) and then realizing she began her archery journey less than ten years ago is pretty amazing.
The fact that she was an adult when she started should give us all hope that we can learn these rewarding outdoor sports as adults!
Natalie offers a couple different archery courses as well as what she calls "guided practice" and custom sessions (see them here). Her philosophy is to focus on technique so her clients can shoot safely, with confidence, while having a lot of fun.
Class sizes are just from one to three people at a time. That means you get very individualized instruction. While she focuses on teaching adults, she's found many parents want to do a class with their kids. So she'll take a parent/teen combo.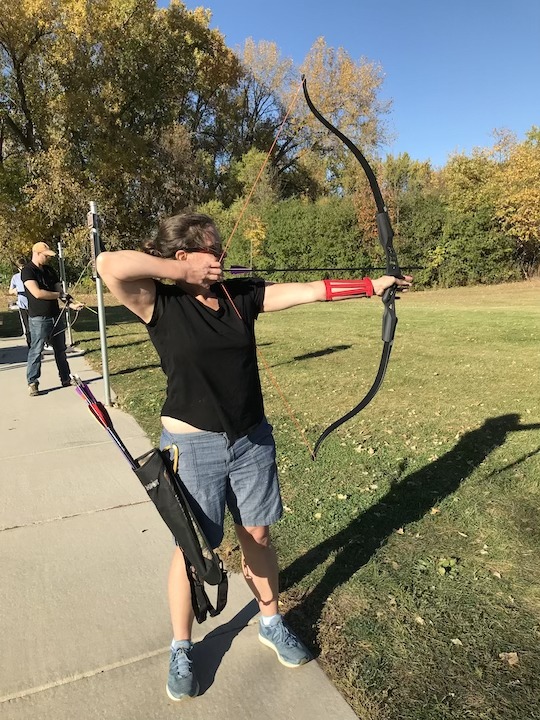 She's also found her archery classes make wonderful date nights. She laughed when she said, "It's a great relationship indicator—especially when the woman kicks butt!"
Natalie provides the gear for the introductory classes, but counsels her clients to buy their own gear for more advanced instruction. "The biggest challenge for new archers, after getting introduction to technique, is having equipment that fits properly. The bow, arrows, and archer must all be matched in order to progress well."
Kayaking
Natalie has been a Level 4 Whitewater Kayaking Instructor with ACA (American Canoe Association) for 20 years. Most of her kayak students want to learn how to kayak Level I and II rivers and flatwater (lakes)—all of which are readily available here in the Twin Cities.
She says, "So my first question is, 'What do you mean by kayaking?' and then go on to figure out what kind of instruction would help them most with their particular goals. Play and vacation in Minnesota so often means water. I want people to know how to enjoy their paddling more through better technique, and to come back safely to paddle another day."
Natalie works with beginning and intermediate paddlers. Her lesson groups are from one to four people, so her instruction is very personal to their needs and goals.
Natalie is also a Level 1 Canoe Instructor so she can teach you all the main canoe strokes and safety essentials if the Boundary Waters is on your bucket list.
One of the very unique offerings Natalie has are called Cabin Sessions. She'll meet you out of the Cities at your cabin for your instruction. She'll even do a kayak/archery combo package if you're interested by both.
No matter which course you choose, you'll need your own kayak and gear, or Natalie can recommend rentals in your area. See her course offerings here.
Cross Country Skiing
Cross country skiing was Natalie's first love. She's been an avid skier since 1979 and is a certified Nordic Level 1 Instructor through PSIA (Professional Ski Instructors of America).
You can learn both classic and skate skiing from Natalie. Her Intro to Classic Skiing is for complete beginners and Intro to Skate Skiing for those comfortable with the classic style and ready for some speed.
With hundreds of miles of groomed cross country trails throughout the Twin Cities—even some that make their own snow—there's sure to be some near you. As with the paddling courses, you'll need your own equipment or Natalie can suggest area rentals.
She also offers a package of ski lessons, guided coaching and Cabin Sessions. See all the details for her ski courses here.
Cross Country Ski Club
Natalie started a Ski Club this past winter for clients asking for more time and practice. Most of the other local ski clubs and park programs were already full (thanks to Covid), so she put together a 10-week club and went where she could find the best snow.
"The club provides technique support and companionship for club members while sampling ski trails all around the area," she said.
Next winter she plans to continue the Ski Club, but this time will have a defined beginner group and a separate beginner-intermediate group. That way Club members will have an experience suited to their skill level.
What Makes Over the Hill Outdoors Unique
As you can see from the business name Natalie chose, she caters to older adults. She chose this route intentionally. She noted there's plenty of instruction out there that targets youth and families. She wanted to give her clients an experience that was neither performance oriented or dumbed down. "I decided to own 'over the hill'!"
Most of her clients have had their own equipment for many years. They've been frustrated with their lack of progress and want to be able to enjoy their chosen sport more. Natalie has training in adaptive programs as well, which has helped her customize her instruction to clients with health issues like hip or knee replacements.
The unique way she operates by going where it's convenient for her clients rather than asking them to come to her…by offering Cabin Sessions…by limiting class size for highly individualized instruction—all of these are rare in the outdoor recreation world. It's the way she likes it.
"The most common feedback I've gotten, that I take as a really high compliment," said Natalie, "is that my clients and I feel like we're friends. I haven't seen my ski clients now for awhile so I'm trying to come up with ideas for group activities this summer with them."
She goes on: "I've so enjoyed the interactions with my clients. It's so enriching. I come home so energized and also exhausted!"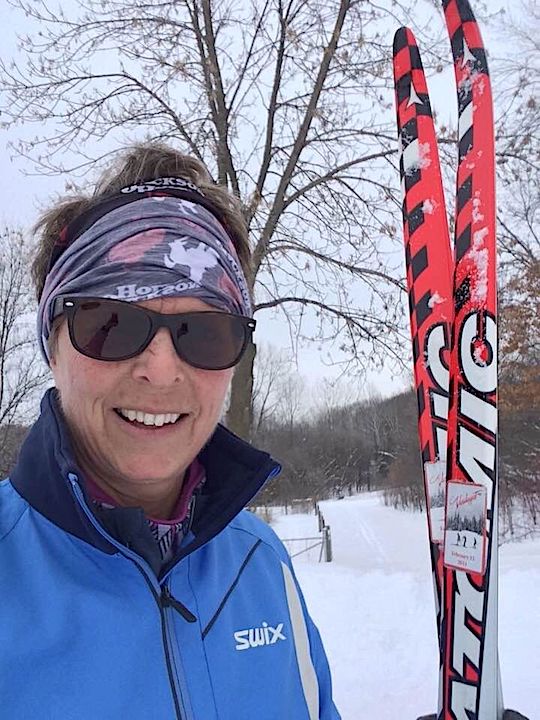 To learn more about Over the Hill Outdoors, including other options besides those we talked about here, see the website: overthehilloutdoors.com and Facebook page.
You'll like these, too…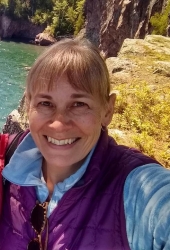 Latest posts by Sharon Brodin
(see all)