When asked what their favorite fall color trail is in the Twin Cities metro, several readers put in their vote, along with some photos.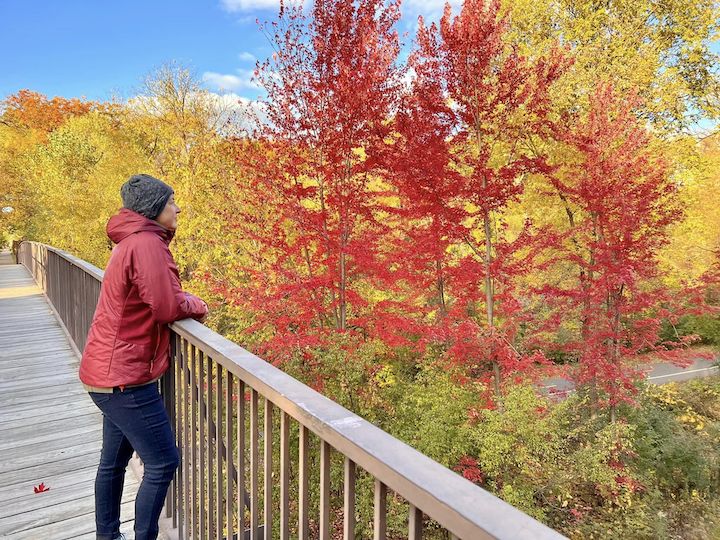 Minnesota is so beautiful in autumn. You can go almost anywhere in the state in mid-late September through mid-late October to find it—including right here in the Cities. While we can travel out of town to find great color, we don't have to!
What Makes for a Spectacular Fall Color Trail?
It's the maple trees that provide the most spectacular autumn colors in our part of the country. Bright yellows, brilliant oranges and vivid reds give us eye-popping color for several weeks.
Add in golden aspen and birch, and then, later, the deep rusts and oranges of many of the oaks and our fall color season lasts for several weeks.
Then we have the lower-growing bushes like sumac, vines like Virginia creeper and even the carpet of fallen leaves that cover the ground and trails.
It's a visual feast!
Here are favorite fall color trails sent in by some of our readers that are within the 7-county metro area, in no particular order:
Mississippi Gorge Regional Park
Lisa Schalla's favorite fall color hike is in Minneapolis in Mississippi Gorge Regional Park. She especially loves the walking path along West River Parkway between 35th and 44th Streets.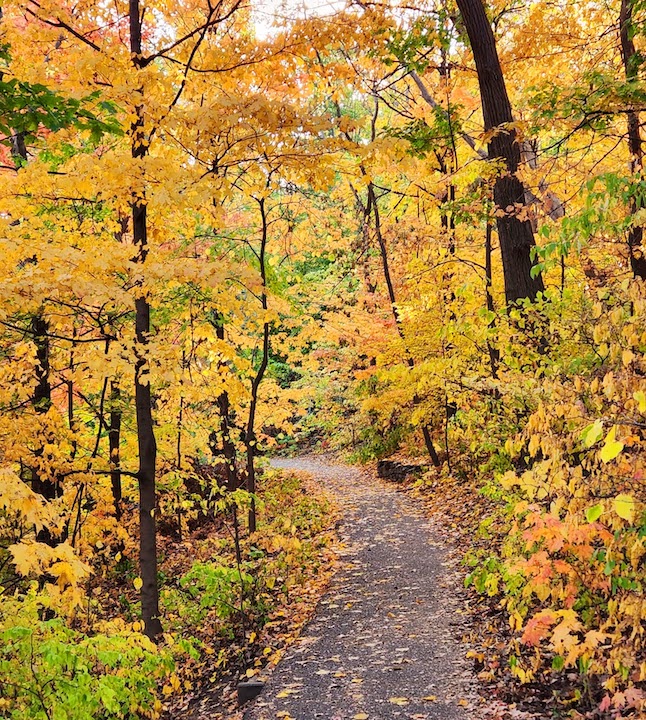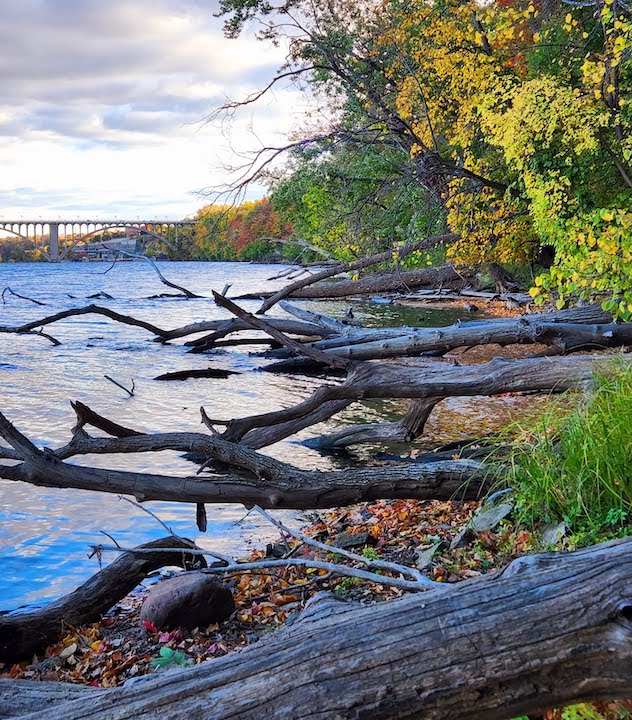 Mississippi Gorge is 132 acres along the Mississippi River with both biking and hiking trails. Lisa's photos were taken on the west bank in the first week of October, while she noted the east bank trees were still green—interesting!
The City of Minneapolis lists the park's address as 3349 W River Pkwy, if you've not visited it before. It's also a nice option to park in the vicinity of Minnehaha Regional Park and head north. The two parks connect for an out-and-back of 3-4 miles.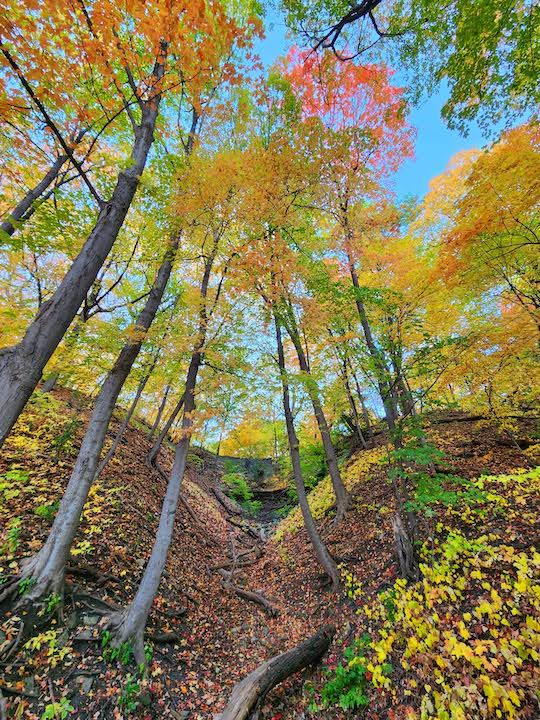 Carver Lake Park
Verna Witzany loves the fall color around Carver Lake, in Woodbury's Carver Lake Park. The park is known for its off-road bike trails and bike park. Hikers are allowed on the off-road cycling trails, too, as long as they're dry (they're closed if wet).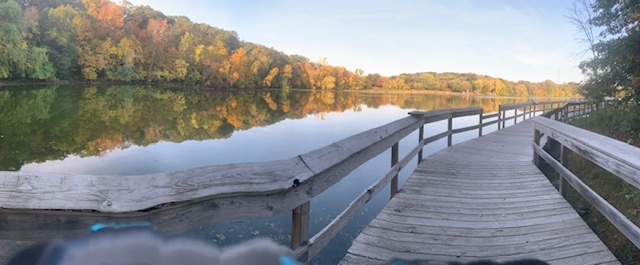 "This park has extensive trails," said Verna. "It's great for the loops inside loops to increase the experience as desired."
Carver Lake isn't too far from Saint Paul regional parks like Pig's Eye, Indian Mounds and Battle Creek, if you'd like to explore more than one park while you're out.
Spring Lake Regional Park
Spring Lake Park in Prior Lake is the top vote (so far) for Devan Goembel. This 374-acre park has just 3 miles of paved bike trails within the park, but it connects directly with Big Woods Regional Trail for another 12 miles (one way).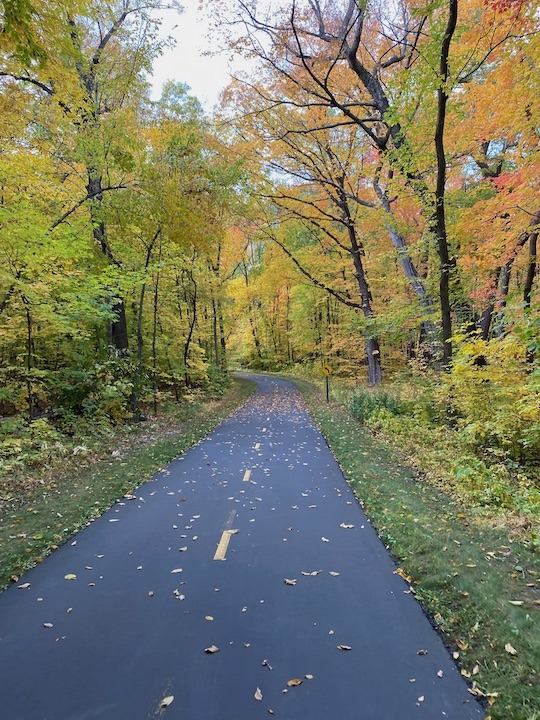 4.5 miles of hiking is the slow way to enjoy the fall color. I haven't visited this park yet personally, but the hiking is described as "spectacular" with some "breathtaking vistas." Give it a try!
Minnesota Landscape Arboretum
"The Arb" is a top fall color choice for Brian Rupe and his family. Brian said, "Not just the trees but the fall flowers are spectacular!"
The Minnesota Landscape Arboretum is part of the University of Minnesota. Fun Fact: both Honeycrisp and Sweet Tango apples were developed at The Arb (two of our favorites!).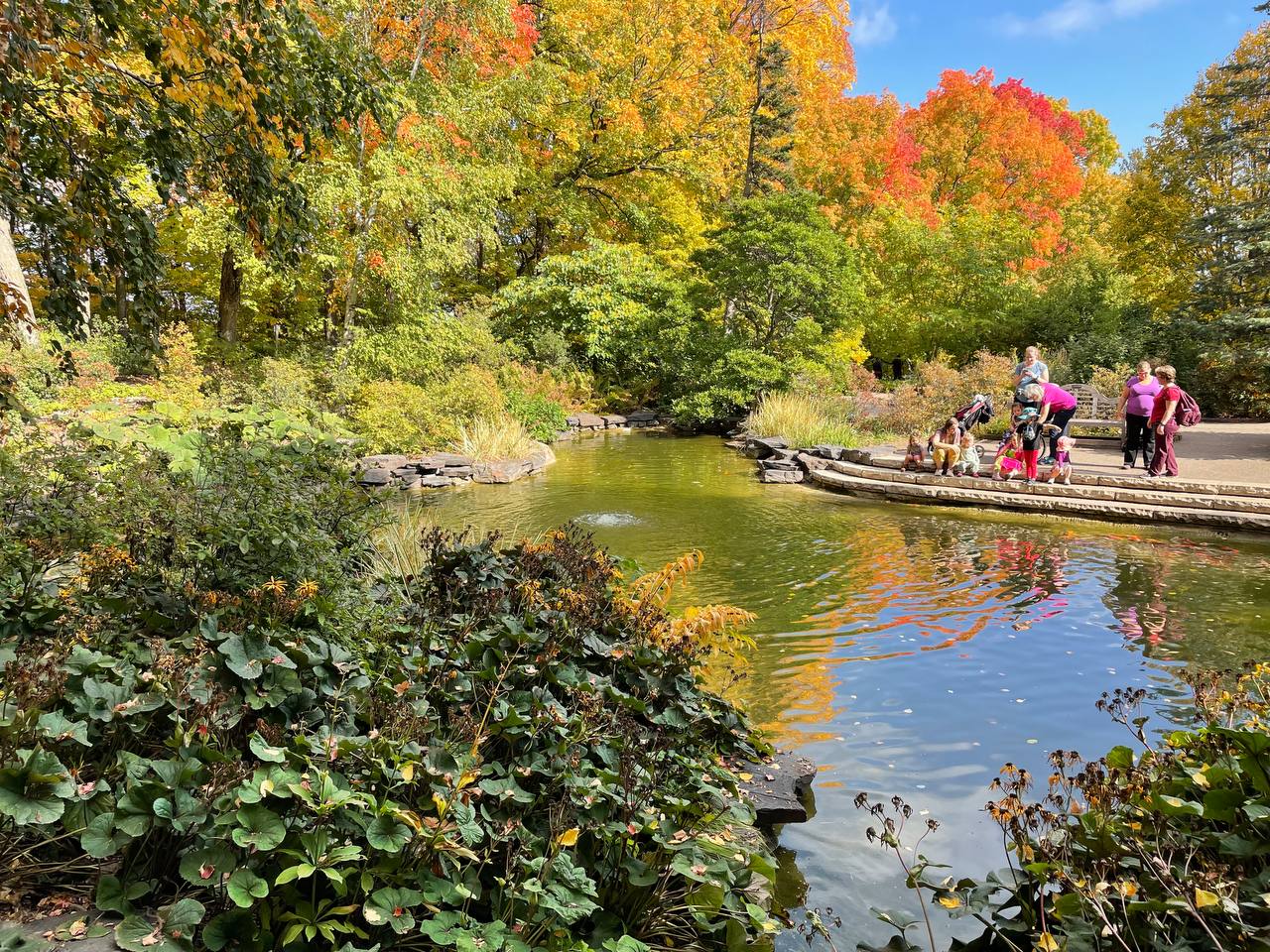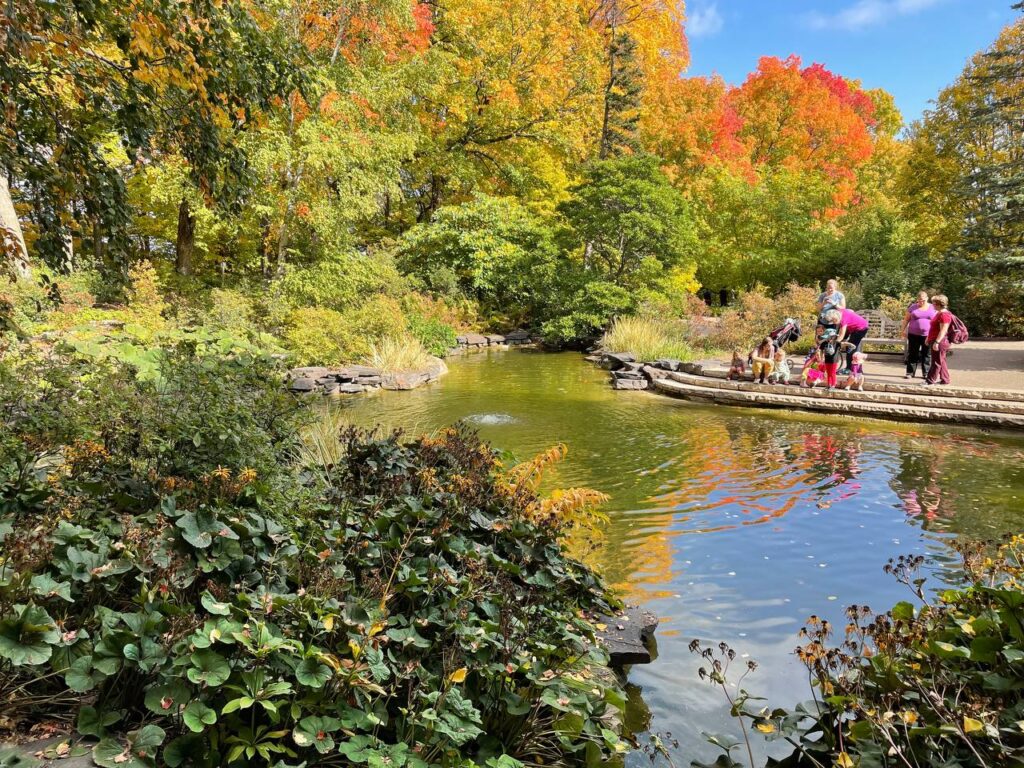 The grounds host a 3-mile Walk Loop that takes visitors through woods, prairie and wetlands, and also through their famous gardens.
As a 501c3 non-profit, the Arb is partially funded by memberships of various levels. Membership includes free entrance year-round as well as the privilege of bringing your dog—non-member guests need to leave their dog at home.
Since summer 2020, visits for non-members are by reservation only, and will cost you $15 per adult. Get more info here.
Elm Creek Park Reserve
Jennifer Przybilla loves the area around Eastman Nature Center in Elm Creek Park Reserve. "And this was on a cloudy day!" she said.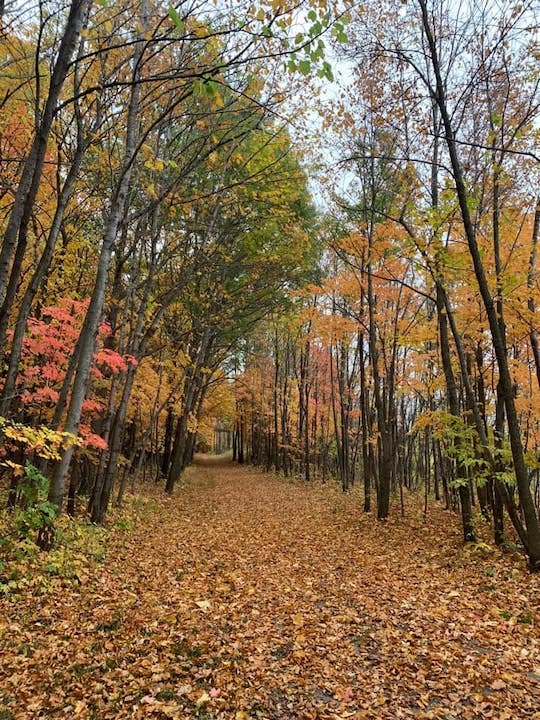 I agree with Jennifer—I think Elm Creek is spectacular park in the fall. This is an Elm Creek trail, too:
Elm Creek has 50 miles of trails, both paved and natural-surface, throughout its 4,900 acres. You can take more miles in by bike, or take the slow way by foot. Either way, you'll want to stop often to soak in the beauty and snap a few photos.
What's Your Favorite Fall Color Trail?
These are just a handful of what's available for outdoor lovers here in the Twin Cities. There are gorgeous fall color trails around almost every corner.
And don't overlook your own neighborhood!
I regularly see wonderful autumn color within a mile or two of my front door. I bet you can find it not far from your home, too.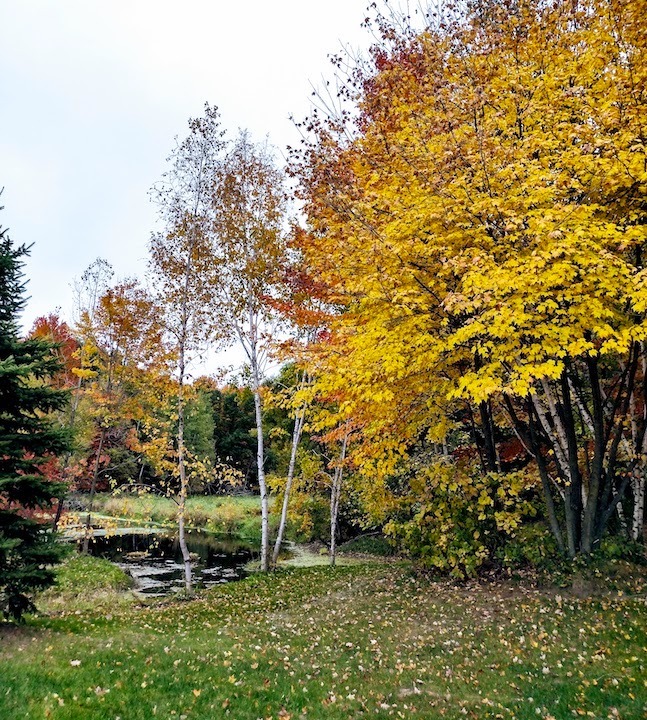 Here's more…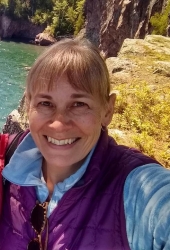 Latest posts by Sharon Brodin
(see all)