Victoria, Carver County • No park pass needed
Carver Park Reserve offers beautiful and varied terrain for bikers. Plenty of forest, plenty of restored prairie, plenty of rolling hills, and plenty of lake and wetland views.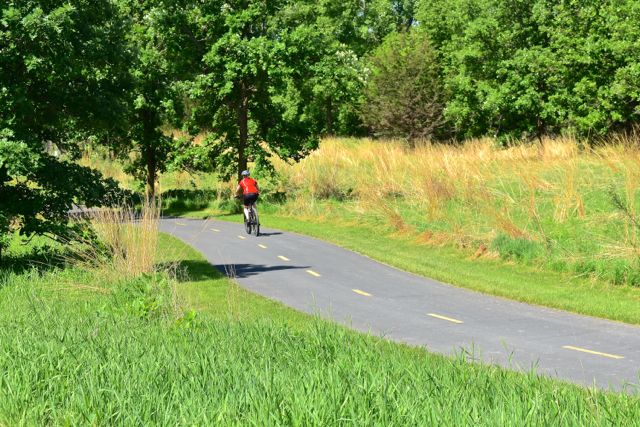 The Lay of the Land
You can access Carver's almost 12 miles of paved multi-use trails from several different roads and parking areas.
If that doesn't satisfy you, the southeast corner of the park has direct access to the Lake Minnetonka LRT Regional Trail (one of our local Rail-Trails). It's an aggregate (crushed stone) surface that will take you 15 miles east to Hopkins.
On the trails within the park, you can access Lowry Nature Center and Lake Auburn Campground.
So far there aren't any fat bike trails maintained during the snowy months. If this becomes a favorite biking destination of yours, let the Three Rivers Park District know you'd like to have some fat biking developed here!
Mountain Bike Park
[2023 Update] Carver now has a mountain bike park! 10 miles of trails are complete with another 4 in the works, through Three Rivers Parks. There are trails for beginning to advanced riders, including a loop with adapted bikes in mind.
Hikers and snowshoers are also welcome on these trails, so please be aware of potential foot traffic while you ride.
Get more info here about the singletrack park.
Bike Camping at Lake Auburn Campground
You can even make a bike camping trip out of it by taking advantage of the bike-in-only campsite. It's quite private, surrounded by lots of shade trees.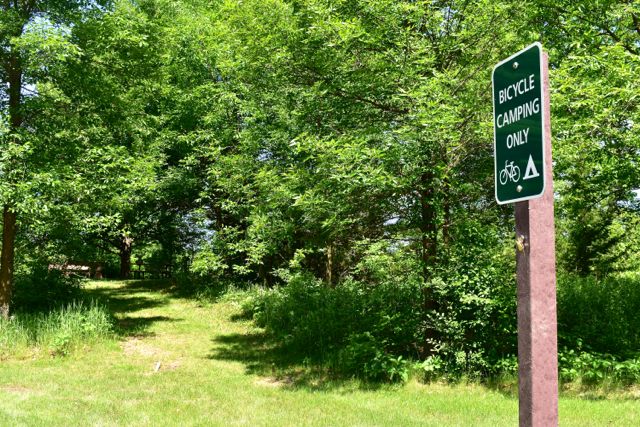 A fun camping trip would be to start on the east end of the Lake Minnetonka LRT, bike into Carver Park Reserve to Lake Auburn Campground, camp overnight at the Bicycle Only campsite, and bike back whenever you're done camping.
What a fun family camping trip that could be!
Sharing the Trails
As I mentioned, the trails are multi-use. Since Carver Park Reserve also offers 5 miles of great natural-surface trails for foot traffic only, you may not have to compete with many hikers. But dog walkers are a different story.
Dogs aren't allowed on the natural surface trails by Lowry Nature Center. So don't be surprised if you encounter them on the paved trails—and for that reason, be cautious rounding the corners and hills.
You'll also be crossing a few horse trails on the west side of the Reserve, so just be aware. Horse riders appreciate it if you slow down at these trail crossings.
Other Activities at Carver Park Reserve
Carver Park Reserve hosts Lake Auburn Campground with a swimming beach. Bring your bike(s) along on your camping trip and you can access the trails right from the campground.
Lake Auburn also offers nice kayaking and canoeing, with rentals right there at the swimming beach. If you have your own boat you can head over to Zumbra or Steiger Lake, too.
Historic Grimm Farm is also on the property. You may want to include that as a destination, too.
As already mentioned, there's plenty of hiking at Carver, both on paved and unpaved trails. And in the winter, the park grooms 11 miles of cross country ski trails and has 4 miles of snowshoe trails.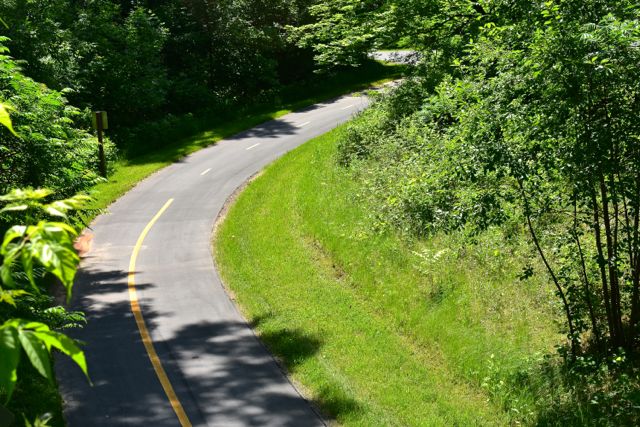 How to Get There
Carver Park Reserve is sandwiched between Highway 7 and Highway 5 in Victoria. Highway 11 bisects the Reserve and gives you access to all the parking areas and other features.
Here's more…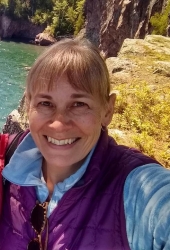 Latest posts by Sharon Brodin
(see all)