Victoria, Carver County • No park pass needed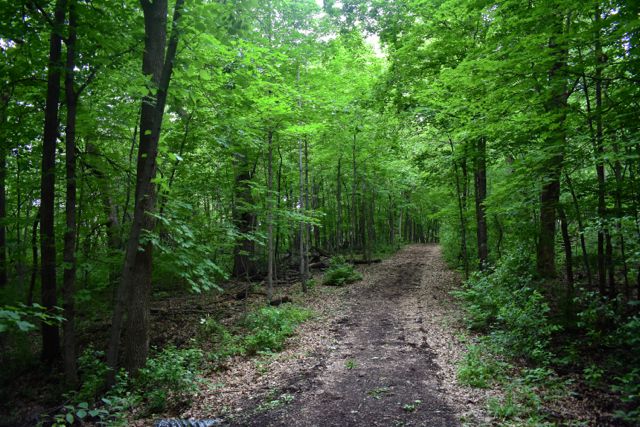 About Carver Park Reserve
At 3,719 acres, Carver Park Reserve is one of the largest public natural areas in the Twin Cities metro. The Reserve is a combination of mature hardwood forest and restored prairie over rolling hills. Several lakes lie within the Reserve's boundaries, too.
36.7 miles of hiking trails run through Carver Park Reserve, counting both multi-use paved and natural-surface trails. There are natural-surface trails for foot traffic only and also several miles of combined use for hikers and horses.
Hike Natural-Surface Trails
The trails dedicated to foot traffic (people) are almost all in the center of the Reserve surrounding Lowry Nature Center. Park there and you have almost 5 miles to choose from. There are several loops you can either hike separately or combine to add length and variety.
I hiked on the Tamarack Trail around Crosby Lake, and just a short portion of the Cattail Trail. Everything is incredibly green right now and the water is high everywhere. The flowers were starting to bloom, I saw butterflies and dragonflies, and—alas—a couple mosquitos!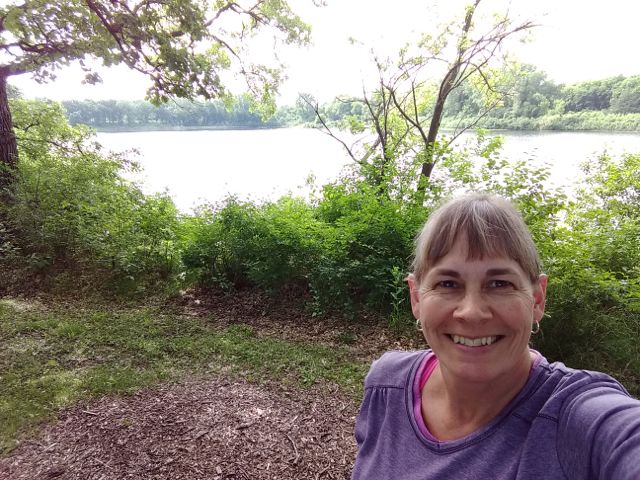 Stop in Lowry Nature Center for a color map of the trails. The front of the map shows the entire park. The back shows just the trails around the Nature Center (I wish I would've known that before I was done hiking!) The back also gives mileage for each loop, which isn't available anywhere else.
Some of these trails include portions of floating boardwalk. These are a neat experience assuming you don't get motion sickness! Those areas are marked on Nature Center trail system (the back of the map).
What's to Love
This park is beautiful! Mature forests, the water, several picnic tables and benches along the trail (Tamarack and Acorn Trails, that is).
The trail system is well-marked with both sign posts identifying the trail and periodic maps of the park with a red You Are Here dot. That helps immensely! The map is great, too—color coded and well-designed.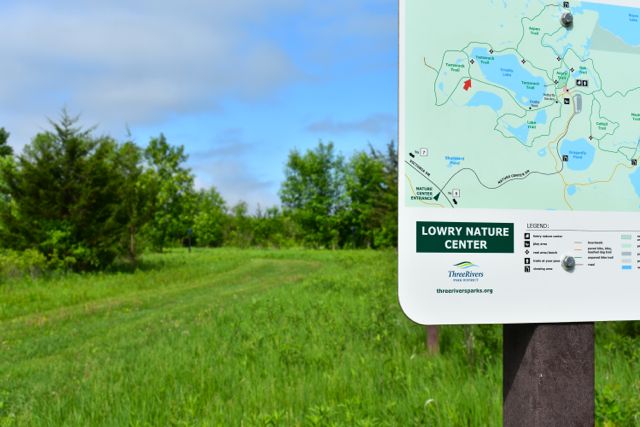 Having this many options for hiking only is really nice. You could do it all at once if you're ambitious (about 5 miles total), or try different trails each time you go.
Of course you're free to hike on the paved trails and horse trails, too. So there's a LOT to choose from.
As I walked, I kept imagining what these trails would be like during peak fall color season—stunning, I'm sure!
What Else is at Carver Park Reserve?
For families with young children, Lowry Nature Center has a pretty cool outdoor play area you can try after a short hike through the woods. Things to climb on, up and through.
As I already mentioned, there are several miles of biking and horseback riding trails. Historic Grimm Farm is up the road aways, and also part of the Reserve. And there's Lake Auburn Campground and swimming beach as well.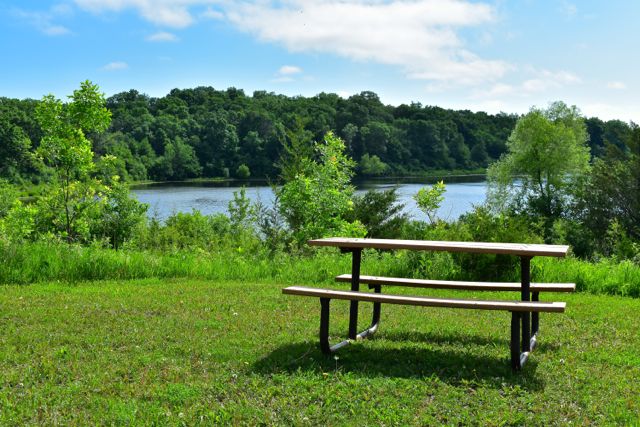 How to Get There
Carver Park Reserve is sandwiched between Highway 7 on the north and Highway 5 on the south in Victoria. For best access, take Highway 11 that bisects the Reserve. Then take the  Reserve road that heads east toward Lowry Nature Center and park in that lot.
NOTE: Dogs aren't allowed on the trails by the Nature Center. You'll have to stick to the paved trails if you bring your pooch.
Click here for other hiking options in Carver County.
You'll also like: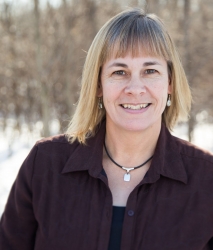 Latest posts by Sharon Brodin
(see all)