Here in Minnesota we're known for our cold winters, but we also have hot summers. Shorts season can run from April into October, depending on your personal thermostat and the particular year.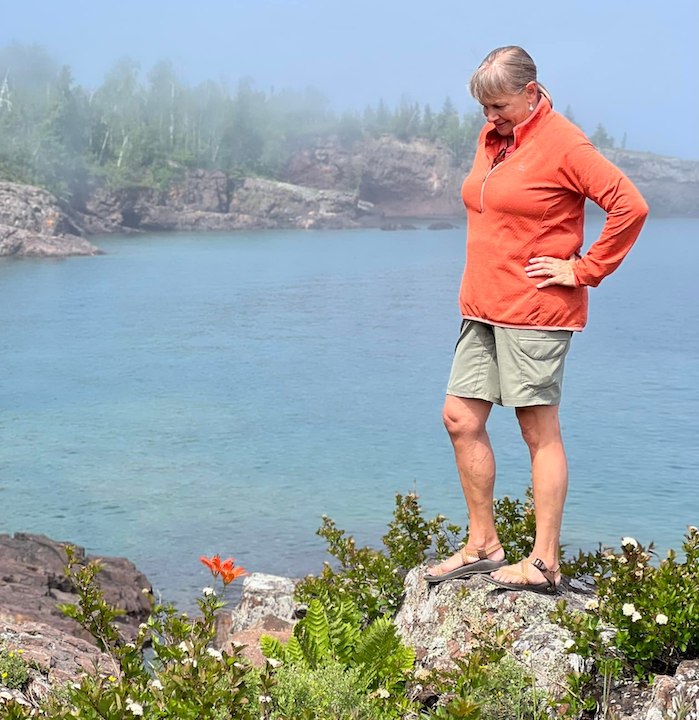 This collection of hiking shorts is relatively small because I'm only reviewing ones I own, wear and personally recommend for active outdoor use.
All the shorts on this list hold up to lots of activity in many different settings because they're made so well. The first two I've owned for many years and they've proven to be durable on hiking trails, canoe trips, camping trips and kayak trips. The third on the list are brand new, but I tested them out right away over a 3-day camping and hiking trip.
I machine wash and dry all my shorts, on delicate for both. No problems there. No problems with any of them with colors fading with use.
While the shorts I'm reviewing are the women's styles, these companies make shorts in similar styles for men. I'll give you links to all of them.
Let's look at some women's hiking shorts:
Vista Trekking Shorts • LL Bean
These are the shorts on this list I've had the longest. I've been a happy LL Bean customer for a couple decades, and bought my first pair of Vista Trekking Shorts at least 10 years ago.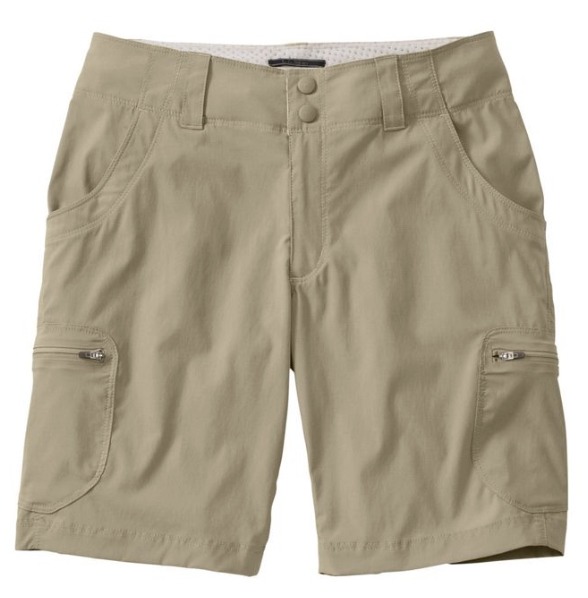 I have these in charcoal, tan and olive green. LL Bean tends to size on the small side for their bottoms, so if you're in-between sizes you'll want to size up for these. I have them in both 10 and 12, and the 10s are definitely tighter than my 10s in the other two models.
Why I Love Them
THE MOST BREATHABLE. These are the coolest shorts on my list. While nothing can be very cool on our hottest, muggiest days, these let the most air through. Now, since I bought my last pair, I notice they've added an SPF sunblock. This may or may not reduce their breathability, I'm not sure.
There's mesh lining along the inside waistband, which helps draw moisture away from the skin. That's nice, too.
(BTW, why are these clothing companies adding sunblock to apparel? Isn't it enough that the material covers us? Is it a marketing gimmick? I don't get it. If someone has an explanation, please tell me!)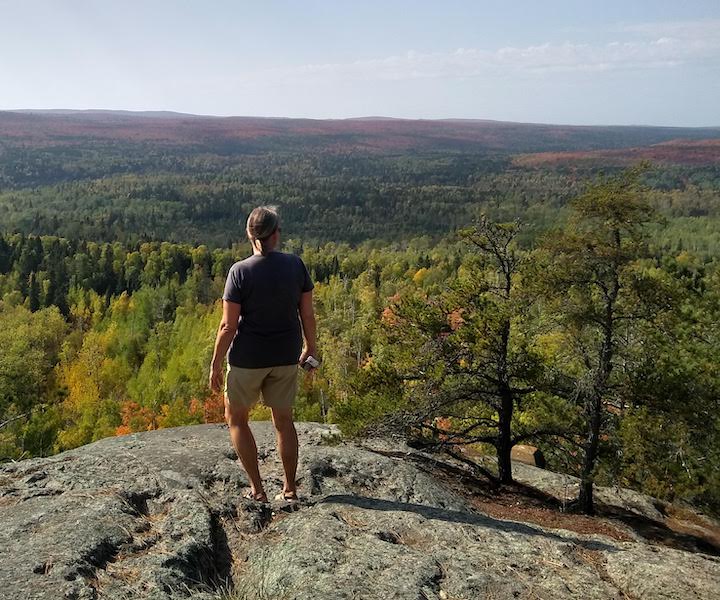 VERY COMFORTABLE. The nylon/spandex blend material is very lightweight, very stretchy and super comfy. These are the most lightweight and packable on the list, although none of them are bulky and heavy.
LOTS OF POCKETS. There are two decent front pockets, two zippered back pockets and a zippered side pocket on each leg. All of them lie flat and are easy to access.
QUICK-DRY. Because it's synthetic material and so lightweight, these shorts dry quickly. They even dry quickly while wearing them, but especially if you get a chance to hang them over a line for 30 minutes or so.
TOUGH AND WELL-MADE. While this is true for all the shorts on my list, it may be most surprising for these since the material feels almost flimsy. Believe me, they're not! Mine have been through a decade or more of spring, summer and fall outdoor adventures without the tiniest rip.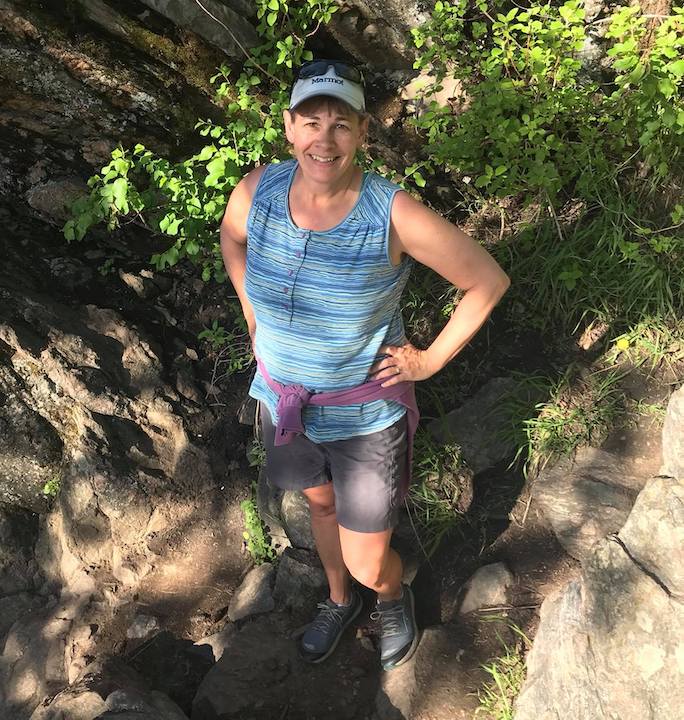 Anything I Don't Like?
STRETCH QUITE A BIT AFTER ONE OR TWO WEARS. These get stretched out of shape the most of the shorts on my list. The legs get pretty baggy even. We're all shaped differently, though, so that may not be a problem for you.
NONE OF THE POCKETS ARE BIG ENOUGH FOR MY PHONE. Not a deal-breaker, but I do like to carry my phone on excursions for the camera, even if I don't have cell service. When I wear these shorts I need another option.
How to Buy
We have an LL Bean store here in the Cities, at the Mall of America. Ordering online is very easy, too. If you use their credit card, you get free shipping always (and free return shipping) as well as credits that add up to dollars to use for more LL Bean products.
See: Women's Vista Trekking Shorts • 2022 price: $59.95 • Available in sizes 2-20
No Vista Hiking Shorts for men, but the Men's Cresta Hiking Shorts are very similar.
(I bought all my Vista Trekking Shorts from LL Bean, either full-price or on sale.)
Women's Armachillo Cooling Shorts • Duluth Trading Co.
The next on my list is Duluth Trading Co's Armachillo Cooling Shorts. I own two pair of these, in light gray and navy. Their sizing is right on.
I've become a big fan of Duluth Trading Co. I was first attracted by the snappy writing in their catalogs. I've since bought several of their apparel items, some of which are top favorites of mine, including these shorts.
Why I Love Them
THE MOST COMFORTABLE. Of the three on this list, these are the most comfortable because they're pull-ons with an elastic and drawstring waist. They fit slim but not tight, and shirts lie flat over them. I just love to wear them!
THE "POKEY THINGS POCKET" ON THE SIDE. Duluth Trading's clothing is made to work in. They include this Pokey Things Pocket on the right side that's deep enough for my phone or sunglasses, and it's extra durable for gardening tools or other "pokey" items that would rip normal pockets. I love, love this feature.
I wore these for a multi-day canoe trip a couple years ago and they were the perfect spot to stash my sunglasses once we got to every portage. They were always in a safe place that was ultra-convenient.
DEEP FRONT POCKETS and zippered back pockets. All of them lay nice and flat.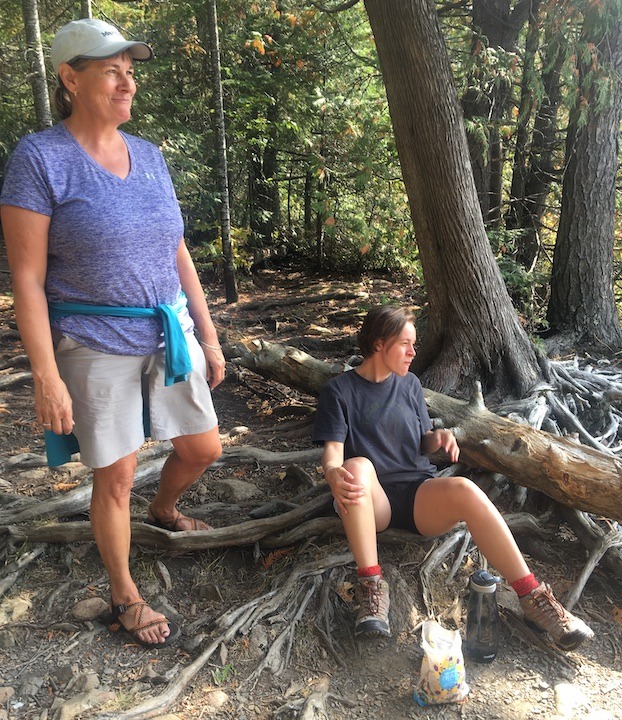 10-INCH INSEAM. I like these being another inch longer than the Vista Trekking Shorts.
TOUGH AND WELL-MADE. Again, no issues whatsoever with snags on tree branches or other outdoor wear possibilities. It's nice to be confident in quality. These are also made with sunblock in the fabric.
Anything I Don't Like?
THE LEAST BREATHABLE. Even though these shorts use their "Made-in-the-Jade™ fabric technology" that's supposed to cool us off, they're a heavier-weight material that doesn't breathe well. They wick the sweat off quickly, yes, but I'd rather have them more breathable in the first place. I don't wear them outside on the hottest days if one of the other two brands are clean.
THE WAIST IS VERY HIGH. It's comfy—made of a different, softer material than the shorts themselves. But the waist goes higher than I like. Weirdly high, even.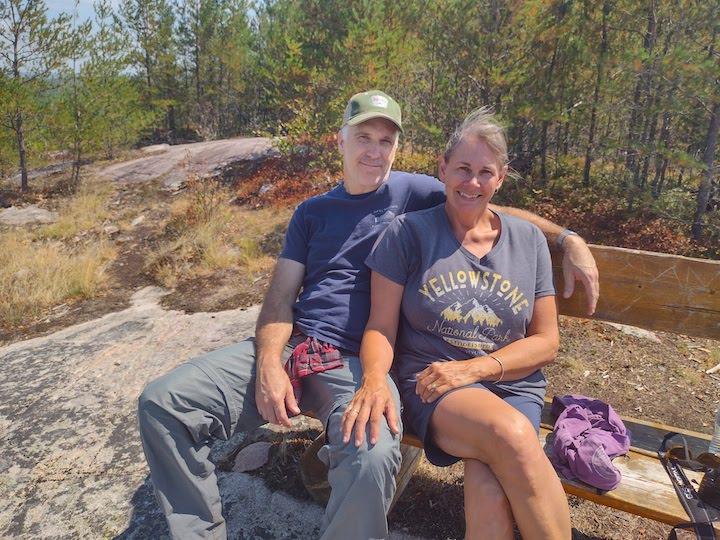 How to Buy
We have a few Duluth Trading Co. locations here in the Twin Cities, although I see that these particular shorts aren't available in their stores anymore, per the website product page. Since I bought both of mine in the Fridley store, this is new.
You can order online: Women's Armachillo Cooling 10″ Shorts • 2022 price $74.50 • Available in sizes 4-18
There are Men's Armachillo Shorts, but they're different. They're more like athletic shorts, no Pokey Things Pocket, but much cheaper at $39.50.
(I bought my Armachillo shorts from Duluth Trading Co., either full-price or on sale.)
Women's FreeflexTM Cargo Short 10″ • Kühl
These are my newest pair of hiking shorts. I got them in the mail (color Sage) the day before a 3-day camping trip earlier this month, so it was the perfect time to test them out.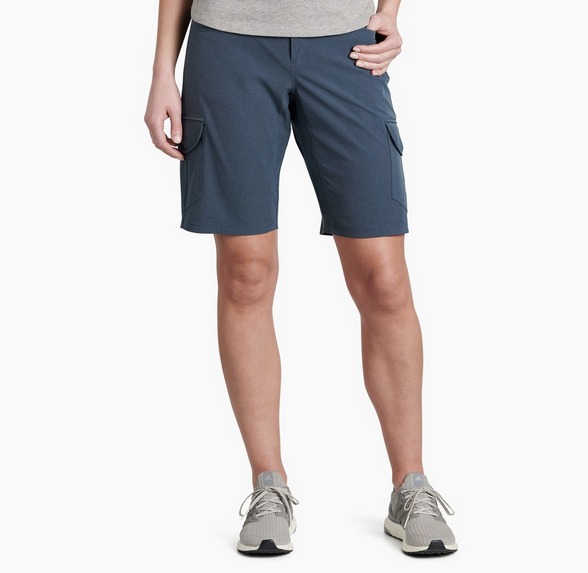 If you shop at REI, Midwest Mountaineering, Hoigards, Joe's Sporting Goods or other reputable sporting goods store around the Twin Cities, you're probably familiar with the Kühl brand.
While their name looks German or Swiss or something, this company is based in Salt Lake City. Its name is pronounced like and means "cool." 🙂
And these Freeflex Cargo Shorts are cool! Granted, I haven't had as much time to really test them through the grind of many outdoor adventures as the others I own—but I put them through a lot in my weekend. If anything changes, I'll update this review!
Why I Love Them
VERY COMFORTABLE. These were comfy as soon as I put them on, and remained comfy while sitting in the car for five hours, hiking up and down, and sitting on the pebble beach of Lake Superior.
The sizing is right on. Since I wasn't able to try these on first, I was a little nervous. Some of these outdoor brands size small and I didn't want to have to send them back. But these are great. Love the 10″ inseam.
I can't attest to their durability yet since I haven't had them long enough. But I assume they'll last for many years of hiking and other outdoor activities since Kühl has been a trusted name for many years.
THEY DON'T GET BAGGY. These stretch nicely to fit my body shape without getting baggy with wear. That's nice to see as it can be tricky with these stretchy materials.
VERY BREATHABLE & QUICK-DRY. The reason I picked this particular model from Kühl is because they're described as breathable—and they are. They're made of lightweight fabric that allows air flow and wicks moisture, too. I also noticed they dry very quickly (when I'd get out of the car, sweaty, they were dry within a couple minutes of walking around—sorry if that's TMI!)
LOTS OF USEFUL POCKETS. Two front pockets that lay nice and flat, two back snap-close pockets and two side snap-close pockets. The side pockets are hefty and loose enough to hold car keys without it feeling cumbersome.
ADJUSTABLE WAIST. The zipper-and-snap waistband is a bit stretchy, which is great. It also includes a drawstring on the inside for extra tightening if needed. I'll take the drawstring out of mine since I won't need it and it gets in the way, but I know women with narrower waists than mine will appreciate it.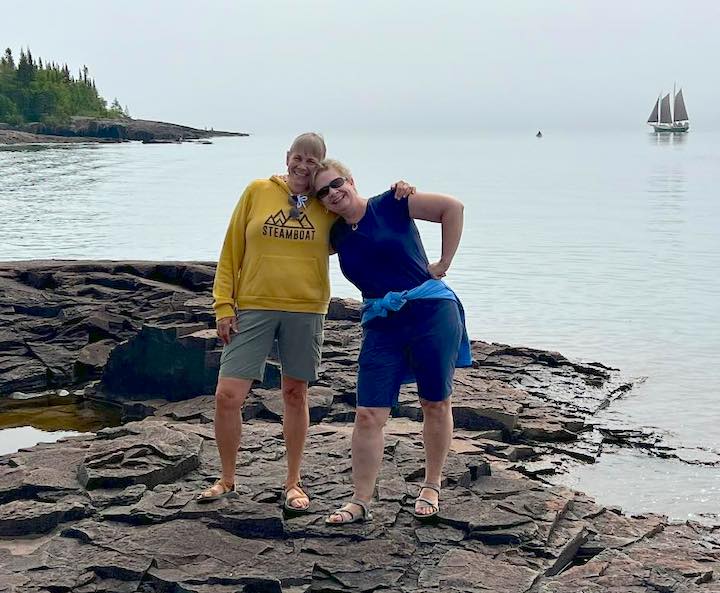 Anything I Don't Like?
NONE OF THE POCKETS ARE BIG ENOUGH FOR MY PHONE. Similar to what I said above, I like to be able to take my phone along even if I'm out of cell range, because of the easy-access camera.
While my phone stayed in the side pocket, I couldn't snap the tab over it. I'd like to see at least one of those side pockets another inch deeper.
THEY'RE PRICEY. These are the most expensive shorts of the three on my list. I like the fit better than LL Bean's Vista Trekking Shorts, though, and the breathability adds to their value for me.
(The Kühl team sent me these shorts without charge in exchange for my review. I've tried to be as honest as I can with my opinion. I didn't even notice until just now that these are their priciest shorts!)
How to Buy
Look for these anywhere Kühl is sold locally, or order directly from their website: Women's FreeflexTM Cargo Short 10″ • 2022 price $85 • Available in sizes 0-16
The men's Freeflex Short is more like an athletic short. Check out their RenegadeTM if you'd like a cargo short.
Wrapping It Up
I live in shorts during the summer! (Since I work from home I can do that.) So it's important for me to have several pairs I love and that will last for many years.
I can heartily recommend all three on this list for women of all ages who love outdoor activity in shorts that are closer to knee length than short.
These would also all work equally well for gardening, neighborhood walks, shopping and generally getting around on hot summer days—or cool summer days with a sweatshirt.
Here's more…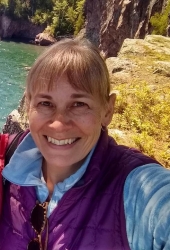 Latest posts by Sharon Brodin
(see all)