Marine on St. Croix/Washington County • Minnesota state park permit needed
The Riverside Trail at William O'Brien State Park is a beautiful winter hiking spot through the woods and alongside the St. Croix River.
This is a multi-use trail that's open to winter hikers, hikers with their leashed dog(s), and skate skiers (there are no classic tracks).
(Snowshoers are welcome, too, but it's a rolled trail, so snowshoes are more cumbersome than useful on it!)
Highlights of Riverside Trail
The location of William O'Brien, one of the Twin Cities' three state parks, is a highlight itself. Even the drive to get there is beautiful! The St. Croix river valley is one of the most beautiful parts of Minnesota.
The trail is "rolled" which means it's packed down as opposed to plowed. Your hiking boots or snow boots will work great. If you're hiking with someone else, the trail is wide enough for you and your companion to walk side-by-side.
Riverside Trail makes the most of that beauty, as a large portion of the trail is along the water—either the St. Croix River or Lake Alice. Depending on the winter and when in the winter you go, the water may or may not be frozen.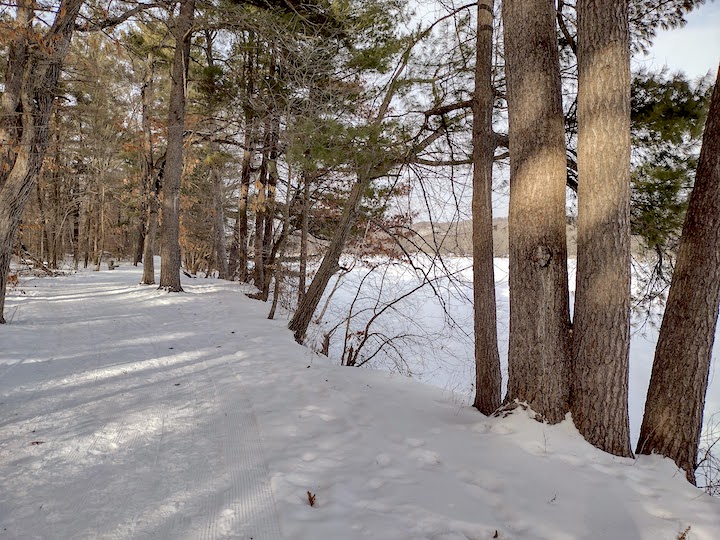 Several decades-old white pines are growing along the trail, towering overhead. These are some of my favorite trees, ones I always notice.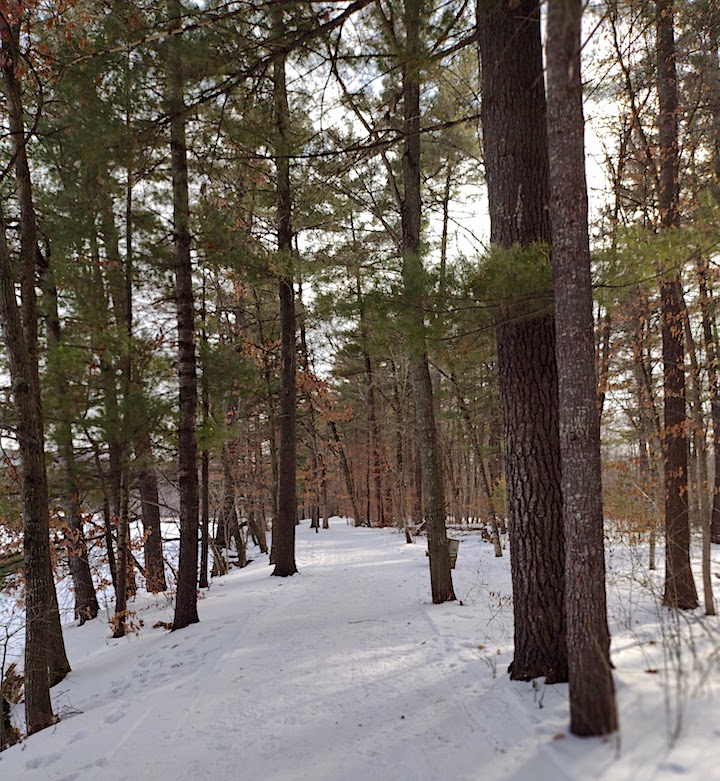 My hike in late January was during a spell of plenty of below zero temps so the water was frozen over.
Animal tracks were everywhere! This is one of the most fun things about winter hiking for me. You can see how many and what kinds of animals have been out and about since the latest snowfall, sharing the trail with us.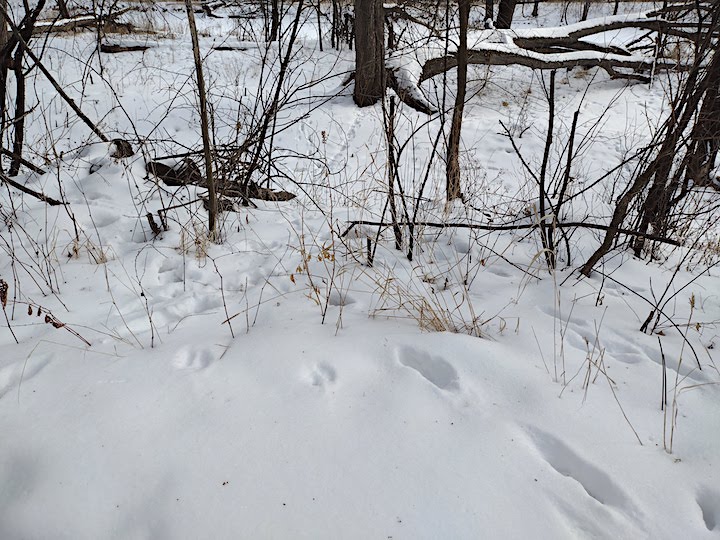 The rangers and staff at the park office and Visitor Center were super friendly and helpful. When I bought by vehicle permit, the woman who helped me even offered me the use of their razor blade to get my old permit off my windshield.
The trail is a nice length for a winter hike. Riverside Trail is a 1.5-mile loop, plus the hike from the parking lot down to the trailhead. Altogether it's about 2.5 miles. Walking in snow and the hike back up the long hill make it a decent workout.
The trail is marked well, starting from the parking lot. That makes it easy for first-timers to find their way out and back without fear of getting lost.
Anything Not to Love?
The hike back up to the parking lot may or may not be a disadvantage for you! It's a long hill with a decent grade.
The loop itself is very flat. Again, this may or may not be a disadvantage for you personally. It's a very easy loop to hike on a wide rolled trail.
Depending on the snow conditions and recent weather, the hill going back up to the parking lot could get icy. I wore my Yaktraks, and as it turned out, didn't need them. But consider wearing them.
If you're hiking with someone it'll be easy to keep up a conversation with getting breathless (until you head back up the hill). But it can be less interesting than a trail with at least some rolling hills.
More Winter Hiking at O'Brien
There's one other winter hiking loop trail in the park, down in the southwest corner. We have to access that trailhead from a different parking lot, off Ostrum Trail N or Broadway St.
It's called, appropriately enough, Southern Trails loop, and is just over 2 miles. I haven't been on it yet, but based on the winter map, the topography looks quite varied.
What Else is at William O'Brien?
For winter lovers William O'Brien is most known for its cross country ski trail system. In fact, they're more diligent than most parks about keeping non-skiers off their ski trails, with signage there at the Visitor Center.
The trails are adequate for beginners, but especially good for intermediate and advanced skiers, both classic and skate.
There are no designated snowshoe trails in the park, however I saw quite a few snowshoe tracks in the Riverside Trail area. I imagine snowshoers also head over to the Southern Trails loop area for more options.
O'Brien is one of the few campgrounds in the metro area that offers winter camping, either in campsites or heated cabins.
In the other three seasons, O'Brien offers wonderful camping, hiking and paddling. There's also a swimming beach right in the area of the Riverside trail.
The Minnesota state park system does a great job, and this park is no exception.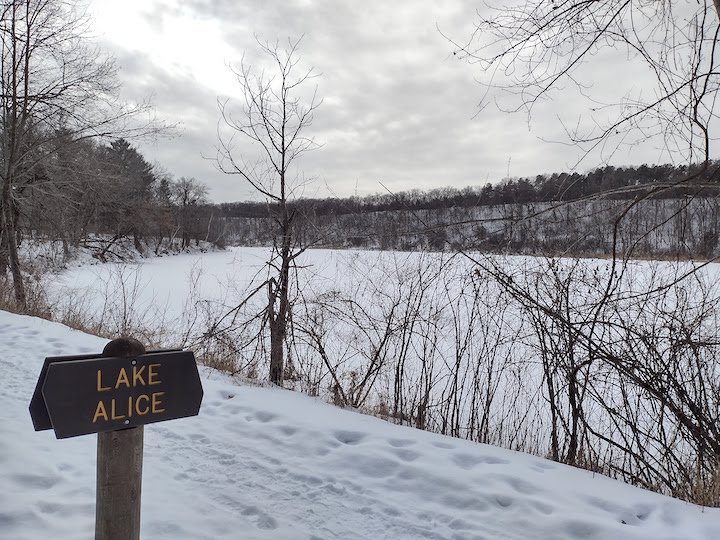 How to Get There
The main entrance for O'Brien is off Highway 95, between Highway 97 and Marine on St. Croix. Look for it on the west side of the highway.
As with all Minnesota state parks you'll need a vehicle permit to drive in. You can buy one at the office you'll see as soon as you enter the park.
You can get a daily permit for $7 or an annual for $35 (per vehicle). It's well worth the annual price even if you only visit the three parks in the 7-county metro during the year: O'Brien, Afton and Fort Snelling.
And of course there are dozens more throughout the state, including several within an hour or hour-and-a-half of the Twin Cities.
You'll like these, too…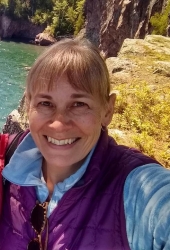 Latest posts by Sharon Brodin
(see all)