Ramsey, Anoka County • Daily or annual park permit needed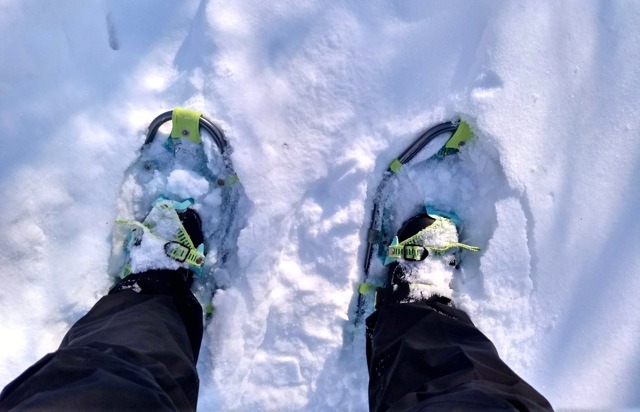 We had just gotten several inches of fresh powdery snow, so I grabbed my snowshoes and headed over to Rum River Central.
This is a great place to snowshoe! Here's why…
Not as Crowded as Some other Parks
This may or may not be an advantage to you. For me, the morning I went, it was lovely and very, very quiet. There's hardly any traffic noise because there's just not a lot of traffic in this corner of Anoka County.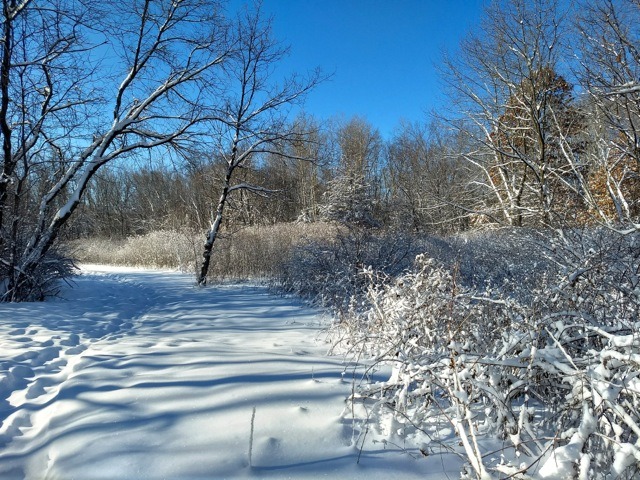 I went the morning after a snow storm. The road and parking lot were plowed, but I was the first to break trail in the new snow, which is a pretty cool feeling.
A Great Workout!
Even though the ski trails weren't groomed yet, I wanted to stay off them so they were nice and clean. The paved trails were plowed for winter hiking, so I didn't want those either.
I decided to snowshoe on the horse trails—I was betting there wouldn't be any horses on the trail that day, and I was right.
I've gotten to LOVE being in the woods in the winter. Even though it was cold—just above zero—I was dressed for it, so was ready.
There are some nice-sized hills in this park, so I warmed up very quickly and got some good cardio in at the same time.
(NOTE: The hills are the reason I, personally, wouldn't ski here…I love hills when hiking or snowshoeing, but I'm not a fan of big hills when I'm skiing! If you love to ski on bigger hills, you'll like it here. Great for intermediate and advanced skiers.)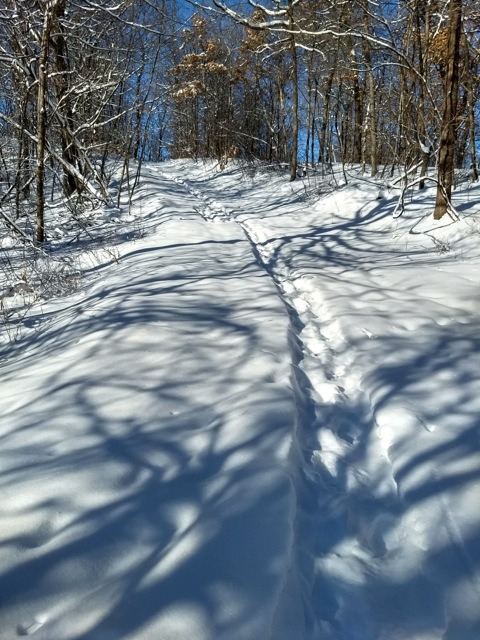 What's Not to Like
If you don't have your own snowshoes (or skis), you're out of luck. There are no rental facilities here.
The trails aren't well-marked. There's a large map at a kiosk next to the parking lot, but I didn't see any other map or trail markers within the trail system itself.
The only way I could tell where the horse trails were was a sign here and there, and the tracks from hikers who had been on it—the new snow didn't totally cover their tracks.
Even though I had the PDF map up on my phone, I got disoriented once and took a wild guess based on the river's shape and wind direction. It ended up to be a good guess—I recognized some of the trees and found my way back without a problem.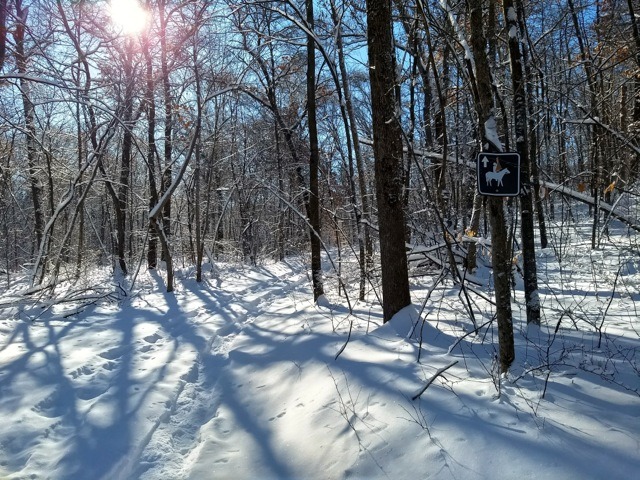 It's not a large park, but better signage would be great.
This next one can't really be called a disadvantage, just an observation: The forest in Rum River Central is almost all hardwood. That means that after the fresh blanket of snow, the woods don't have that totally magical feel we get when in a pine or mixed forest.
Bare branches just don't hold snow as well as pine boughs. I did see a couple little cedars, though, like this one: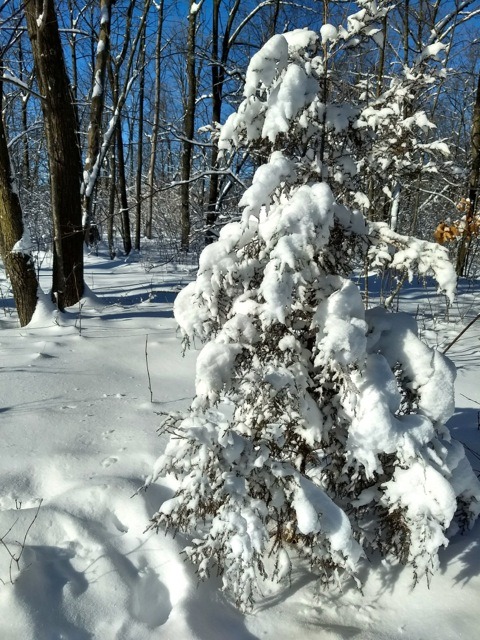 How to Get Here
Rum River Central is located off Highway 7, about 3 miles north of County Road 20. You can't miss the large sign on the east side of 7. Drive past the Ranger Station and follow the road to the large parking area.
If you just want a day pass, there's a self-pay box here. But there isn't always a ranger present if you want to buy an annual pass (especially during the week in the winter—not sure about the weekends).
Better to plan to buy your annual pass at one of the more popular parks before coming out, or buy one online.
And, as a reminder, the Anoka County Parks annual pass will also get you into the Washington and Carver County parks.
Twin Cities Ski & Shoe Guide
Published in 2021, our 55-page digital Ski & Shoe Guide is the easiest way to find cross country ski and snowshoe trails in all seven counties of the Twin Cities metro area.
You'll also like…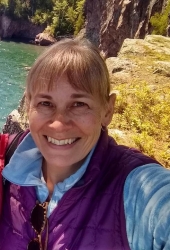 Latest posts by Sharon Brodin
(see all)