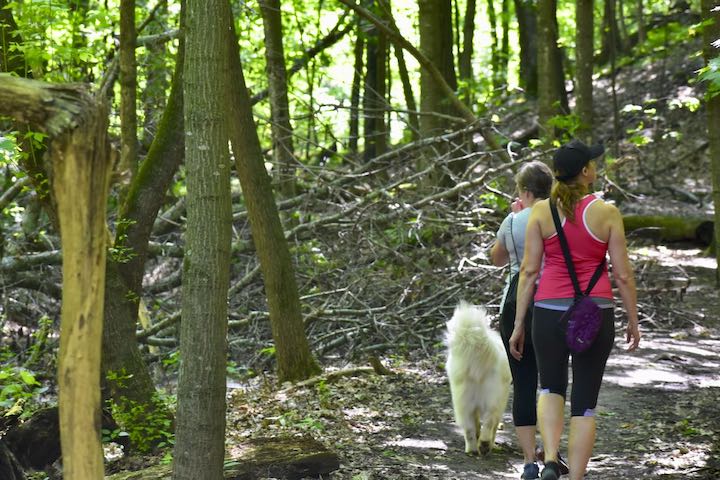 One of the things I've discovered since I started to snowshoe two winters ago is this: the best hiking trails make the best snowshoe trails! This is definitely true at Afton State Park where there are plenty of trails on varied terrain.
It's very common throughout our local parks—county, regional, state—that much of the summer hiking trail system (including some of the paved trails) are designated and groomed for cross country skiing in the winter. Snowshoers need to steer clear of those groomed trails so we don't wreck the grooming skiers need.
I complete agree with that because I also love to ski!
But that still leaves lots of room for snowshoeing—both on-trail and off.
So what makes an ideal hiking or snowshoeing trail? Here's my list:
The Best Hiking or Snowshoe Trails Have…
HILLS—Preferably a few big ones so we can get a great workout. I guess I should qualify that: If you use the modern snowshoes with metal crampons that grip snow and ice, then hills are great. If you use the old-fashioned wood-and-web style without those, you'll slip and slide on hills…especially if there's any ice. Not so great!
BEAUTIFUL SCENERY—Hiking and snowshoeing are hard work, especially on hills and for snowshoeing, especially in deep snow. It's also relatively slow-going compared to skiing and biking. So we want to see and enjoy beauty around us.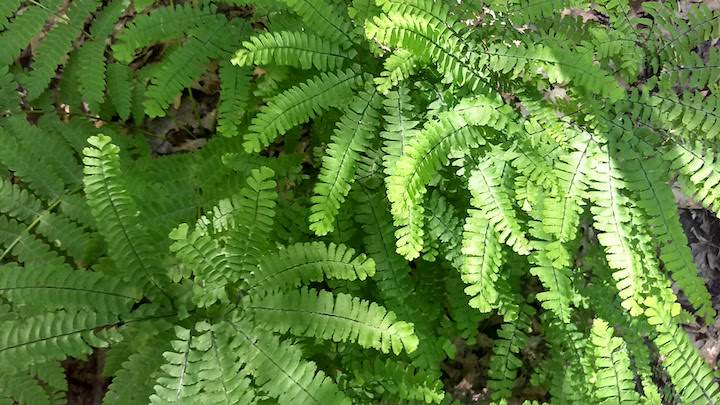 VARIETY OF TERRAIN—We don't want just hills—we like a variety of things. Hills, valleys, flats, creeks, lakes, wetlands, woods, prairies (as long as it's not too windy), trails that wind around. Because we're moving on the slow side, the variety keeps it from being boring.
My Favorite Hike in Afton State Park
Afton has several great hikes. So far I've been on both North and South River Trails, through the Prairie Restoration sections and through the Backpack Campground area. But my favorite so far is Deer Valley Loop, on the southwest side of the park.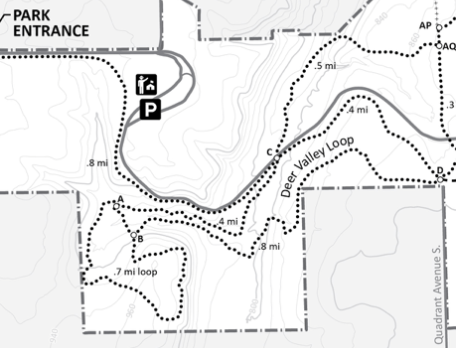 I've hiked there twice now—once in the early spring and once in summer. And I really look forward to getting out there on snowshoes this winter. It's about 3 miles, maybe a titch over.
I like this trail for all the reasons I already mentioned above—it's got some good hills, it's beautiful and there's a wide range or terrain to keep it interesting. The trail takes us both down into a creek bed and up over a high prairie. A significant section of it is on paved trail, too, which isn't a main highlight, but is acceptable!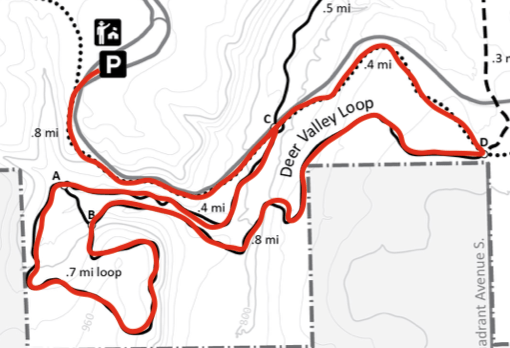 And the Deer Valley Loop just seems more secluded. There's only one good parking area if you want to stick to the 3 miles—that's the tiny one just behind the Ranger Station at the park entrance. (If you'd like to make it a 4+ mile hike, you can park in one of the lots at the center of the park.)
So if you want to be guaranteed a parking spot, get there early in the morning, especially on the weekends!
Other Snowshoe Trails at Afton that Make Great Hikes
Here's the link to find both the summer and winter maps for Afton.
At the northeast end of the park, heading north from the central parking area, is the trail loop that heads toward the Backpack Camping area and then east and downhill to the North River Trail and back. That's a good hike, and I look forward to getting out there on snowshoes one day.
I haven't personally been on Trout Brook Loop yet, on the northwest side, so can't attest to that one. If you have, please email and let us know about it! From the maps, it looks like there's winter parking on the north end that will take you to Trout Brook Loop, but not in the summer.
How to Get There
Afton is one of three state parks in the Twin Cities metro. It's located on the south end of Washington County between the towns of Afton and Hastings. The main reason it offers such great hills is because it's in the St. Croix River Valley. And, as the entire east border of the park is on the river's shoreline, it also offers a fair bit of flat trail, too.
The address is: 6959 Peller Avenue South in Hastings.
You'll like these, too…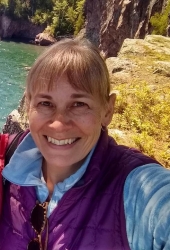 Latest posts by Sharon Brodin
(see all)