Andover/Coon Rapids, Anoka County • Anoka County Park Pass and Minnesota Ski Pass needed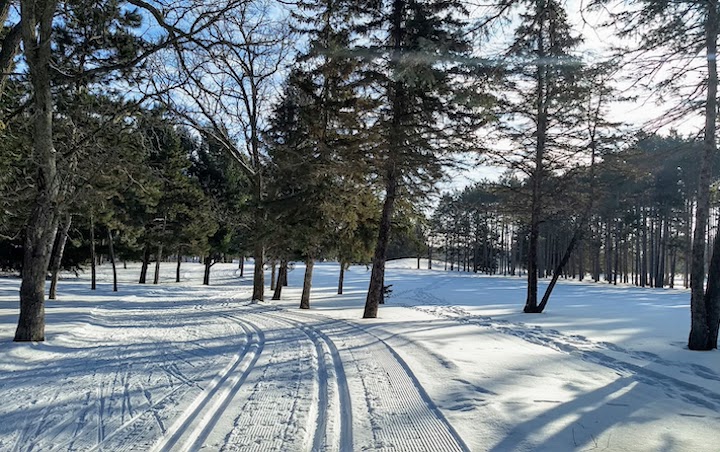 Bunker Hills Regional Park offers the best cross country skiing in Anoka County, hands down. There are more groomed cross country ski trails at Bunker than anywhere else in the county, about 20 kilometers (a little over 12 miles).
Bunker is groomed for both classic and skate skiers throughout the park. Of the Anoka County park system, Bunker has first priority for grooming after a fresh snowfall.
Bunker Hills Regional Park Trail System
A little over half the groomed trails are within Bunker Hills Regional Park. These trails are best for intermediate skiers and adventurous beginners.
The trail system within the park is mostly wooded and over rolling hills. The bigger hills are on the south end if that's what you're looking for (or want to steer clear of!).
Most of the trails are two-way, but there are one-way sections as well, so you need to watch for signage there.
You can access the trails within the park itself from the campground office parking area (Main Street/Foley Boulevard entrance, Coon Rapids) or from Bunker Hills Activity Center parking area (Bunker Lake Boulevard entrance, Andover).
There are a fair amount of both pine and oak trees in the park, which means the trails can get debris-filled after windy conditions and if there hasn't been fresh snow in awhile.
Bunker Hills Golf Course Trail System
There's a separate but connected trail system at Bunker Hills Golf Course that you can access via the Foley Boulevard entrance. Take a left at the first stop sign toward the Golf Course office and park in one of the first two lots there for trail access.
Personally, this is my favorite ski area of the trail system. The outer loop is about 6 kilometers which makes for a really nice, scenic 45-50 minute ski. You can take it either direction, or cut it in half by cutting across the middle.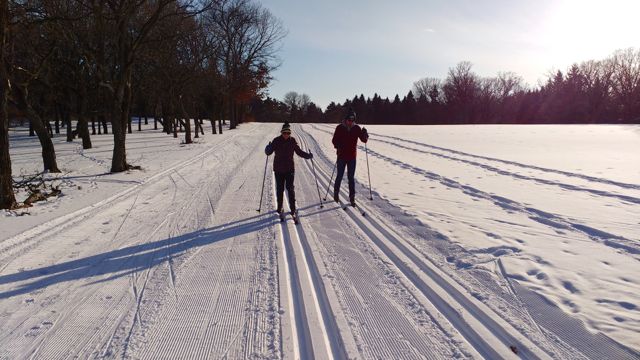 As is expected at a golf course, there's plenty of open areas, some trees, and rolling hills throughout, but none of the hills are big. So this is a great spot for beginning skiers to start out.
It's not uncommon to see wildlife in both the park and the golf course when skiing. Tracks from many different species are usually abundant. I've seen deer, fox, coyote and birds of all kinds while skiing over the years.
Go to the Bunker Hills Regional Park Winter Map to see all the trails.
Skijoring Park
Bunker also hosts a skijoring park which you'll need to access off Hanson Boulevard and 133rd Ave (it's the same parking area as the off-leash dog park).
The 5k trail loop is one-way with a few length options. It's mostly beginner-level with one intermediate section on the south end if you choose to take it. That makes this park a great spot to learn skijoring. You can even rent skis if you need to (scroll down a bit for that info).
This trail section is for skijoring only, and is the only part of the trail system where dogs are allowed.
Rent Ski Equipment
If you need to rent ski equipment, you can do so at the Bunker Hills Campground Office (Main Street/Foley Boulevard entrance). They also sell daily ski passes there. Click here for rental days and hours or call the campground office at 763-324-3330.
It's just $6 for up to 3 hours to rent skis, boots and poles. They offer a limited number of both youth and adult sizes. The park recommends calling ahead to verify rentals available, especially on the weekends.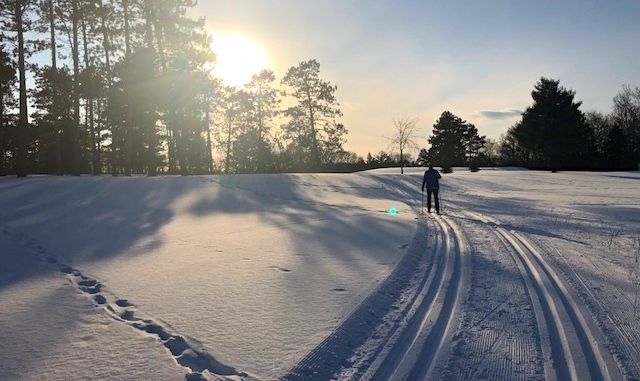 Buy a Minnesota Ski Pass
You'll need the Great Minnesota Ski Pass to ski at Bunker. If you rent skis, they'll sell you a daily pass at the same time.
If you have your own gear and want a daily Minnesota Ski Pass, you can buy one at the Campground Office inside the park (call the number above for hours).
The office doesn't sell the annual pass, though. You can find one of those at any DMV licensing center, at retailers that sell hunting and fishing licenses or straight from the DNR website.
Click here for Bunker Hills Ski Trail Conditions
You'll like these, too…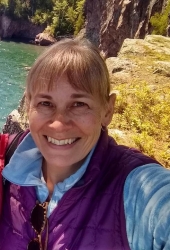 Latest posts by Sharon Brodin
(see all)