(Andover/Coon Rapids, Anoka County • Park pass and Minnesota Ski Pass required)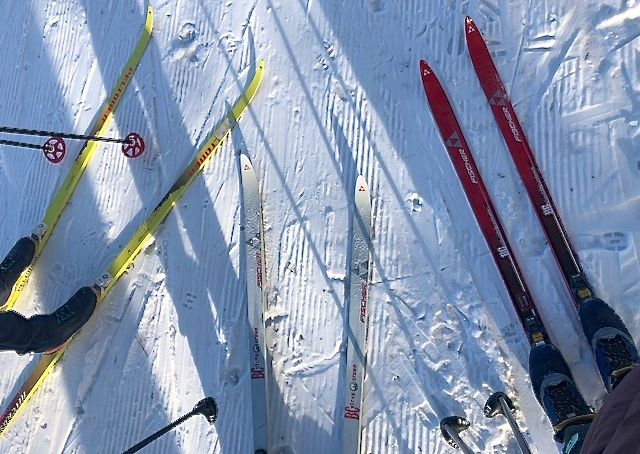 There are more cross country skiing trails at Bunker Hills Regional Park than anywhere else in Anoka County, about 20 kilometers (a little over 12 miles). There are several trails winding among the trees from easiest to most difficult.
My Personal Favorite Trail
My personal favorite trail is the 6k long loop around Bunker Hills Golf Course, adjacent to the Park and groomed by the same folks. (You can see it on the map between the green skijoring trail on the left and County Parkway A on the right.)
It's great for beginners and intermediate skiers, and even experts if you're after a decent workout and not too much excitement! There are rolling hills throughout, but nothing crazy.
The trails on the golf course are double-tracked for classic (assuming there's enough snow) and also groomed for skate skiing, so there's plenty of room.
Great for Beginning Skiers
I skied here a couple weeks ago with our son, Jason, and his fiancee, Cheyenne. He hadn't been skiing in 8-10 years and she had never been skiing! So it was fun, as always, to introduce someone brand-new to this wonderful sport.
It was a Sunday so the Campground Office was open, and Jason and Chey could rent their equipment. For a mere $6 they got boots, skis and poles. Another $7 each for their daily ski pass and we were good to go (I have my own skis and had bought the annual pass this year).
From the Office we drove over to one of the golf course parking lots to hit the trail there.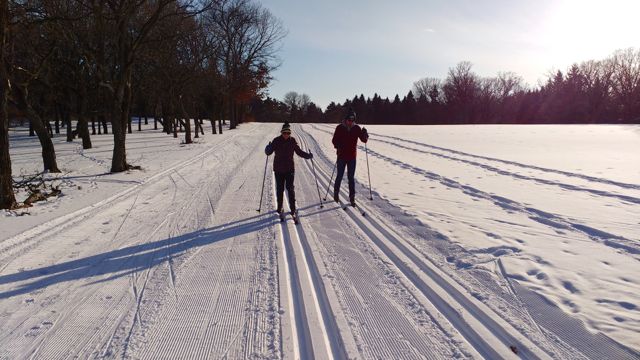 Crisp and Beautiful
I usually ski in the morning. I say that because on this day we went later in the afternoon when the sun was low and the shadows were long.
That gives it a completely different feel!
It was a cold day with a brisk breeze, but it felt so good! The great thing about this sport is you warm up reasonable fast.
I'm happy to say Cheyenne was enthusiastic about her first attempt. Hopefully we'll get a chance to make it out again yet this season. If not, we have a new convert!
A Nice Solo Ski
I went out again just a couple days ago, this time alone. It takes me just about an hour to do the whole loop if I don't stop to take pictures. A very nice workout and break from the normal walking or running routine.
We had had some snow melt in-between my two ski days, so it was no longer tracked for classic. But I skied on the skate tracks just fine…even though I'm not good at skating!
It feels great to get outside in the winter, and cross country skiing at Bunker is one of my favorite ways to do that.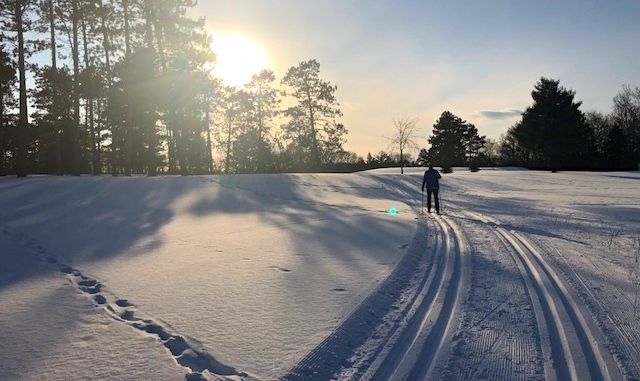 If you need to rent equipment, the Campground Office is only open on the weekends. They also sell daily ski passes. If you have your own equipment but need a pass during the week, the Holiday Gas Station on Foley and Main Street, right across from the Park entrance, sells annual passes.
The Campground Office and Golf Course are closest to the Park Entrance on Foley and Main Street in Coon Rapids.
Click here for more skiing options in Anoka County.
(post by Sharon Brodin)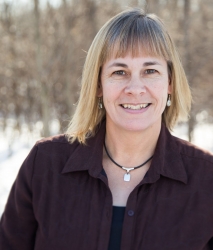 Latest posts by Sharon Brodin
(see all)