Lino Lakes/Anoka County • No vehicle permit • Minnesota Ski Pass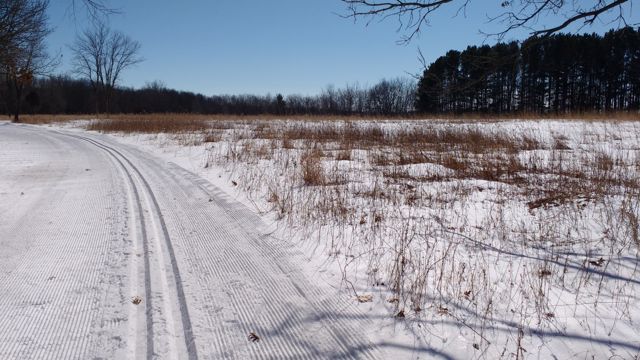 There are several miles of lovely cross country ski trails at Chomonix Golf Course in Lino Lakes, part of Rice Creek Chain of Lakes Park Reserve. The trails are part of the Anoka County Parks system.
Not Challenging, but Beautiful Cross Country Ski Trails
If you're a skier who likes excitement, this probably isn't the place for you. But if you're out for an enjoyable ski through varied and beautiful terrain, this will do just fine.
Personally, I don't mind flat as long as it's not boring. There are plenty of twists and turns on these trails to keep it interesting.
On the north end of the loop, the trail joins a multi-use trail. It may be a little rougher for skate skiing since that's where people were walking. The hikers are good about staying off the classic tracks though, which I appreciated! The trail is also open to fat tire bikers, so it could get busy on the weekends.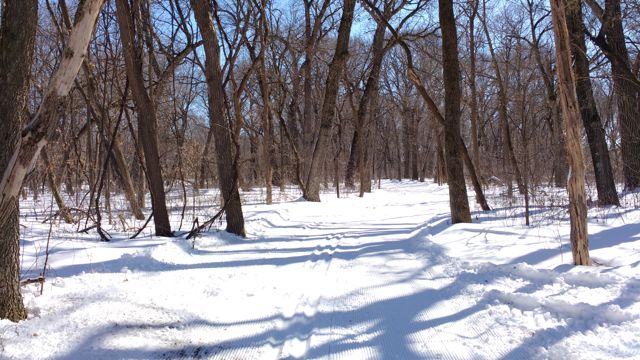 A Couple of Trail Options
There are about 10 kilometers of groomed trails at Chomonix altogether. I took the trail to the north of the Clubhouse and headed out (it's marked as one-way), taking the outer loop that follows the shoreline of George Watch Lake.
That connects to the multi-use trail loop, which includes a spur trail leading northwest to a neighborhood road behind the YMCA. Take that out-and-back to add a bit more distance if you want to.
(That's one of the places this trail system can be accessed in the surrounding neighborhoods if you don't want to park at the Golf Course Clubhouse for some reason.)
As you can see from the photos, it's groomed for both skate and classic skiing.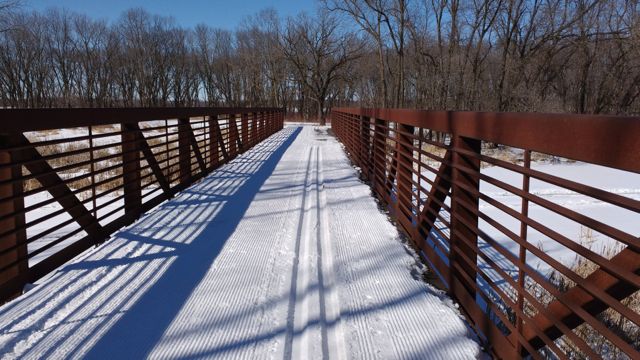 Rent Gear at the Clubhouse
Rental skis, boots and poles are available at the Clubhouse there next to the golf course parking lot. It's just $6 per person for up to 3 hours. You can buy your ski trail pass there, too—$10 for a daily pass if you don't already have the annual pass.
Be sure to call ahead for their hours: 763-324-3434.
How to Get There
The trail system can't be reached from within Rice Creek Chain of Lakes Park Reserve without walking almost a mile. The Clubhouse parking lot is perfect.
The entrance to Chomonix Golf Course is off Lake Drive in Lino Lakes, on Aqua Lane (there's a huge sign for the golf course there—you can't miss it). It's between Hodgson Road and 35W.
It's always a good idea to check on the trail conditions before heading out.
Here's more…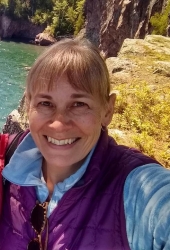 Latest posts by Sharon Brodin
(see all)