Brooklyn Park, Hennepin County • No fee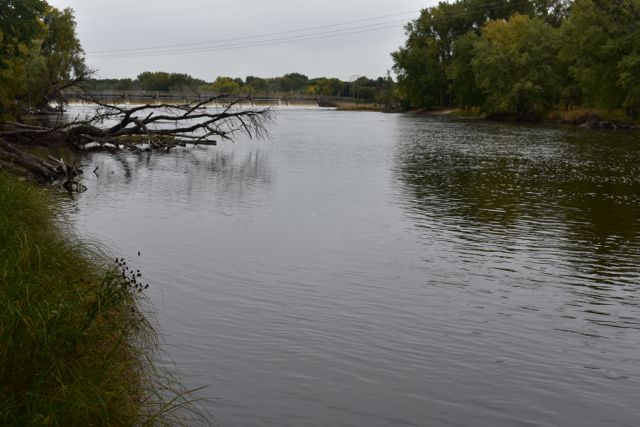 Mississippi Gateway Regional Park is a great local place to launch your canoe or kayak for a paddle trip on the Mississippi River.
What Makes Mississippi Gateway a Great Place to Paddle
Unlike Coon Rapids Dam Regional Park across the river, this park has canoe launches below the Dam. From here you can paddle to a variety of exit points downriver, depending on your desired length.
EASY ACCESS—The canoe launches are a short portage from the main parking lot next to the Visitor Center at the Park. There are two launches within a few yards of each other, both well-made and roomy. There's plenty or space along the sandy bank to line up several boats if you have a large party.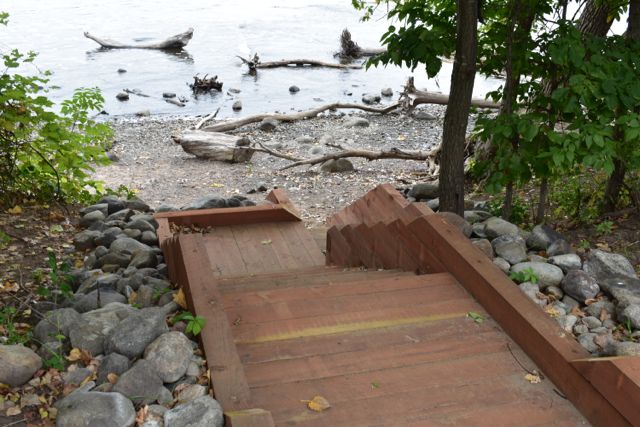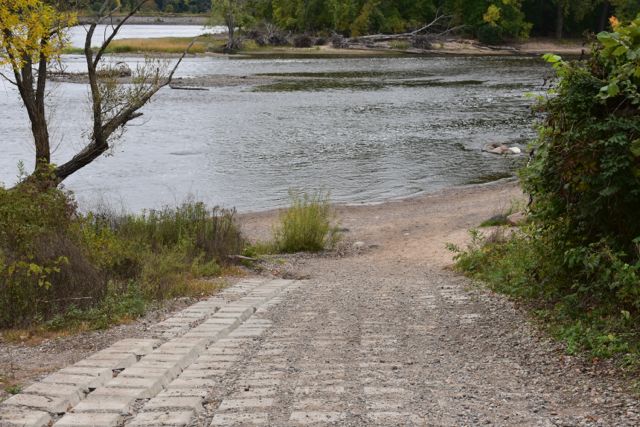 From this point and downriver are several islands. You can choose your course. As long as you stay with the current you'll eventually find yourself back on the main river just north of the Highway 610 bridge.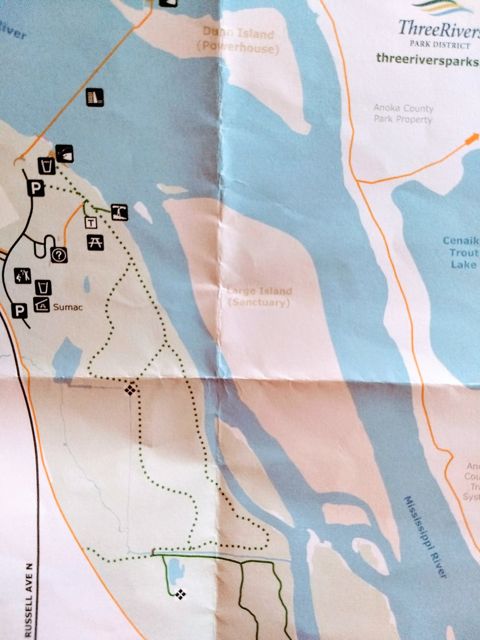 KAYAK RENTALS—If you don't have your own canoe or kayak, you can rent either a single or tandem kayak from the self-serve Paddle Share Station located between the two launch points.
This is a super cool idea! A partnership between Three Rivers Park District and the National Park Service make these kayaks available. Just go to paddleshare.org for all the info and to make your reservation. BE SURE to read the Important Information section if you don't want any unpleasant surprises 🙂
There are eight Paddle Share stations on the Mississippi River in the Twin Cities Metro, including your choice of two you can exit at to return the kayak(s) you'll rent here. There's also info at the link above about ways to get back to your car once you come ashore.
2018 prices were $25 for a single kayak and $40 for a tandem (double). It doesn't look like you have the option for a day-long paddle with these rentals, but the paddle station is very convenient if you want to be out for a couple hours.
How to Get There
Mississippi Gateway is a few minutes northeast of the Highway 610/Noble Parkway intersection. The address is 10360 West River Road in Brooklyn Park.
You'll like these, too…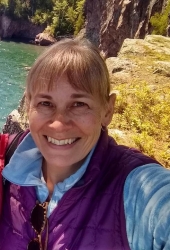 Latest posts by Sharon Brodin
(see all)