Paddle Bridge Guide Collective is a Minneapolis-based kayak touring company with a very specific focus. They take their guests on the Mississippi River to enjoy time on its waters, but also to learn of its rich and varied history.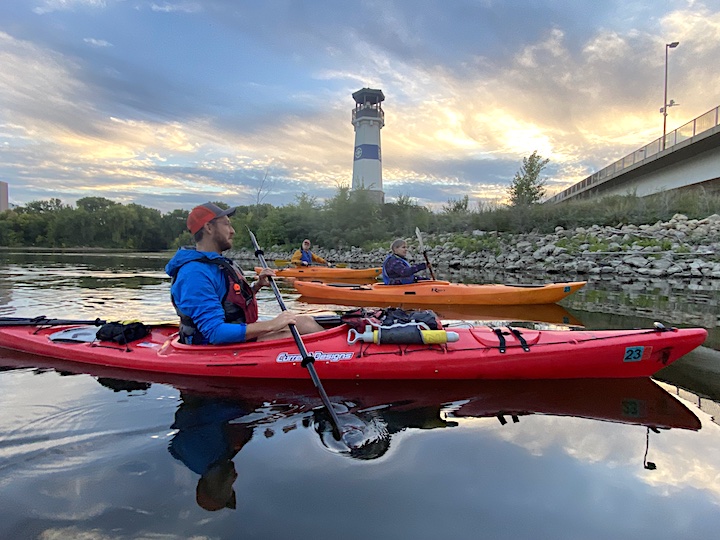 I got to join an evening tour with a couple of the Paddle Bridge guides in September of 2022. Because it was late in the season with an early sunset, we got to see the lights of downtown Minneapolis from the river after dark—amazing!
Here's what you can expect when you join Paddle Bridge for a tour:
What to Expect on a Paddle Bridge Kayak Tour
Paddle Bridge offers several different tours. The one I joined was based on their Heart of Minneapolis Tour. (It was specifically a media trip, so this may not be identical to their "normal" offering.)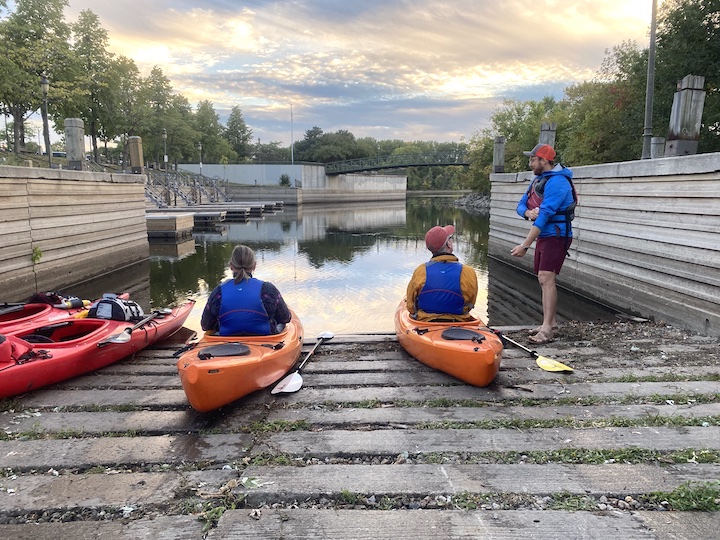 We started and ended at Boom Island boat launch. First we paddled upstream for a ways, kayaking under the 8th Avenue and Broadway Street bridges. Then we turned back downstream and paddled alongside Nicollet Island and under the Hennepin Avenue bridge. We stopped to turn back near the 3rd Avenue bridge, just above St. Anthony Falls.
By that time the sun had set, our kayak bow and stern lights were on and we had spectacular views of the city lights of downtown.
All along the way our knowledgeable guides told us of the history of the area, what kinds of wildlife it's possible to see and the environmental impacts various industries have had on the river.
Kayaking in the dark, especially in an unfamiliar location (for me) was a different experience. But Amber and Kalen, our confident and friendly guides, made it fun and easy. And seeing the lights in downtown Minneapolis from the water at night was super cool!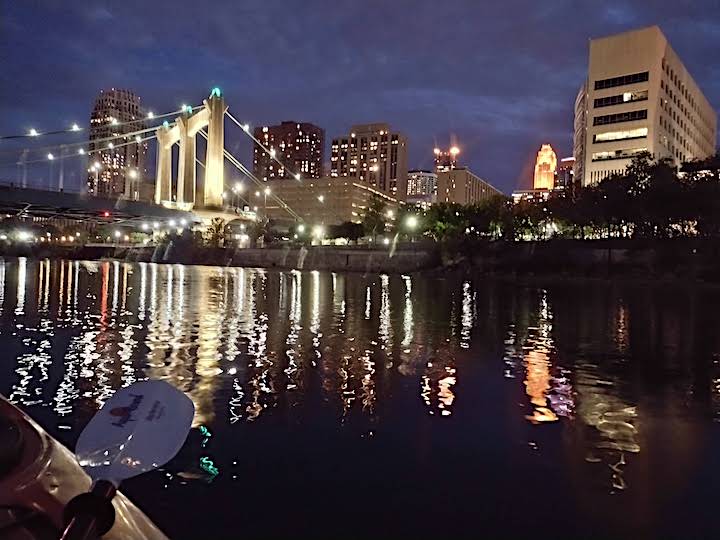 Book a Paddle Bridge Tour
Other Paddle Bridge tours include:
City of Birds Tour: From Riverfront Regional Park in Fridley to Boom Island Regional Park in Minneapolis. The highlight is passing by a couple of islands that serve as a great blue heron rookery. (Shuttles included)
Happy Hour Sunset Tour: From Boom Island. This short tour is great for families. It takes full advantage of the lovely dusk and sunset lighting on the river and in the skies above.
Mississippi River Gorge Adventure: Their longest tour, this one begins at Bohemian Flats Park, paddles through the Mississippi River Gorge and ends at Hidden Falls Regional Park. You'll experience going through the Mississippi's largest lock, Lock and Dam Number 1. (Shuttles included)
Full Moon Flotilla: Monthly tours on Bde Maka Ska and Lake of the Isles to enjoy the full moon and city lights on these lovely lakes.
Each of these kayak tours includes your guide's narration of the area, the history, the wildlife, the environment and local landmarks. Click here for more details of all the tours and to book yours.
Paddle Bridge customizes kayak tours for private groups, too. Call 612-423-3838 or email info@paddlebridge.com to inquire.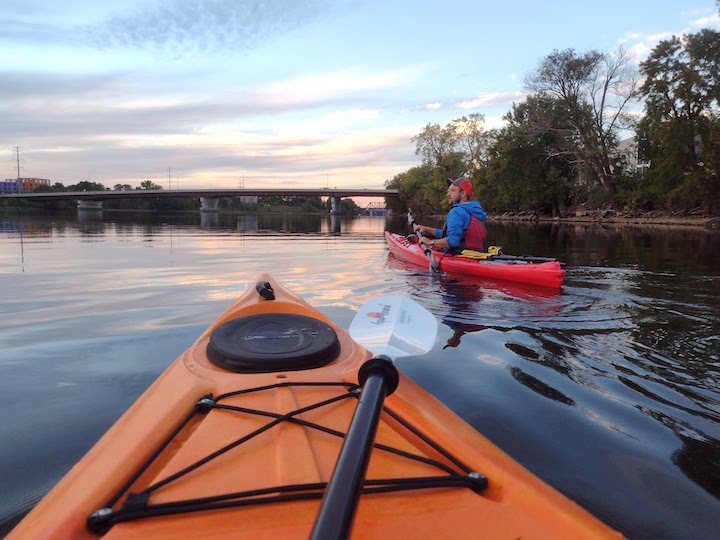 What Experience Do You Need?
Paddle Bridge guides are all ACA-certified (American Canoe Association). Simple kayaking and safety instruction is part of every tour, so beginners are welcome.
Children over 12 can kayak their own single boat, or paddle along in a tandem kayak with someone older than 12.
The Central Mission of Paddle Bridge
As a company, Paddle Bridge's core mission is to connect people to the Mississippi River through kayaking, and also to make the river more accessible to more people.
They "aim to be better stewards of the river and help bridge barriers of entry so that everyone feels welcome and safe to enjoy the river."
Their tour routes, partnerships and community programming are all intentionally geared towards this mission.
They have a passion to see the people who live near the river be able to access it, enjoy it and value it. They've partnered with many organizations to diversify and build confidence within our paddling and river communities, including Afrodiskayak, Two Paddles Canoe & Kayak Races and Migizi Communications.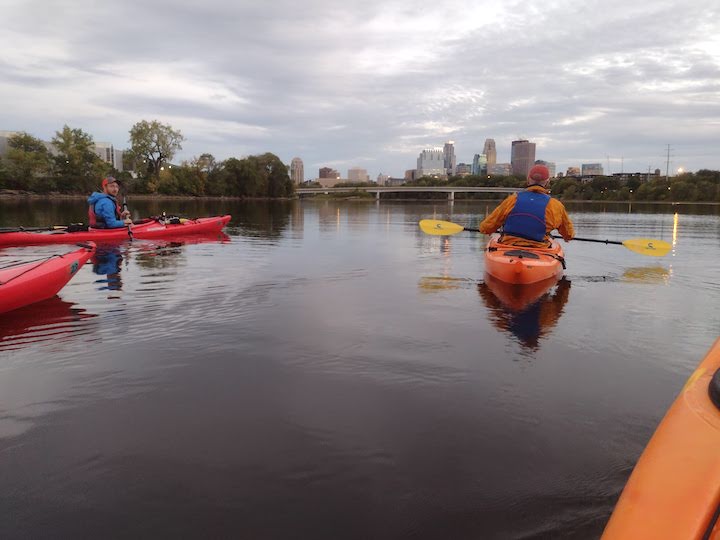 Kayak Lessons
The Paddle Bridge team also offers kayak lessons and courses.
If you're interested in a short skills session to get on the water casually, go with a Quickstart Lesson. If you're interesting in kayak touring as a serious hobby, jump into one of their 2-day ACA-certified Level 2 Essentials of Kayak Touring course.
Company History
Paddle Bridge Guide Collective will celebrate its 5-year Anniversary in 2023. It was founded by a collective of instructors, including Theo Byrnes, Kalen Keir and Jeff Buffington, all who've brought years of guiding experience. Amber Lynum later joined them to be part of the guiding and management team.
They all have a passion to introduce people to the Mississippi River, to foster stewardship for it and accessibility to it.
To learn more, go to the Paddle Bridge Guide Collective website and visit them on social media: Facebook and Instagram.
I look forward to getting on one of their Gorge Tours next!
You'll like these, too…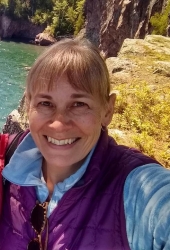 Latest posts by Sharon Brodin
(see all)