Saint Paul/Ramsey County • No vehicle fees
Como Regional Park is one of the metro area's most popular parks. One of its many attractions is 70-acre Como Lake, with boat access limited to those that can be carried on a car's rooftop.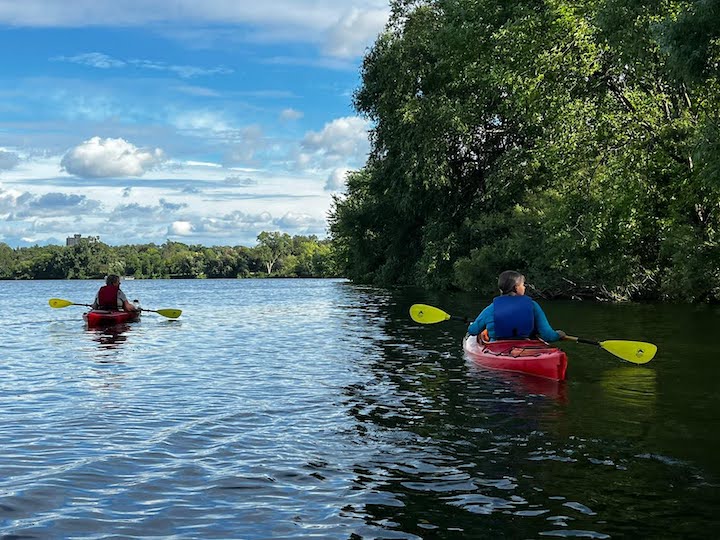 It doesn't take long to kayak (or canoe, paddle board or take one of the rental pedal "swans") the perimeter of the lake—less than an hour. But it's a relaxing, enjoyable and scenic way to take in this popular Twin Cities destination.
I kayaked Como Lake this week as part of an outing with my sisters and mom…
Rent or Bring Your Own
You're welcome to bring your own canoe, kayak or paddle board to Como. Park your vehicle in the south lot of Como Lake Pavillion and you'll find the paved boat launch right off the footpath just south of the rental pier.
If you don't have your own boat or prefer not to bring it (as I chose for this particular excursion), you can rent one from Wheel Fun Rentals lakeside, just below the Pavillion.
Something I didn't know until my two Minneapolis-living sisters discovered it this summer—you can pay a very modest fee for a season membership with Wheel Fun, $15 I believe. Then you pay half-price every time you rent from them at any of their locations (Nokomis, Harriet, Bda Maka Ska, Como).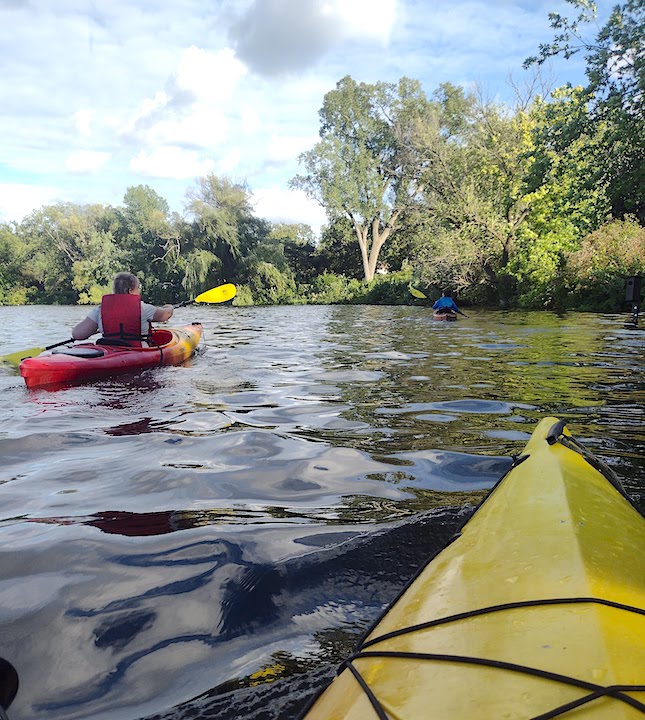 My one sister lives in a 4th story apartment in the City. She loves having easy access to these lakes for kayaking without having to own, store and transport her own boat.
Just an FYI, when renting they had us enter and exit our kayak from the dock instead of the beach or the water. This adds a bit of a challenge to the whole experience, haha! We managed it just fine with the help of the fine young men working there…and didn't get our feet wet.
Kayak this Small Urban Lake
While in a very urban area, Como Lake's shoreline has been allowed to go natural around almost the entire lake. So there's lots of wildflowers, trees, fallen trees and local wildlife to be seen as you paddle.
We enjoyed following the shoreline and were rewarded with seeing a great blue heron, many ducks and several turtles.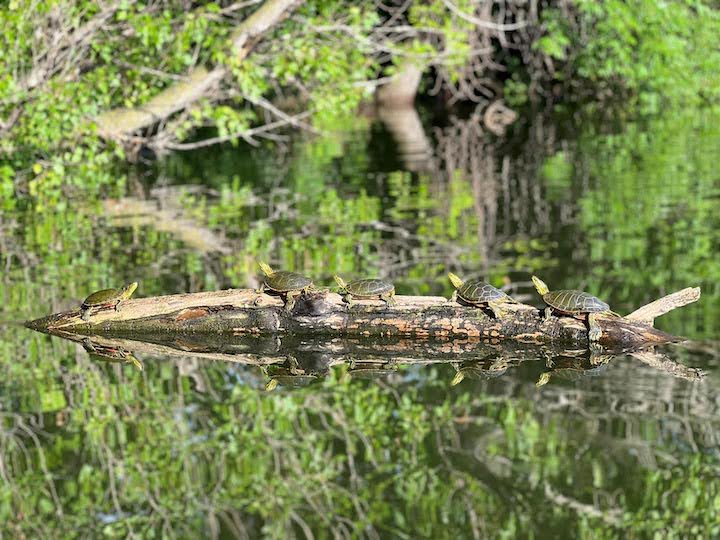 The lake tops out at just over 15 feet deep and is quite shallow around the edges. So a fair amount of aquatic vegetation gets caught up in your paddle blades—at least later in the season like now. A quick flick and it's easily dealt with, though.
There were several other kayakers on the water throughout the evening. And, especially popular after dusk, are the lighted swan pedalboats. We saw several of those around the lake later on because we stayed to make a night of it…
Is it the prettiest lake in the Cities? Probably not. But the whole Como area is a local gem, so it's worth getting on the water there at least once! It's a great place to start young kids kayaking, too, as it's small and unmotorized. No dodging faster boat traffic.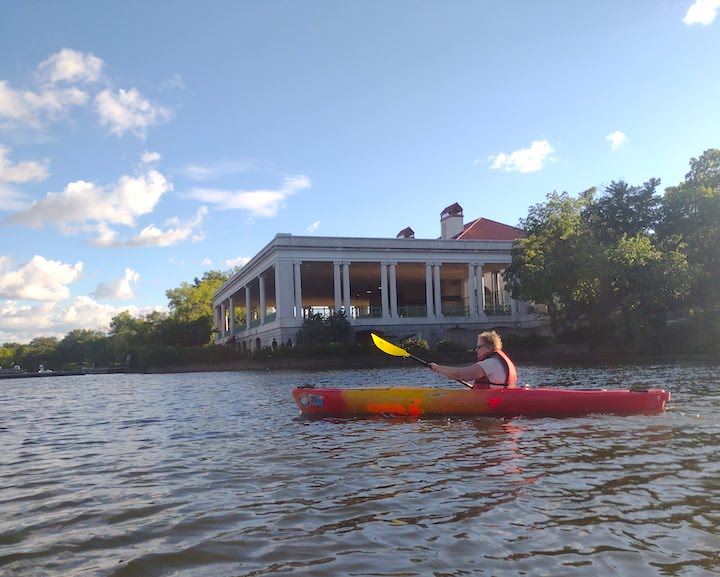 Make a Night of It
Even at a relaxed pace and with several stops for photos and wildlife watching, we made it around the lake in about 40 minutes. So there's plenty of time for other activities while you're in this regional park.
(Your rental fee is good for an hour, so you have plenty of time to explore the whole lake.)
We had decided to pair kayaking with one of the Pavillion's summer concerts. The Kenwood Symphony Orchestra and Twin Cities Trumpet Ensemble partnered together that night for a pops concert that included such favorites as the 1812 Overture, Pirates of the Caribbean and a wonderful arrangement of America the Beautiful.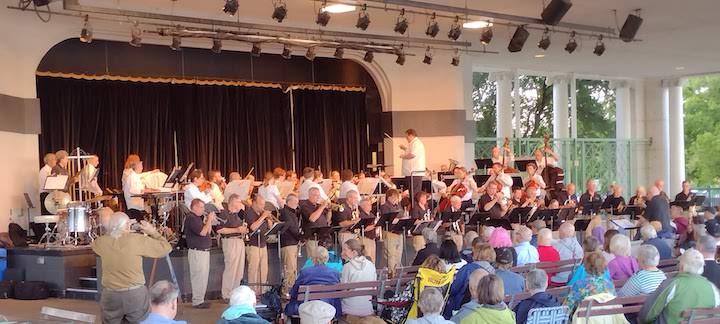 We could've brought a picnic to eat while enjoying the concert, but we opted to keep in simpler (actually, I didn't think far enough ahead to plan, haha!) and bought our supper at Dock & Paddle, which is inside the Pavillion. (The Loaded Nachos and Shrimp Tacos are both delicious!)
See Como Lakeside Pavillion's music and events calendar here.
Other Activities at Como Regional Park
Besides kayaking and other paddling opportunities on Como Lake, there are 2.3 miles of paved hiking trails in the park—most of which circle the lake itself.
Hugely popular Como Park Zoo is a kid magnet, perfect for families with young children, especially. It's small but very well-run. There are programs like a seal show, gorilla program and giraffe feeding (which is new since our kids were young).
Como Conservatory is another extremely popular local attraction and another great way to get in more steps while making your way through both indoor and outdoor gardens. (People especially love walking through the buildings of tropical plants during our long winters!)
Admission to the Zoo and Conservatory (they're in the same location) is voluntary, suggested at $4/adult and $2/kids to help them with expenses.
Como Park also hosts an 18-hole golf course, ball fields and lots of picnic areas. See the map here.
If you visit Como Regional Park in the winter you'll find 7 kilometers of groomed cross country ski trails, including almost two miles of lighted trails for evening skiing.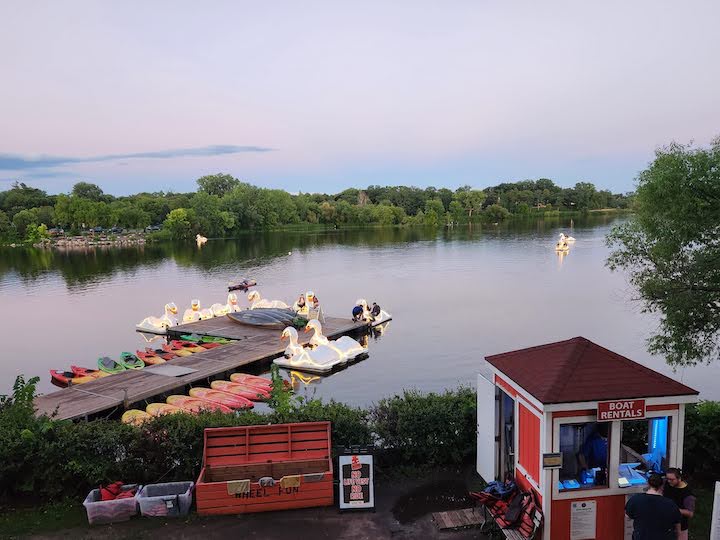 How to Get There
To get to Como Lake for kayak, paddle boarding or canoeing put "Como Lake Pavillion" into your phone's GPS.
If you bring your own boat, you'll want the parking lot just to the south of the Pavillion, which is on the west side of Como Lake. As mentioned above, there's a boat launch there.
The second time I kayaked on Como Lake I brought my inflatable SUPyak and used the launch. It's quite nasty there with all the weeds—and the submerged cement is a little slick. But I managed to launch and come back in just fine.
If you plan to rent from Wheel Fun, either of the Pavillion's parking areas will work just fine.
You'll like these, too…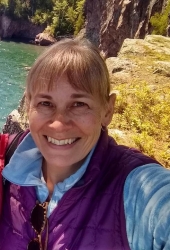 Latest posts by Sharon Brodin
(see all)