Lake Elmo, Washington County • No vehicle permit needed
Sunfish Lake Park is a hidden gem for those seeking a tranquil and natural hiking experience. It's an oasis nestled in the woods, about 4 miles from downtown Lake Elmo.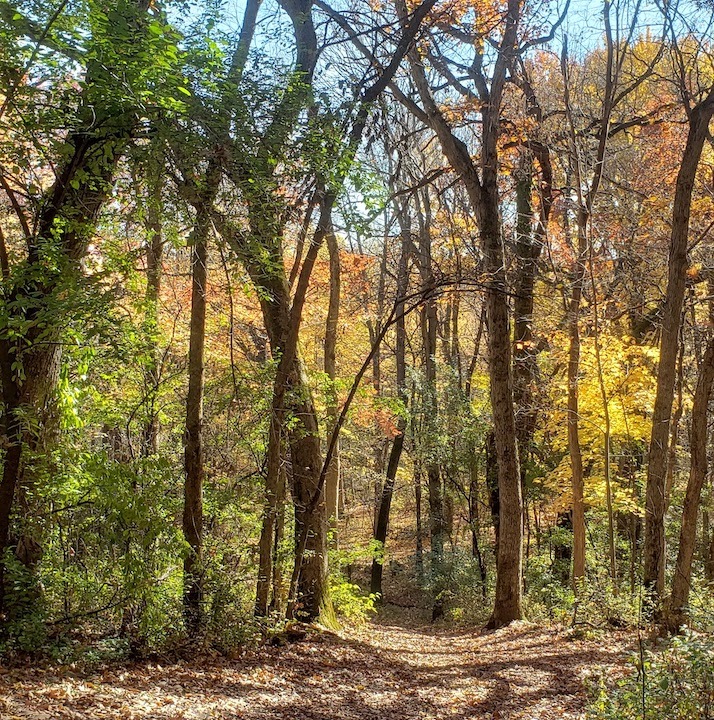 A recharge of the mind and soul was just what I needed, and I found it in this 284-acre park on an afternoon hike.
Sunfish Lake Park includes the Sally Manzara Nature Center, 17 acres of prairie restoration and 5.5 miles of multi-use hiking trails.
I hiked the park in just after peak autumn leaf season. It was beautiful, tranquil and best of all—BUG FREE!
According to the City of Lake Elmo Area website, the Minnesota DNR has recognized the park as a "Regionally Ecological Area," that offers "one of the best bird watching opportunities in the 7-County Metro Area." It hosts "13 species of birds in greatest conservation need."
Overview of Sunfish Lake Park's Hiking Trails
I can struggle with directional bearings when I hike, but overall these trails are marked very clearly.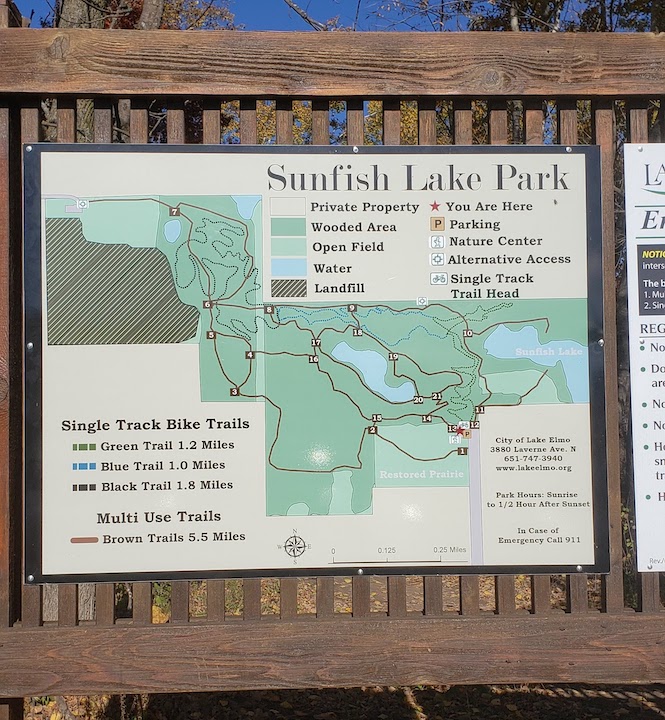 I had a little trouble finding the #1 trail head sign—it's just south of the Nature Center. (Walk a short distance on the gravel "exit" road and you'll see it on your right.) Trail #1 leads you over the open prairie.
Trail #2-8 provide pleasant and easy hikes over rolling hills that curve through the woods.
At #6 you need to be watchful of intersecting bike trails. I really enjoyed the ravines between #6-8. You might catch a glimpse of the mountain bikers below.
There are a few steep hills between #7-12, the steepest just before 12. I was briefly confused at Intersection 10. The path looked narrow "like the biking trails." If you stand with your back at sign #10, walk straight ahead and then veer slightly left, the path widens after a short distance.
#12 brings you back to the north end of the parking lot. Trail sign #13 is off the west end of the parking area. It's easy walking through the woods. Trials #16-20 wind around a small body of water and include a few short/steep hills.
Once you reach #21, you will need to backtrack back to #13 to reach the parking lot.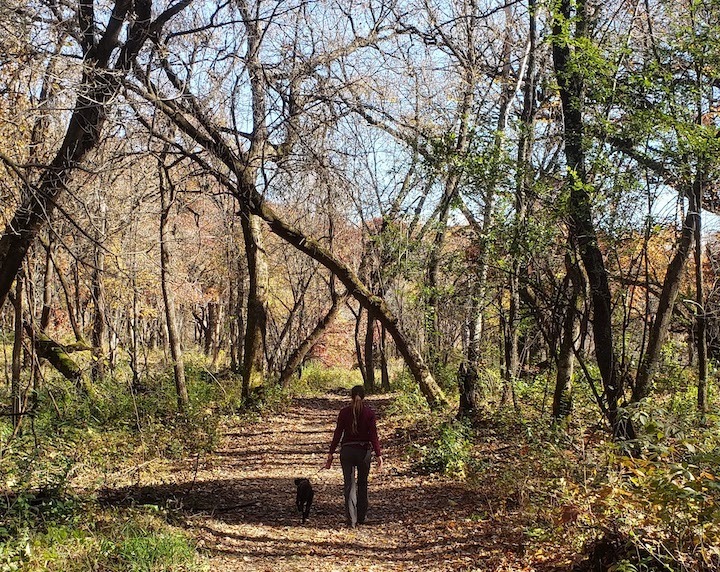 NOTE: Please be aware that in this park, the bike trails are for bikers only and the hiking trails are for hikers only. Please respect the bikers' space and don't hike on the bike trails!
What's to Love about Sunfish Lake Park
There's a variety of terrain and scenery including prairie, woodlands, a small lake, wetlands and a few ravines. It reminded me of a tropical forest, listening to the plentiful birds.
Signs at intersections are marked clearly: You are Here. This is my favorite feature on a trail, so I don't wander around lost or walk farther than planned. Along with the intersection numbers, that helped aid navigation.
Directional arrows are provided to choose your next destination. The general rule is: bike paths are typically much narrower than the mowed hiking trail. Dirt piles block closed trails, so no guess work there.
NOTE: For fun, you can scan a QR code with your phone to practice orienteering with a compass.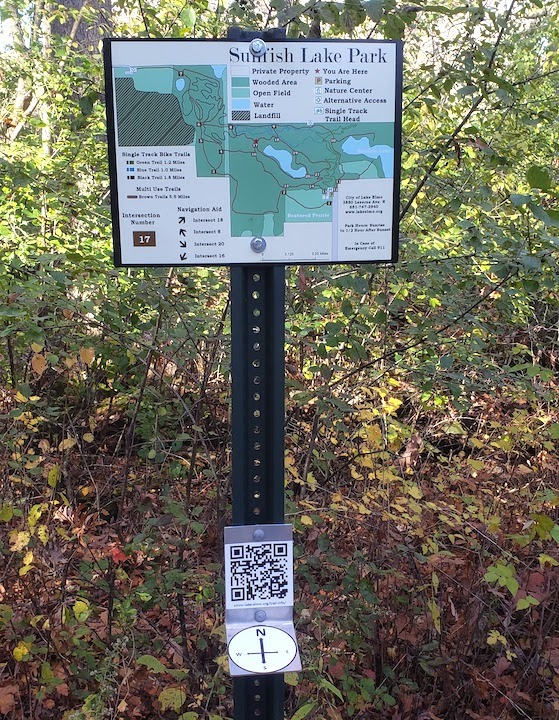 These trails are "loop trails" so you can easily choose longer or shorter distances. Trail #1-#12 make up the outer loops. Trail #13-#21 make up the inner loops. You can also cross between the two.
There's ample parking and modern bathroom facilities.
Any Negatives?
Sunfish Lake Park is known to be very buggy, with the deep woods and numerous wetlands. So, like so many areas of Minnesota, remember bug repellent! If you do, you'll be fine. I like to spray my hat so bugs stay away from my head.
(Or opt for a fall hike, like I did!)
It's a popular mountain bike destination. The bike trails are separate, though, and don't intersect the multi-purpose hiking trail very often. I rarely saw or heard the mountain bikes while hiking. However, be watchful at intersections that cross bike trails (which are marked very clearly for safety)
The biggest hurdle to getting out in nature is making a deliberate choice to do so. Once you find yourself outside, you wonder to yourself: Why don't I do this more often?!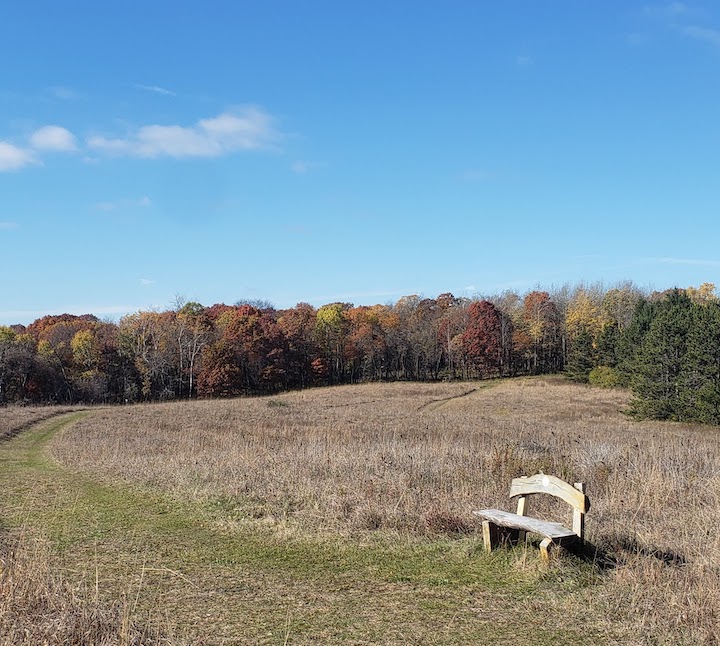 What Else to do at Sunfish Lake Park
As mentioned above, Sunfish Lake Park is home to Sally Manzara Interpretive Nature Center. It hosts summer camp programs, various events, family activities and much more.
Cross country ski trails are groomed for winter use.
How to Get There
Sunfish Lake Park is located at 3554 Kelvin Ave N. in Lake Elmo. The entrance is on the north side of Highway 5, and somewhat obscure, so you may have to look carefully. You'll take a short gravel road into the park.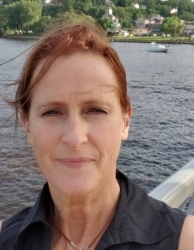 Latest posts by Rochelle Kaehne
(see all)