Lake Elmo/Washington County • Vehicle permit needed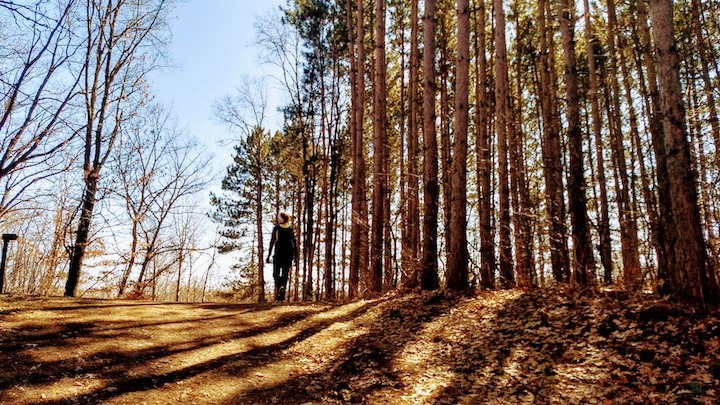 Lake Elmo Park Reserve has more than 2,000 acres of lakes, ponds, wetlands, rolling hills, forests and prairies. There are 20 miles of hiking trails there, making it one of the best parks for hiking and trail running in the Cities. Many of those trails are natural-surface, which makes it even better.
What's to Love about Lake Elmo Park Reserve
Of course the first thing to love is the extensive trail system itself. You have your choice of both natural surface trails or paved multi-use trails, if you have a stroller or don't want to deal with mud.
This park is super scenic. No matter what season, it's going to be beautiful. Even on this spring hike with no leaves on the trees and very little green grass yet, it was pretty. Spring is great for seeing the "lay of the land" and water features, since no leaves are blocking your view.
You can get a great hill workout here, especially if you know where the best hills are. We intentionally hiked the trails that have the "steep hill" warning signs for skiers in the winter! (Personally, those are too scary for me for skiing—but perfect for hiking).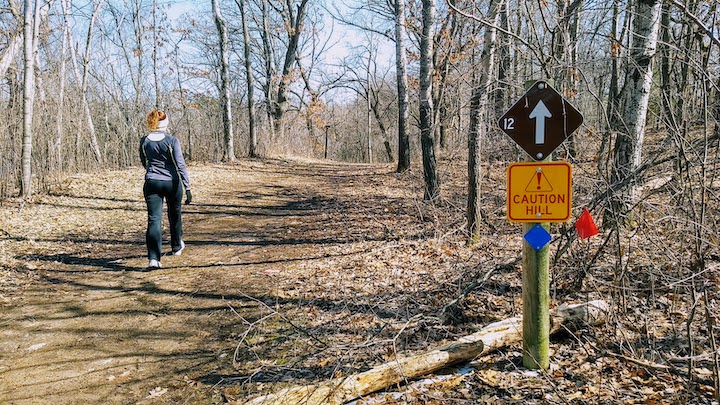 You can see our route in bright blue on the map below: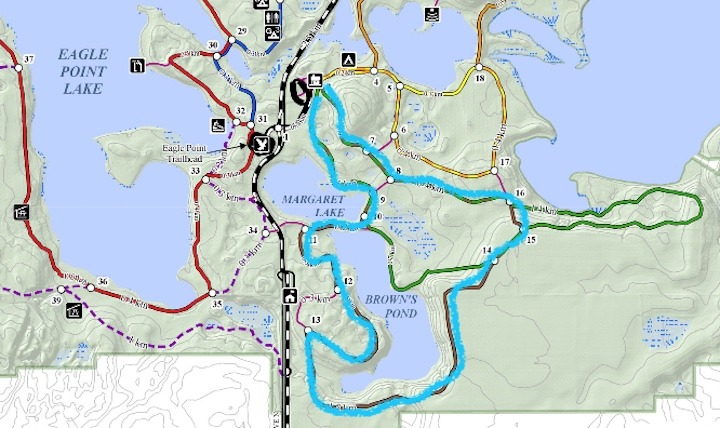 Park at the Nordic Center if you want to try this route for a 50-60 minute hike. Or add the extra green loop to the east for another 40 minutes.
The Eagle Point Lake trail is almost 4 miles, and is another beautiful hike or run. The hills aren't as steep, but there are plenty of them. You'll park at the first lot on the left (past the gate) when coming in the main entrance at the south end of the park.
As I write this we're in the coronavirus shelter-at-home season. Everyone and their mother is in the parks and on the trails (which is awesome, by the way). Even though we hiked on a gorgeous and sunny Saturday afternoon, our trail was far from crowded. It helps that there are so many hikeable options.
What Else is at Lake Elmo?
Lake Elmo Park Reserve is loaded with outdoor activity options:
Biking on the multi-use paved trails.
Mountain bikes, horses and hikers are all welcome on the trails on the entire west half of the reserve (see this map).
Camping—There's a group camp area, modern camping, rustic camping and hike-in camping.
Canoe or kayak on Eagle Point Lake or Lake Elmo.
Lake Elmo provides super cross country skiing in the winter as well as some snowshoeing and winter hiking.
How to Get There
Lake Elmo Park Reserve is at 1515 Keats Avenue North in Lake Elmo.
You'll need a Washington County Parks vehicle permit, which is also good in Anoka County and Carver County.
Here's more…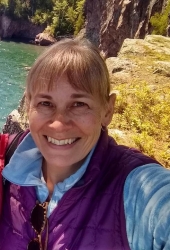 Latest posts by Sharon Brodin
(see all)