Chanhassen, Carver County • Park pass no longer needed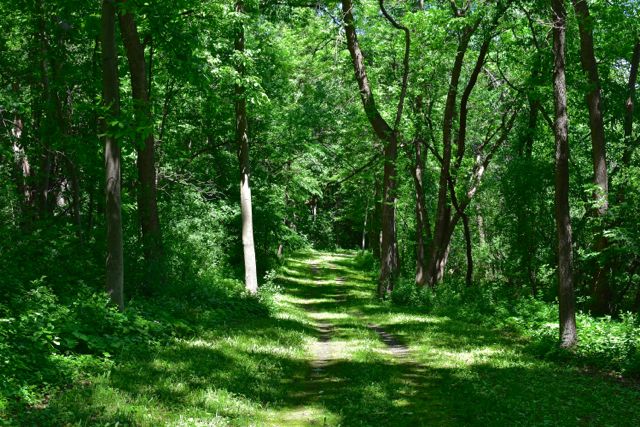 There's decent hiking in Minnewashta Regional Park—assuming you can find the trails you want!
About Minnewashta Regional Park
Minnewashta is one of the Twin Cities' smaller regional parks at 341 acres. Located on Lake Minnewashta, it has a nice variety of hardwood forest, restored prairie and lake/wetlands.
What's to Love
Wooded trails, natural lakeshore, restored prairie, a combination of both paved and natural surface trails, rolling hills. Varied terrain in its 5 miles of trails.
"We drove to Minnewashta yesterday. We walked for an hour and half or so and found it to be perfect. Nice paved trails, nice scenery, no bugs, and beautiful day. Beautiful park!" (Dale B., New Ulm, May 2019)
A few of the trails are maintained for winter hiking, too.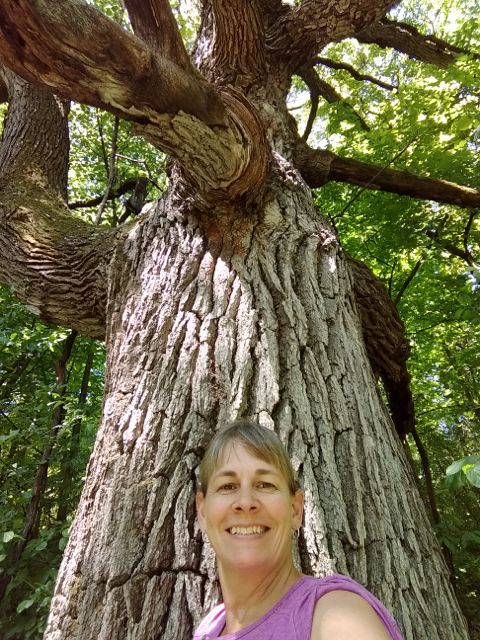 What Could be Improved
I drove around for at least 20 minutes trying to find the parking area and trailhead for the natural-surface trails in the northeast section of the Park.
With names like Woodland Loop and Vista Trail, I figured they'd be beautiful—but I couldn't figure out how to get there! The map shows a parking area just northeast of the boat launch. I drove by it 3 times and couldn't find it.
Much of the natural surface trail system seems to be on mowed grass. But since so much of the non-treed grassy areas are mowed, it's not obvious which areas lead to the hiking.
So this Park needs trailhead markers and signage for their hiking trails. Maybe the locals are familiar with them, but it's not first-time-visitor friendly, even with the map.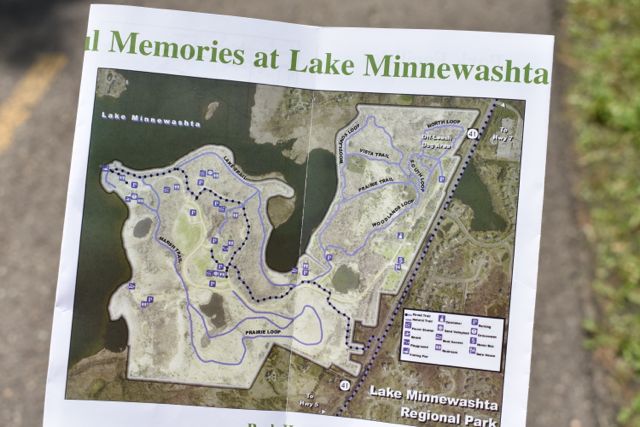 Speaking of map, it would help to have a full-size map. The smaller version you get in the Park brochure has been reduced down so much it's hard to read the key. Printing your own from the Carver County website may be a better option.
What Else is at Minnewashta?
The boat launch was very busy the day I visited the Park. Since this part of the lake has a marshy shoreline, I assume they were anglers.
Are you a paddler? You can rent a spot for your kayak on their kayak rack for the season. No need to haul it back and forth if this is your main spot.
There's a very nice swimming beach at the northwest end of the Park. I didn't get close to the water, but the sand beach is beautiful. There are several picnic areas along with an awesome "creative" playground. Lots for your kids here.
There's an off-leash dog park in the northeast corner of the Park, and you're welcome to walk your leashed dog on the rest of the trails, too.
While bike trails aren't specifically labeled anywhere on the map, there were a few bikers using the paved trail.
How to Get There
Minnewashta is easy to find. The entrance is on the east side of the Park, on Highway 41, south of Highway 7, in Chanhassen.
You'll also like…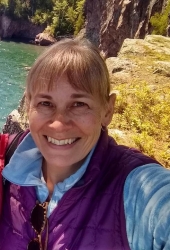 Latest posts by Sharon Brodin
(see all)