Ramsey County • No fee
Reservoir Woods Park is a beautiful Roseville city park nestled in a suburban neighborhood that offers fantastic hiking.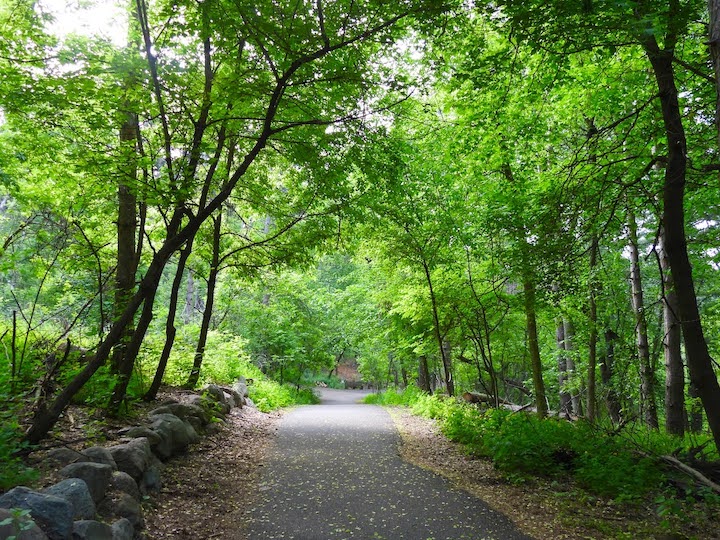 Though just 115 acres, this park has more trails than what it appears from the map. The map just shows the paved ones. I was delighted to discover an extensive network of dirt trails, too.
These trails kept me plenty busy for the 45 minutes I had available—and I only explored a small section of the park.
First, though, what led me to this lovely spot? TCO reader Heidi M. pointed out that it hosts our state's largest butternut tree (She had just read the recent post Where are the Twin Cities' Giant Trees?).
I just had to visit!
Minnesota's Largest Butternut Tree
After a bit of searching, I found a Facebook comment on Roseville's parks page that gave directions to this giant tree: it's just east of the concrete above-ground water reservoir (which you can't miss!).
If you're coming from the parking area, you'll see a couple of dirt spur trails off the main paved trail to the right (east). I followed the one that looked the most promising and found this massive butternut right where the commenter said it would be: just to the east of the water reservoir.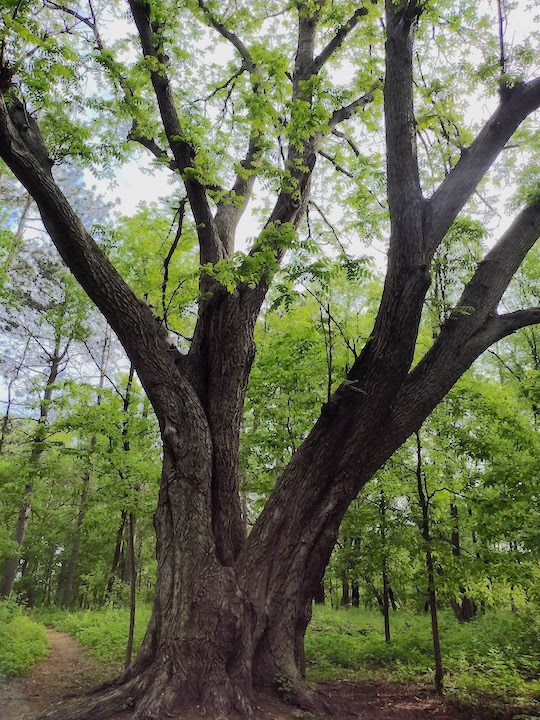 A photo of the tree alone doesn't do justice to its immense size, though, so I shot a short video:
(I had to hike solo that day. Usually, I can convince any hiking partners who are with me to hug-a-tree for a photo!)
So, if you love giant trees like I do, it's worth going to Reservoir Woods just to see that beauty.
What Else to Love about Reservoir Woods Park
As I mentioned already, there's a surprising system of dirt trails there—at least in the section of the park I explored: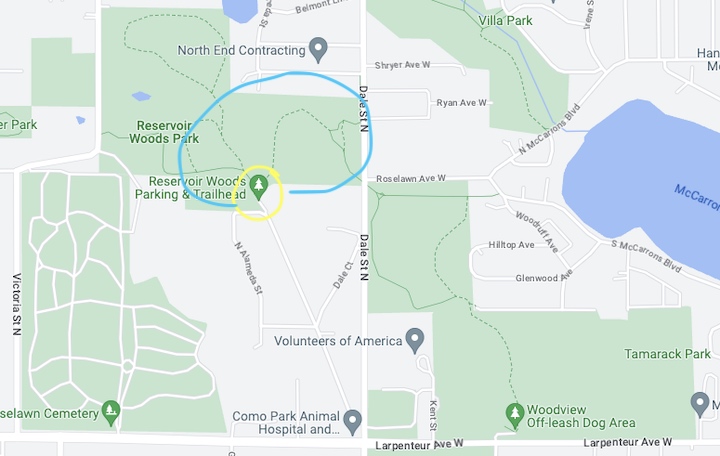 I kept the map up on my phone so I always had a general sense of where I was, and how far from a paved trail and the parking area. Knowing that, it was fun to keep going in different directions on these spur trails.
Being late May, some of the spring wildflowers were blooming in the woods: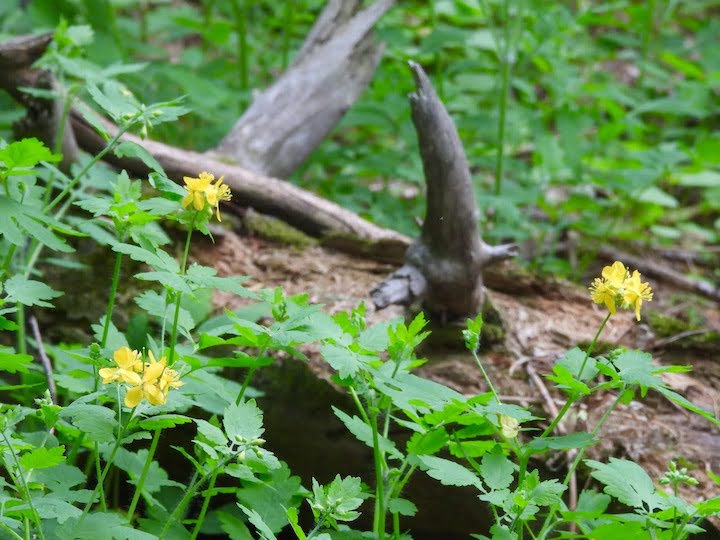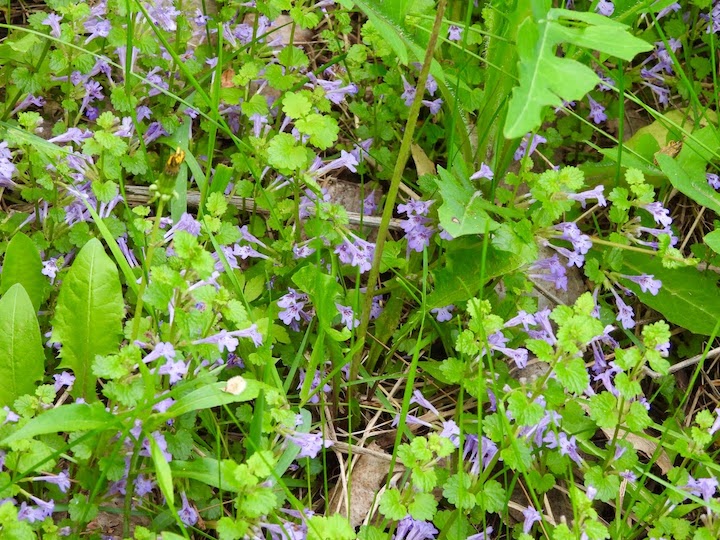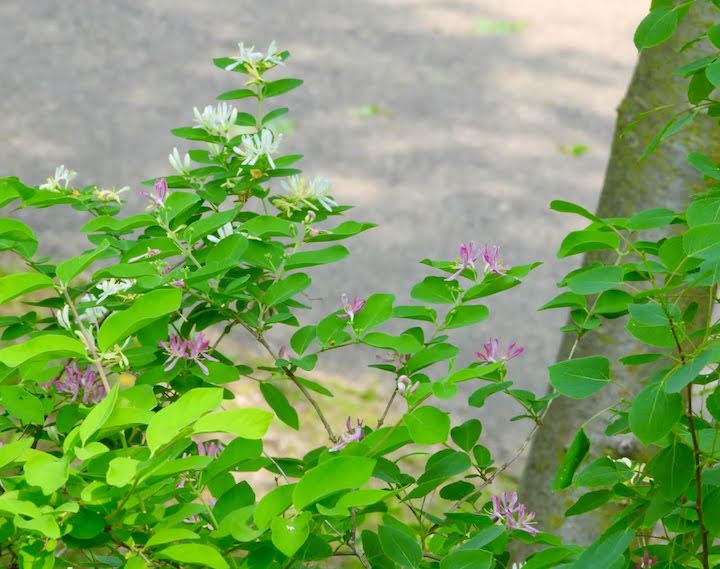 And Mr. Butternut isn't the only gigantic tree in the park. There are stands of mature cottonwoods and white pine, too. I love how they tower over the trails. Such a sense of majesty!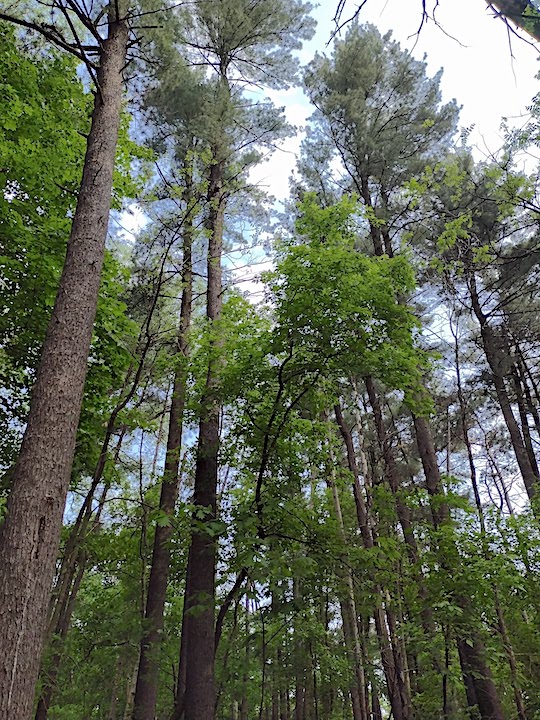 There are plenty of trees and flowers to enjoy, but the terrain itself is interesting too. You can see by this topographic map how hilly it is, and yet the hills are very doable.
If you wanted to, you could get a pretty decent workout. But you can also choose routes that are milder.
Other Activities There
Being that the main trail system is paved, this park offers great biking. I'll place the map here again so you can see where these trails lead: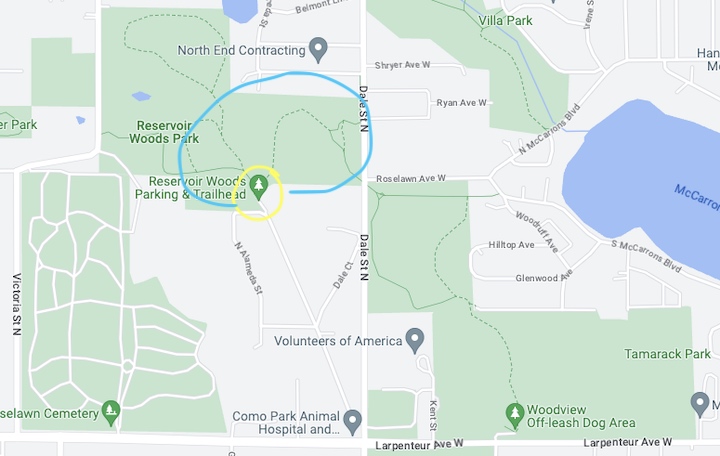 As I said, I limited my hiking to the blue-circled area above. You can see that one of the trails crosses Dale Street (or maybe goes underneath it? I didn't walk that far) to continue into the section east of Dale and south of Roselawn.
Woodview Off-leash Dog Area (at the bottom right of the map) is adjacent, but operated by Ramsey County, not the city of Roseville. The entrance and parking area are off Larpenteur. You'll find more info about the dog park here.
How to Get There
My GPS didn't take me to the entrance/parking area when I typed in "Reservoir Woods Park." You want to look for: "Reservoir Woods Parking & Trailhead."
I could tell most of the people who used the trails that morning (and there were quite a few) were locals, as there was only one other car in the small parking lot besides mine. The rest, I assume, were from the neighborhood.
FYI, there's a single porta-potty a short walk from the parking lot if you need it.
Final Thoughts
All in all, I was pleasantly surprised by this beautiful park. Not that I thought it wouldn't be pretty, but I really liked it. Enough to want to go back and bring friends.
It was fun to see Minnesota's largest butternut tree, for sure. But there are plenty of other reasons to hike there, too.
Now, take a look at these…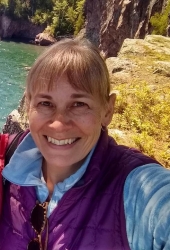 Latest posts by Sharon Brodin
(see all)