Center City, Chisago County • Daily or annual park pass + Minnesota ski pass needed
The snowiest February in the Twin Cities' recorded history gave cross country skiers plenty of opportunity to get out this winter. I got to Wild River State Park for the first time, and loved it!
Cross Country Skiing at Wild River
Wild River State Park has 30 miles of groomed ski trails in its 6,803 acres—some of the most around the metro area. Even though it's just a few miles north of Taylor's Falls and the very popular Interstate State Park, Wild River is less visited and a bit more wild.
Visitors come for that—fewer people, more secluded. 18 miles of St. Croix River shoreline, lots of forest and plenty of hills contribute to its beauty and attraction for outdoor lovers.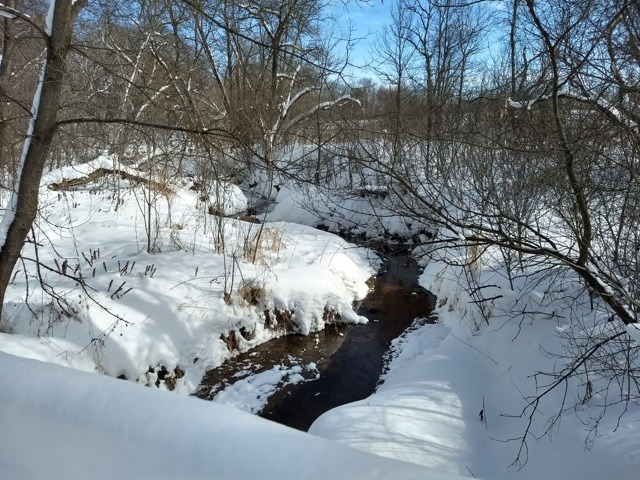 The Deer Creek Loop
Wild River's Deer Creek Loop was just right for my sister-in-law, Rochelle, and I to ski together. She had hiked this trail a couple years ago and knew it'd be great for skiing. It was her idea to check it out, and we ended up with a beautiful day for it.
Deer Creek is a small tributary of the St. Croix River. I can't tell you why it wasn't frozen—much of the St. Croix was! But open water, foot bridges and fresh snow made for a beautiful setting in this less-visited State Park.
Take a look at this map of the park, scrolling to the bottom right section for the winter trails. You'll see the Deer Creek loop is the southern-most trail.
Park at the Visitor Center and head down the hill by the Amik's Pond Trail for a half mile to join up with the 3-mile Loop. If you want to ski down the hill, go for it—we took our skis off and walked down (and back up later!).
Neither of us is into testing our mettle on big hills these days 🙂
The east half of this long loop is easy—flat, over the Deer Creek Footbridge, a bit windy through the trees and alongside the St. Croix.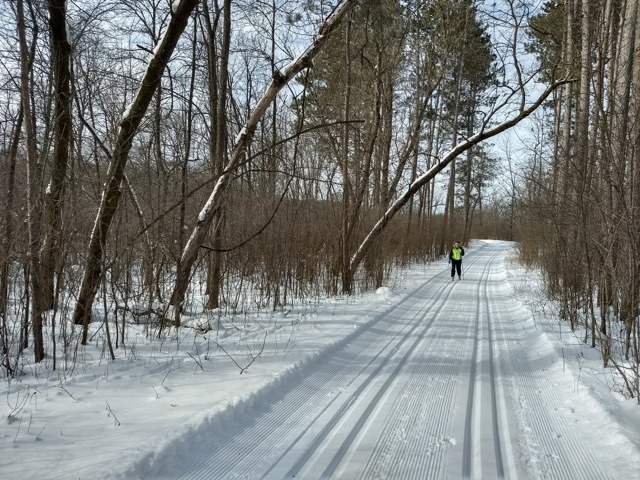 The west half climbs into the trees a bit with more winding and some intermediate hills, back to the connecting trail again.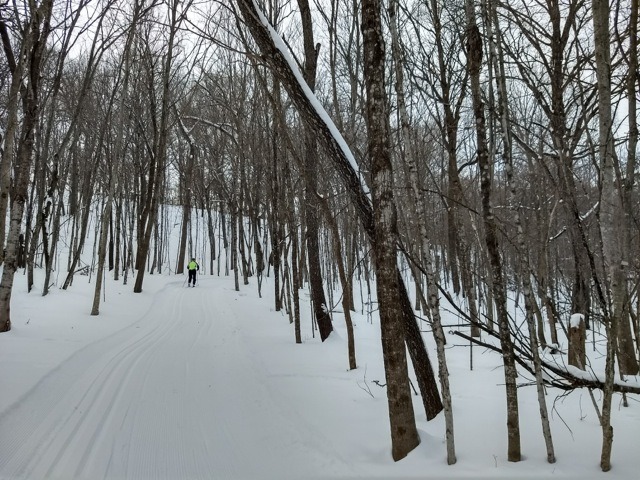 What We Loved about Skiing in Wild River
The atmosphere of Wild River—as noted above already—is quiet and secluded, although being a Saturday there were quite a few other skiers out there, too (the next Saturday I skied at Fort Snelling and saw far more there).
This Loop—4 miles total—was the perfect length for us. There are many more miles of skiing, too—mostly green trails (easy). That may be the main disadvantage if you're more an intermediate skier: your choices are mostly easy or expert!
Of course it's always great when you can ski on several inches of fresh snow and newly-groomed tracks 🙂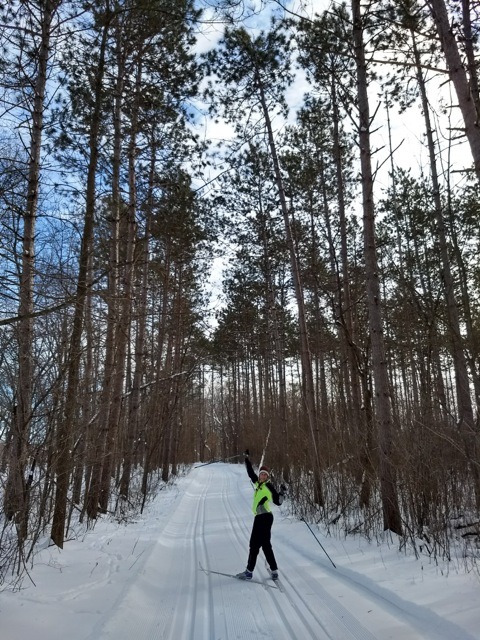 How to Get There
Wild River State Park is 13 miles straight east of North Branch or 14 miles northwest of Taylor's Falls on Highway 95. Take Park Trail north at Almelund and continue on it right into the Park
You'll also like…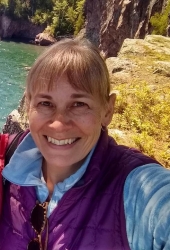 Latest posts by Sharon Brodin
(see all)