St. Paul, Ramsey County • State park daily or annual pass needed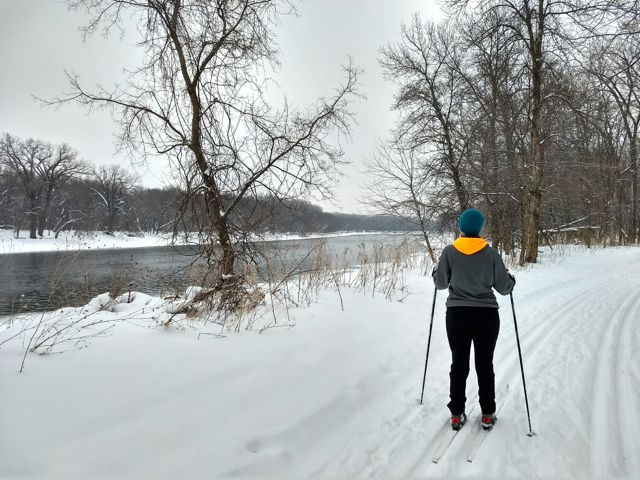 Fort Snelling State Park offers beautiful cross country skiing within St. Paul's city limits with 12 miles of trails.
Much of that 12 miles is ungroomed and multi-use (see the winter map). So for the best skiing, take the 3-mile groomed trail around the perimeter of Pike Island. Everyone else is supposed to stay off of it (which doesn't mean they do, however!).
I skied there twice within a week—once on a recent Saturday and then again the following Thursday. Here's what I learned:
What's Great about Skiing in Fort Snelling State Park
BEAUTIFUL SETTING—Fort Snelling State Park is a 2,400-acre park set in urban St. Paul. It's located at the confluence of the Mississippi and Minnesota Rivers, so the ski around Pike Island is very scenic. We're skiing next to one of those rivers through most of the trail.
It's pretty cool skiing practically underneath the Mendota Bridge, too. You get a feel for the immensity of the bridge by seeing it from its base rather than driving over it!
MASSIVE COTTONWOODS—I'll have to go back and hike this summer to see what the forest is like during the growing season. In the winter the woods are very open, with lots of old-growth trees.
The most impressive are several massive cottonwoods. A couple of them have become hollow at the base over the years, large enough for 3-4 people to fit inside!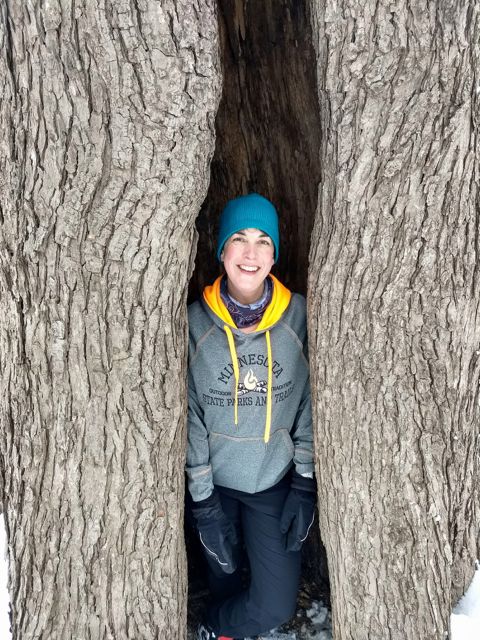 FRIENDLY SKIERS—I think cross country skiers are a friendly bunch in general. While it's common to meet fellow hikers in the metro area who won't acknowledge your existence, much less greet you (like walking down a sidewalk in Minneapolis), almost every skier we encountered at Fort Snelling greeted us with a "hi" and a smile. Nice!
WILDLIFE IN THE CITY—Being that this sign was partially snow covered, it gave my sister and I a laugh: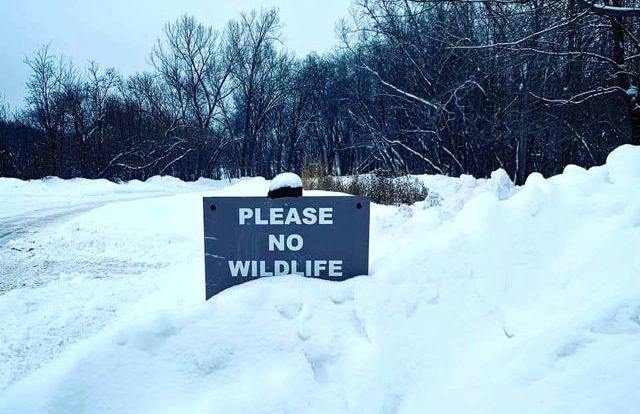 We proceeded to see an owl, two deer (who completely ignored us) and two eagles carrying on a lively conversation in a tree along the trail.
That's more wildlife in one trek than I've seen at any other local park yet! Obviously they didn't obey the sign 🙂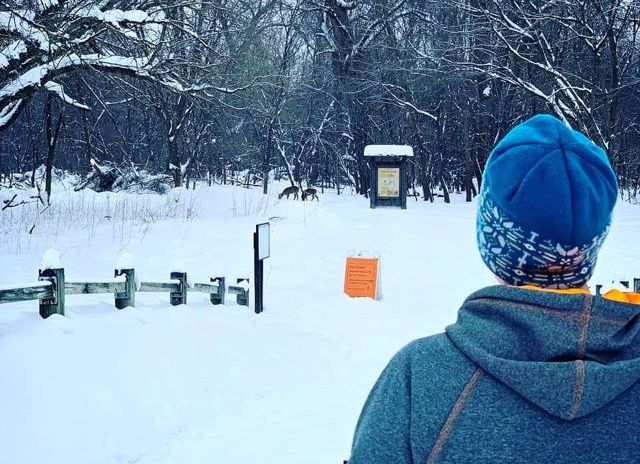 On my second ski there we saw several more deer, who also ignored us. They're obviously used to seeing people.
What to Know about Skiing at Fort Snelling
PARK PASS & SKI PASS—You'll need a state park day pass or annual sticker for your vehicle. You'll also need the Minnesota ski pass, either daily or annual. You can buy both of them on-site, at least on the weekends (the office wasn't open at the time we came through on Thursday).
PARKING LOT FILLS UP—The snow conditions have been great so there were lots of people on the weekend skiing and snowshoeing. We got the last open spot on our Saturday trip there, although people are coming and going all the time.
EASY, FLAT TRAIL—If you love a challenging and hilly course, this isn't for you! But if you're fine with a scenic and easy trail, this will be perfect. If you don't want to ski the entire 3-mile loop, there are a couple cut-offs part way you can take.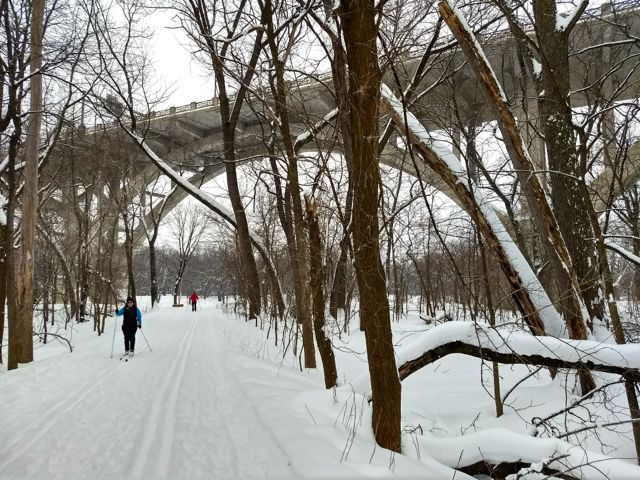 VISITOR CENTER—The Tom Savage Visitor Center (named after the man who spurred everyone on to create a state park at that location) has a small gift shop, bathrooms, an outdoor picnic area and museum-like displays.
BATHROOMS—Don't panic if the Park Office is closed on your way in! There's a large porta-potty in the parking lot.
How to Get There
Take the Post Road exit off Highway 5. The park is right across the highway from the Minneapolis/St. Paul International Airport. Follow the brown signs. You'll drive down a big hill and reach the Park Office.
If the Office is open, you can buy both your vehicle pass and ski pass there
Then continue straight on that road (you'll go through at least one intersection in the park) all the way to the second Visitor Center. You'll drive under the Mendota Bridge, then almost immediately into the parking lot.
The trailhead for Pike Island is on the far end of the parking lot. Ski down to the T, take a left and continue around the bend and over the foot bridge to the Island. Ski traffic is two-way so you can either turn left or right after the bridge.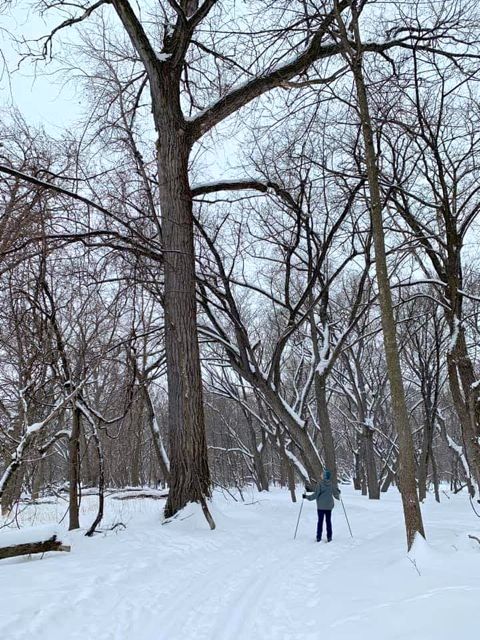 What Else is There to Do at Fort Snelling
Snowshoeing is also popular here, and there's a snowshoe trail on Pike Island, too (separate from the ski trail).
In the non-snowy months, there's lots of hiking, swimming, fishing and paddling opportunities.
To learn more about Fort Snelling State Park check out the Friends of Fort Snelling website and the Minnesota DNR website Fort Snelling page.
You'll also like…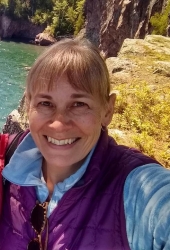 Latest posts by Sharon Brodin
(see all)