Hudson, Wisconsin • Out-of-state vehicle fee $13 daily or $38 annual (note: this park costs more than most of Wisconsin's state parks!)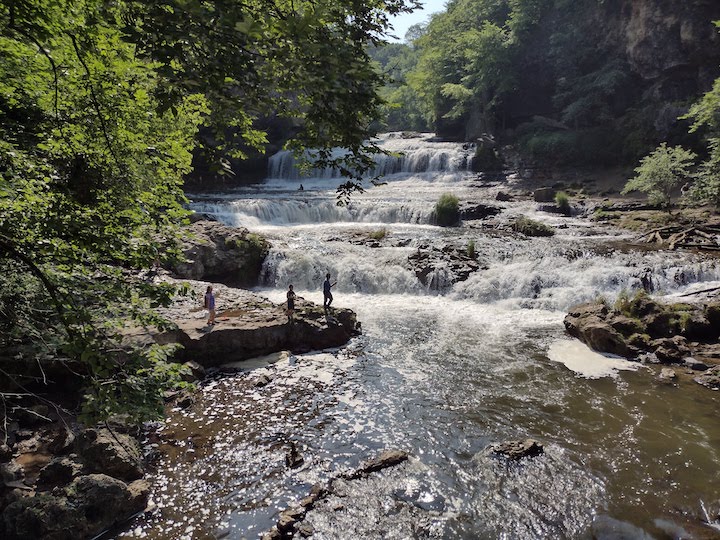 There's beautiful hiking in Willow River State Park, across the St. Croix River into Wisconsin. Just a half hour from downtown Saint Paul, Willow River is super accessible and well worth either a half-day trip, a full-day trip, or even a few days at one of the campgrounds.
There are 13 miles of hiking trails in this state park (see the map here). Trail lengths range from less than a mile to almost 4 miles (one way) and offer a variety of terrain and difficulty. Click here for a list of the trails with short descriptions of each.
We decided on the Burkhardt Trail, with its overlooks and access to Willow Falls:
What's to Love about Hiking Willow River's Burkhardt Trail
Burkhardt Trail is a very nice introduction to Willow River State Park. To access it, use River Road Parking Lot on the northeast corner of the park, off County Rd. I (you won't use the main entrance).
The trail is mostly through mature forest with plenty of shade, which was great on this warm July morning. You can see on the map there are a few different loops. We stuck to the outer edges for the most part, making our way down the east side to the Falls, then back up on the west loop.
The trail is very wide for a hiking trail, but since it doubles as a cross country ski trail during the winter that makes sense. It's all natural-surface: gravel, dirt or grass.
There are plenty of hills on the trail (which would make it a challenging ski trail!), and a big set of steps going down to the falls (if you take the trail clockwise).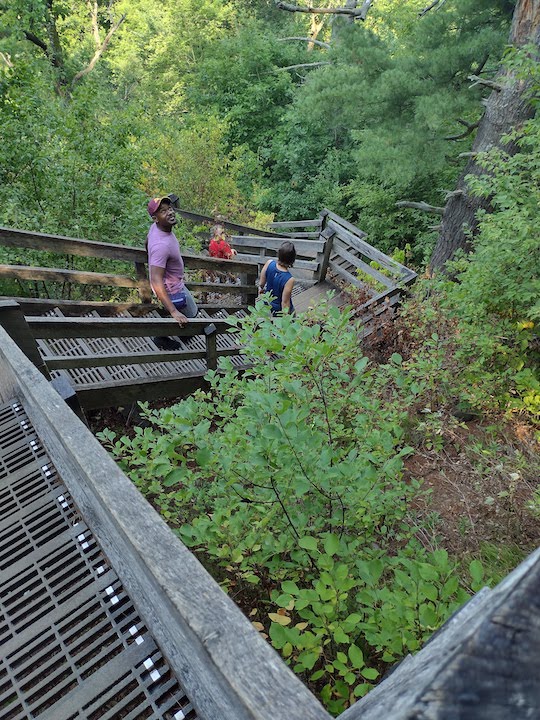 If you continue clockwise as we did to get back to the trailhead, you might think you got a pass by skipping the steps going back up. But there's a loooooong hill that takes you back, so either way it's up! 🙂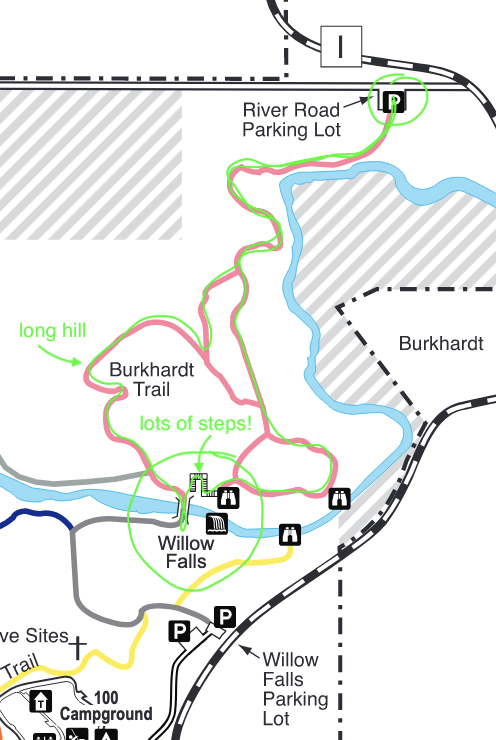 (My son and a bunch of his friends went to Willow River last weekend. He said it's a half-hour hike from the Willow Falls parking lot to the Falls (the gray trail on the map above), and it includes a big hill, FYI)
The woods are beautiful with a nice variety of trees. There are a couple scenic overlooks along the way that you can see on the map.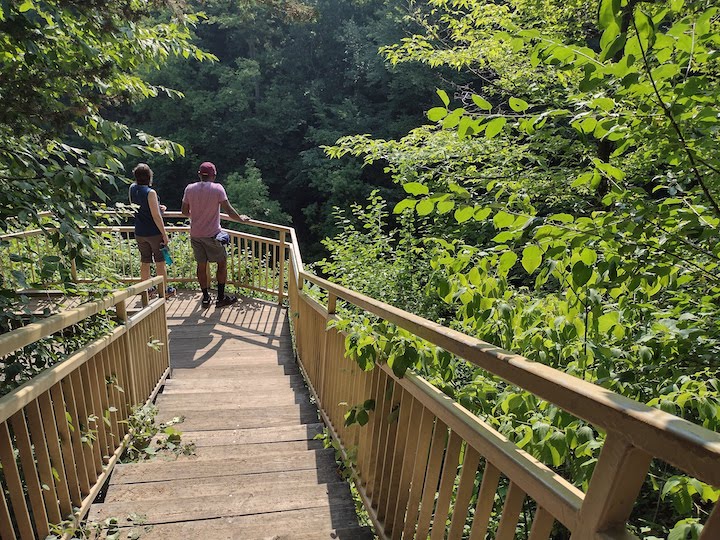 The Star of the Show: Willow Falls
Without a doubt, the star of this state park is Willow Falls, an extremely beautiful area with a cascade of several falls through a wide gorge on the Willow River.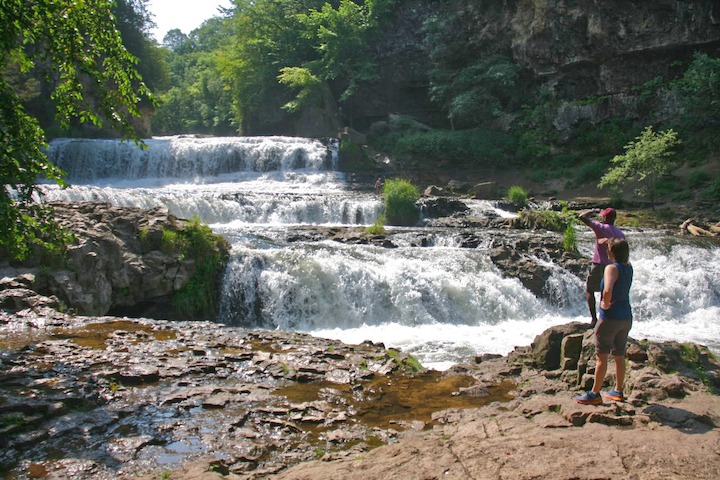 Even for a Friday morning there were quite a few people there enjoying the area. I imagine summer weekends are packed!
The water was clear and cold, and much of it is quite shallow. So it's easy to wade in many areas, including below the biggest of the falls. Just walk with care as it's quite slippery in places!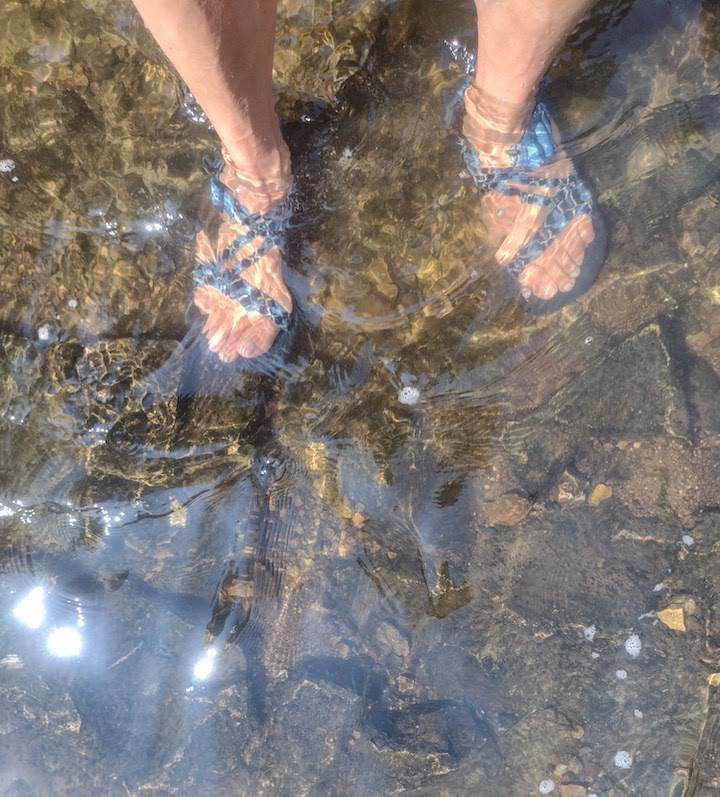 I have a couple friends who love this park because they love to swim in the deeper pools at the falls. No one was swimming that morning, but plenty were wading around, enjoying the refreshing coldness of the water.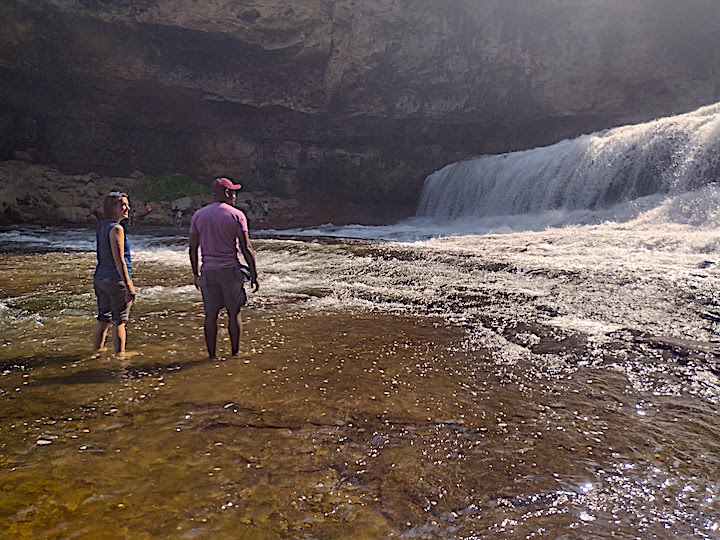 Other Things To Do at Willow River State Park
What there isn't to do: biking. No bike trails at all. But…
Paddlers, there's a boat launch on Little Falls Lake for your kayak, canoe or paddleboard.
Campers, there are three campgrounds at Willow River, named (unimaginatively) 300, 200 and 100. There's also a Group Camp area with four sites. According to the state's park page, Willow River is one of Wisconsin's most popular parks for camping—so reservations are a must during the summer!
Winter lovers, there are several snowshoe and cross country ski trails during the snowy months.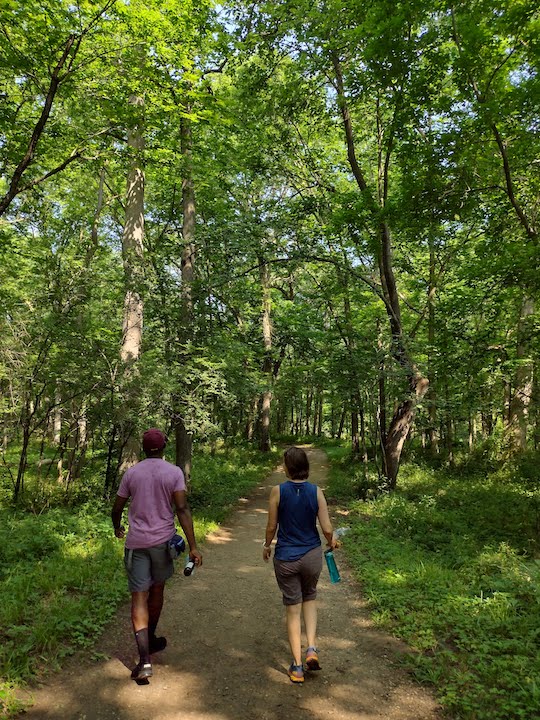 How to Get There
Take Interstate 94 east into Wisconsin. Where you park will depend on which route you take.
I put "River Road Parking Area, Willow River State Park" into my phone's GPS, which worked…mostly. But it first took us to the other River Road parking area, which is the Nelson Farm Trail trailhead. We discovered our error at the first intersection and turned around!
You can get to the Falls from there, too, but it's longer. We weren't interested in a 6-mile hike that day 🙂
You can also park at the Willow Falls parking area if you're mostly interested in visiting the Falls. My friend, Rachel, goes there often. She said it's still a half-hour hike from there, and includes a steep hill! Go in the main entrance off County A, past the Park Office and take the first right.
Click here for Willow Park maps.
You'll like these, too…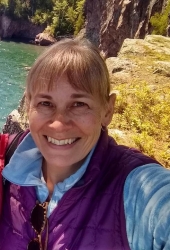 Latest posts by Sharon Brodin
(see all)