Arden Hills/Ramsey County • No vehicle permit needed
While you won't find lots of miles in Tony Schmidt Regional Park, the trails there offer a lovely hour's worth of hiking. Almost all of it is wooded or along wetlands.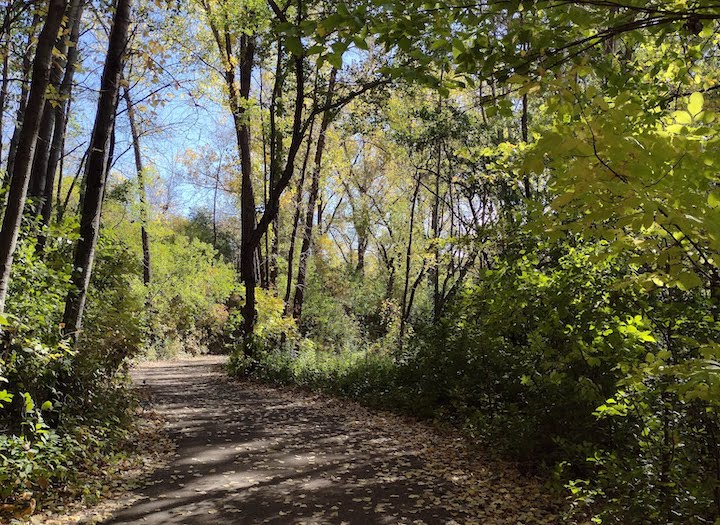 This park is more well-known for its access to Lake Johanna for boating, paddling and swimming. But on the weekday morning I was there last week there were several other hikers on the trail taking advantage of a beautiful October day, too.
What's to Love about Hiking Tony Schmidt
This was my first visit to the park, and so I didn't know what to expect. It's such a small space on the map—so I was very pleasantly surprised to experience a wonderful hike!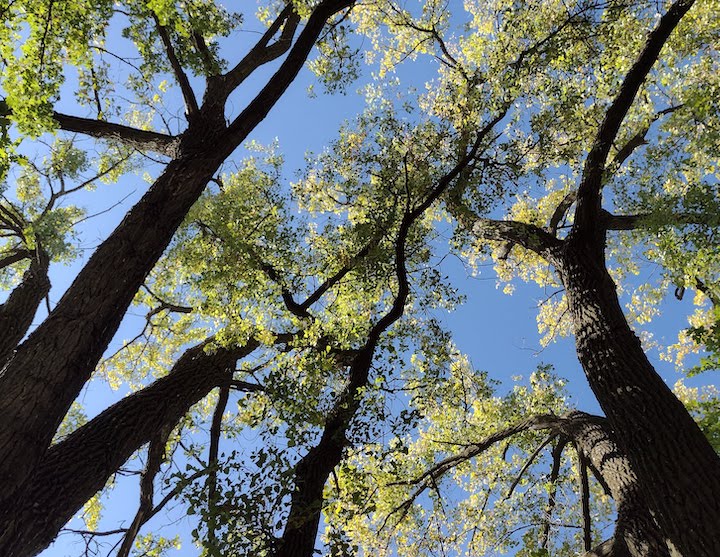 The entire area is filled with mature trees that, last week, were starting to show off their fall colors. The wildflowers were mostly through for the season, but other beauties took their place.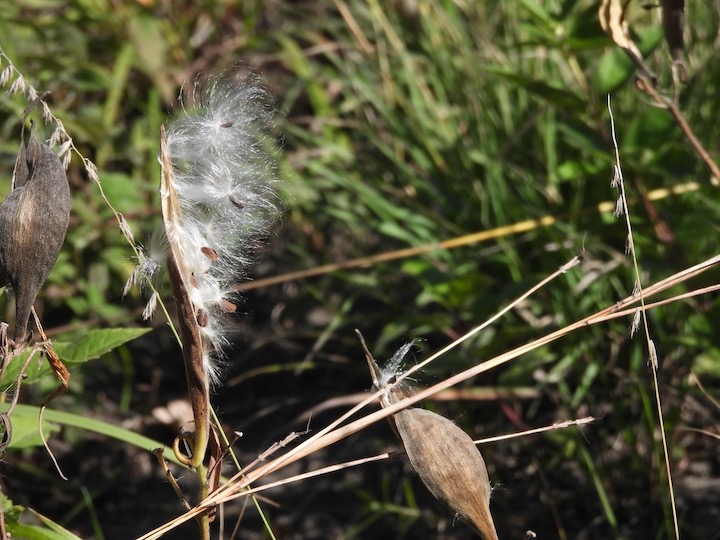 Some of the trails are over flat stretches, especially the further north we go. But there are some nice rolling hills, too.
I parked next to the beach and Lake Johanna and crossed Lake Johanna Blvd to get to the trail system. (Like I said, I hadn't been there before so didn't know about the lot just to the north.)
Here's the route I took: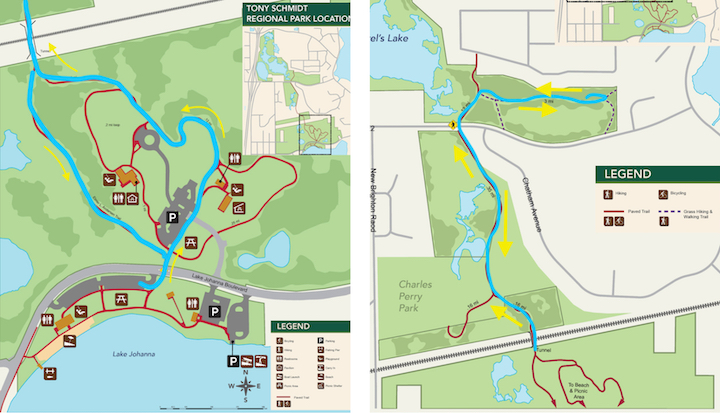 Altogether it was about 2.5 miles out and back. Because I stopped many times for photos and just to look around, it took me about an hour.
There are several spur trails that lead off the main paved trail into the woods. I didn't take any of them that day, but will definitely do some more exploring on my next visit.
This is one of those parks that's nestled in between neighborhoods. I love that. Some of the homes even had fun decor right next to the trail in their backyard. It felt very inviting.
Go to Ramsey County's park page for PDF maps, park hours and more.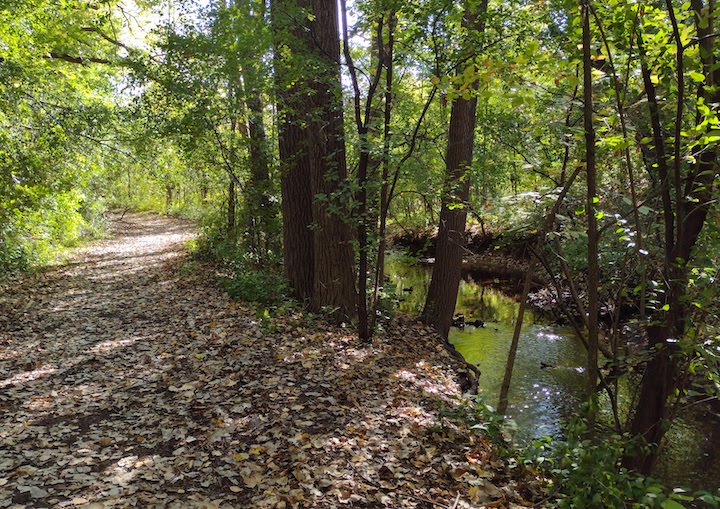 What I Didn't Like
My only disappointment was that the public restrooms were already locked for the season. I don't know why parks do that without offering another alternative, like porta potties.
It'd be nice if Parks departments didn't view beach closings or Labor Day as the end of park use for everyone. Especially if they want people to get out and enjoy them outside the summer season.
Other Activities There
The trail system is paved so bikers are certainly welcome. The system is small though, so while perfect for families with young children, not so enticing for serious bikers.
The swimming beach is popular, of course. And there's also a boat launch there for Lake Johanna at the parking area for boats and trailers. Bring your own kayak, canoe or paddle board for some great paddling on the lake.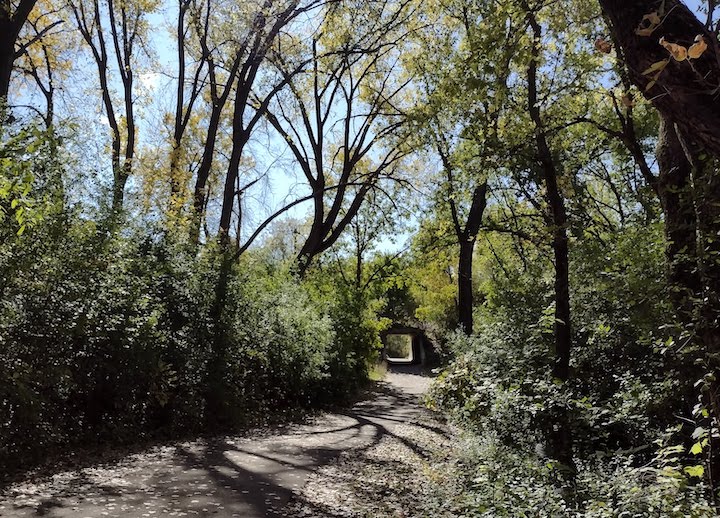 A long stretch of the paved trail is kept plowed during the snowy months for winter hiking. See the Tony Schmidt winter map.
Who was Tony Schmidt?
I love history so, of course, I wanted to know who Tony Schmidt was, that the county named a park after him.
The only source that came up through an online search was a private website that said Mr. Schmidt was a Ramsey County Commissioner who was instrumental in the park's development.
(It sounds logical—although that same website said this park is part of the Three Rivers system, which it isn't!)
How to Get There
Tony Schmidt Regional Park is between Interstate 35W and Snelling Avenue in Arden Hills, between County Road E2 on the north and Lake Johanna Blvd on the south.
My phone's GPS (Google Maps) got me to the parking lot just fine.
You'll like these too…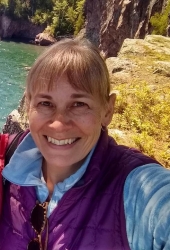 Latest posts by Sharon Brodin
(see all)