Mendota Heights/Dakota County
Big Rivers Regional Trail is a very scenic paved multi-use trail that follows the east/south shoreline of the Minnesota and Mississippi Rivers.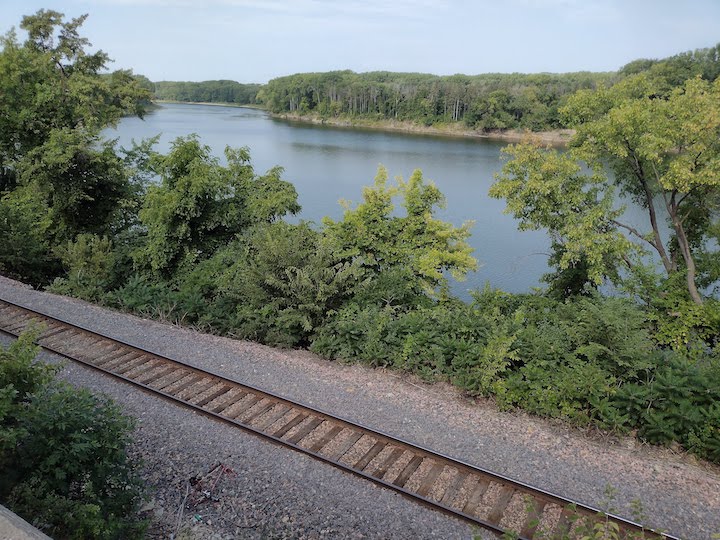 The trail is part of the Dakota County Parks system. It's popular with hikers, runners and bikers, and you might see roller skiers, inline skaters and skateboarders too. It's relatively flat with several pull-offs along the way and three trailheads to choose from.
Big Rivers Regional Trail Scenery
Big Rivers is six miles from end-to-end. I wish I knew about it back when I was running half marathons. It would make a really nice out-and-back long run (unless I needed hills!).
When I hiked it I started at the Lilydale Trailhead in Saint Paul, timed myself for 30 minutes or so, then turned around and hiked back. Even though it was a weekday morning it was quite busy. I'm sure the weekends see plenty of foot and wheel traffic.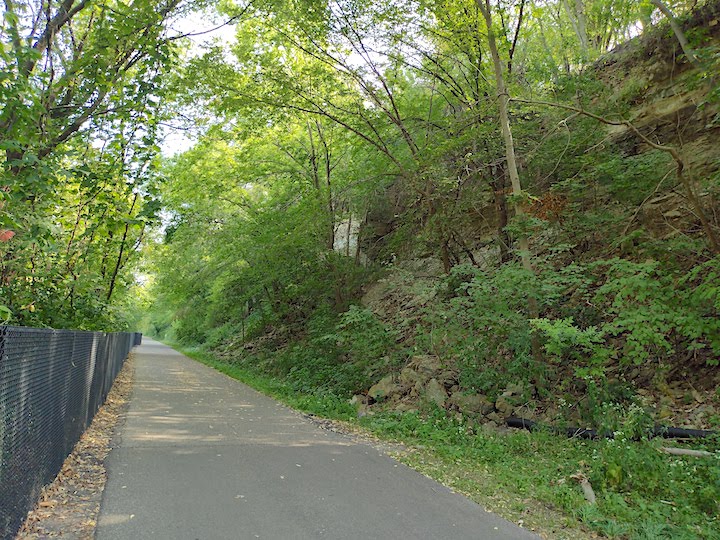 On the Lilydale end the trail is sandwiched between the big rivers it's named for and the limestone cliffs of Mendota Heights. It's SO pretty with all the trees, flowers and shrubs that grow alongside the cliffs. Up above you can see some homes and other buildings.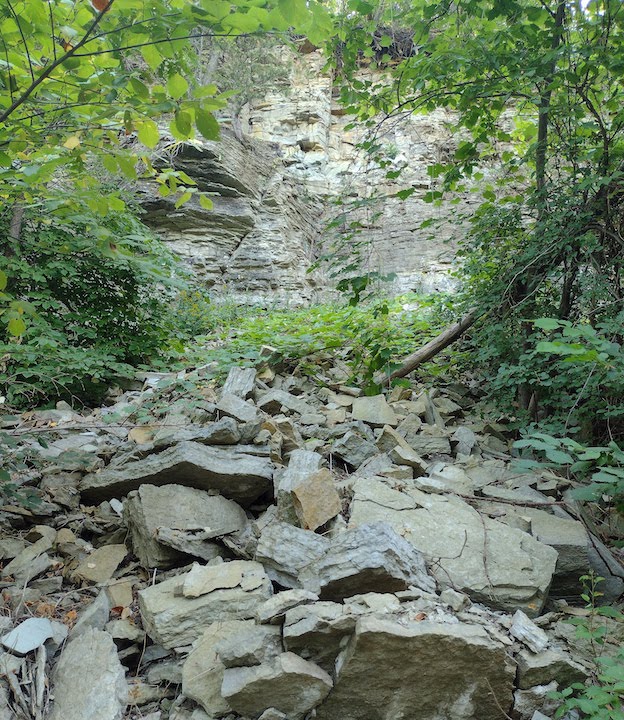 On the other side are great views of the Mississippi. Once you pass Pike Island the trail runs alongside the Minnesota River. From there it borders Fort Snelling State Park.
Early spring and late fall hiking would give you even better views of the two rivers and the Fort Snelling area, as you wouldn't have all the leaves blocking your view. The trail is apparently open for winter hiking, too, although the park page isn't clear whether it's kept plowed. (If you live nearby and use it in the winter, please let me know!)
History of the Area
The trail was built along a historic railroad bed dating from the late 1800s and runs parallel to a rail line still in use today. There's some signage at one of the pull-offs with info for those interested: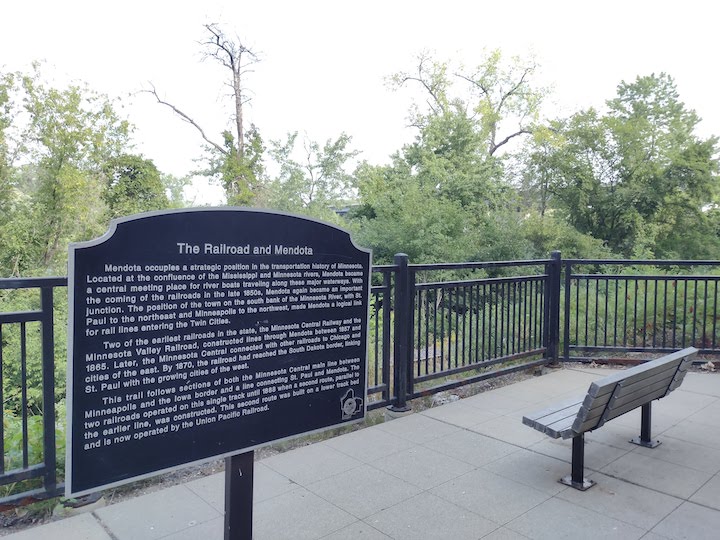 There's another pull-off with a sign about the confluence of these two rivers and its importance to Native Americans, French voyageurs, the British, and the US military (i.e., Fort Snelling).
So this is a fun trail for history buffs.
Which Trailhead?
You have three options to get on Big Rivers Regional Trail. There's free parking at all of them.
On the east end is Lilydale Trailhead (1292 Lilydale Rd, Saint Paul). On the opposite end is Lone Oak Trailhead (2995 Sibley Memorial Hwy, Eagan). These two have vault toilets for at least part of the year.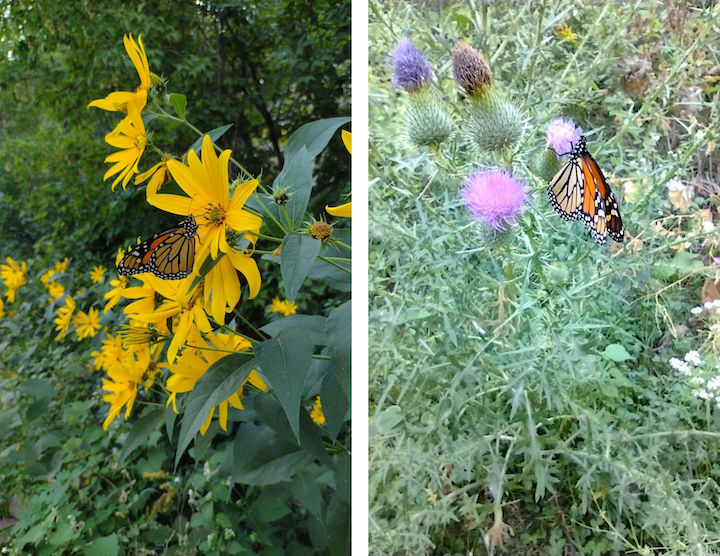 About 1.5 miles north of Lone Oak is Big Rivers Trailhead (1498 Mendota Heights Rd, Mendota Heights). This trailhead has plumbed restrooms, although their information doesn't say if they're open year-round.
The segment between Lone Oak and Big Rivers Trailheads would be an nice 3-mile out-and-back route. But you won't get the river views that are further north and east by the Lilydale Trailhead.
Here's the all-season trail map from Dakota County Parks.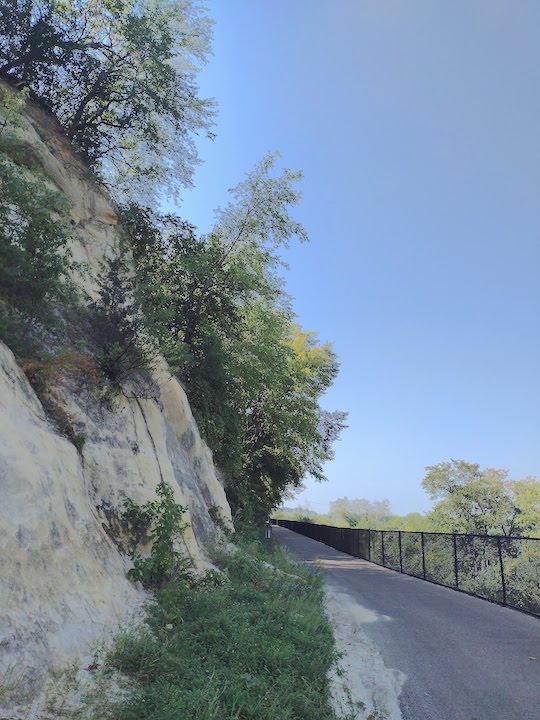 If you don't mind an out-and-back hike, Big Rivers Regional Trail is scenic and easy. Trail runners up for a 10-12 mile out-and-back run can start at any of the trailheads for a very nice route.
You'll like these too…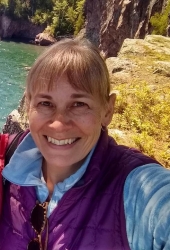 Latest posts by Sharon Brodin
(see all)