Anoka/Anoka County • No ski pass needed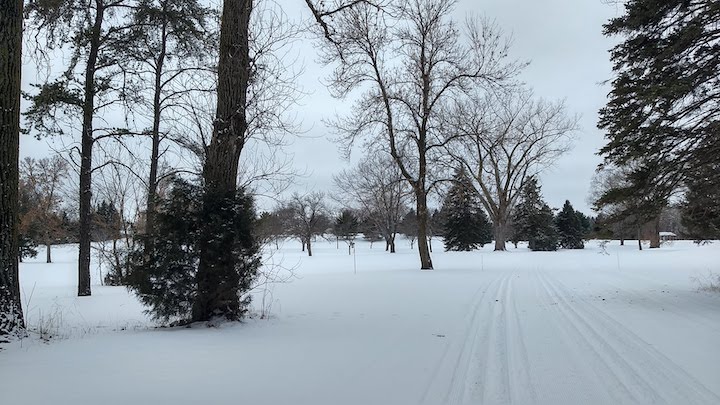 The City of Anoka grooms just over 3 miles of cross country ski trails at Green Haven Golf Course. If you don't mind an urban setting and aren't looking for advanced skiing, this is a nice course for you.
My husband loves to golf at Green Haven, so when I found out they groom trails there I had to try them. While the day itself wasn't spectacular—it was overcast and a bit gloomy—I enjoyed my ski for the most part.
There are no rentals there, so you'll need you're own equipment.
What's Great about Skiing at Green Haven
A Great Price: Free
I have no problem buying the Minnesota Ski Pass every year, and usually do. But it's not a bad thing to offer a free ski trail! Since these trails are groomed by the City and aren't part of the Minnesota state trail system, you won't need a ski pass.
Double-Tracked Plus Skate
There's plenty of room to double-track and groom for skate, so that's what the groomers do. That's nice when you're skiing with someone else—you don't have to ski single file, which makes chatting a lot easier.
On the day I went the trails weren't in pristine condition, but that was because of the weather, not because the grooming wasn't done well. It had been in the 30s for a couple days, so they were a little crusty.
Nice Trees and Rolling Hills
I love big trees, and there are a couple really big cottonwoods along the ski trail. Here's one of them: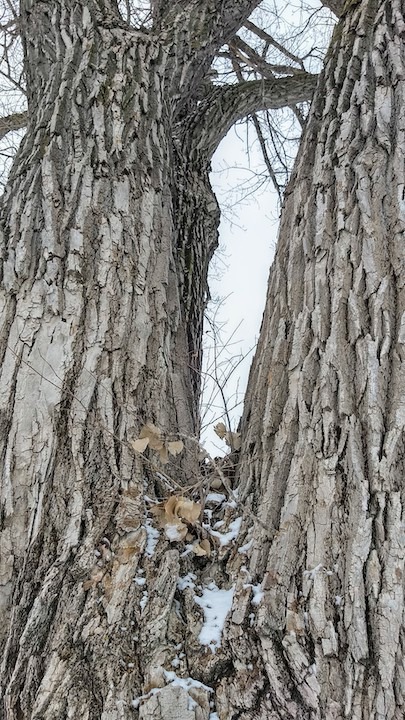 3.2 miles is a nice distance for the average skier, so while there's just one trail option, it's pretty enough with plenty of trees, but not so many that there are a lot of twigs, leaves and needles in the tracks.
There are enough rolling hills to keep it interesting. If you go counter-clockwise like I did, the biggest hills are on "the back nine"—the last third or so of the trail.
It seems I went in the right direction as every so often I skied past a sign that asked me to stay on the trail. But since there were hardly any other skiers out, changing direction wouldn't have been an issue.
What's Not So Great about Skiing There
Urban Skiing with Urban Noise
This may not be a negative for you, but I'm not a city person, so skiing next to Highway 10 and hearing trains the whole time isn't my cup of tea. You don't go there for the silence.
On the other hand, there's plenty of solitude if you value that once in awhile. I went on a Friday afternoon. I could tell others had skied recently, and I saw one other skier when I was almost done, but otherwise I was all alone.
Could Upgrade the Communication
The City's website says to "park in the lot near the lower club house entrance and use the cart path to access the trails ." But since I didn't know where the cart path is—and it's covered in snow during the winter—I wasn't sure where to start.
There wasn't a sign visible by driving through the parking lot that indicated how to get to the trail from the lower clubhouse entrance. I parked in the upper lot where I could see some skiers had also parked and started there.
How to Get There
To get to Green Haven Golf Course, take the Main Street/Greenhaven Road exit off Anoka County Highway 10 in Anoka. Go north on Greenhaven Road and it'll take you right into the parking lot.
You'll like these, too…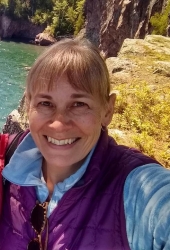 Latest posts by Sharon Brodin
(see all)