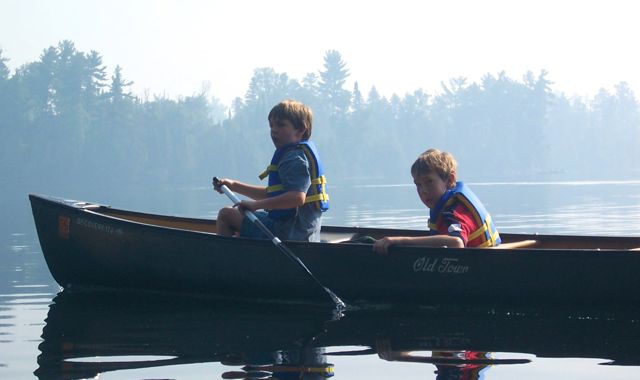 It's so important for our kids to get outdoors and move! In our day of screen obsession and even addiction among so many children, it's more important than ever.
Thankfully the Twin Cities has lots of outdoor rec opportunities for them through their schools, including for homeschool families and groups. Take advantage of these as a great way to expose your kids to various outdoor activities before investing in gear.
Here's some of what's out there…
Outdoor Recreation School • Three Rivers Park District
For those schools and families within or close to the Three Rivers Park District area, their Outdoor Recreation School is a great resource. Their curriculum supports some of Minnesota's K-12 academic standards (you can find details the ORS page).
Classes are offered at several Three Rivers' parks, and can even be brought to a location near you by request. Classes run fall-through-spring, covering activities in all seasons.
ORS offers classes in activities like:
Camping Skills & Outdoor Cooking
Kayaking, Canoeing and Stand-up Paddleboarding
Mountain Biking
Snow Shelters & Winter Survival
Cross Country Skiing and Snowshoeing
They also offer a variety of Summer Camp programs for kids, including for outdoor recreation.
ORS offers homeschool programs and field trips, too. Or they'll work with your family or group to create a custom program for you.
One more program Three Rivers offers is their SnowSports Academy for downhill (alpine) skiing and snowboarding lessons. We don't cover these downhill sports much here on TCO because our focus is on human-powered activities. But they're another great way to get outside in the winter.
Go to the Outdoor Recreation School homepage.
Wargo Nature Center • Lino Lakes, Anoka County
Wargo Nature Center offers mostly naturalist programs for school-age kids, including programs specific to homeschoolers. They include a couple outdoor recreation skill classes like snowshoeing and paddling, too.
Go to Wargo's homepage on the Anoka County Parks site.
Tamarack Nature Center • White Bear Township, Ramsey County
Tamarack Nature Center works with local schools to give hands-on classes on a variety of nature-based topics, including cross country skiing and snowshoeing.
They offer a Second Fridays Homeschool program, although it's more of a naturalist program than outdoor rec. If your family or group wants more active classes, let the staff there know!
Go to Tamarack's homepage.
Wood Lake Nature Center • Richfield, Hennepin County
Wood Lake Nature Center's programs center around naturalist activities. They offer summer day camps and year-round weekend programs for kids of all ages. Notable for older kids are classes in Outdoor Survival Skills (good for any outdoor rec activity that brings you into the wilderness) and Intro to Nature Photography (a great side hobby for outdoor enthusiasts!).
Go to Wood Lake's online page and to get their current program brochure.
Dakota County Parks & Rec
Dakota County operates summer day camps for kids on various themes like mountain biking, wilderness survival and hiking.
During the school year they offer all kinds of field trips for kids, including several outdoor rec options for 2nd-12th grades.
Homeschools aren't specified, but contact them and ask. They need groups of at least 10, so get together with another family or two, or bring your entire homeschool group.
Wilderness Inquiry
Wilderness Inquiry is a non-profit wilderness adventure travel organization based in Minneapolis. Besides their trips around the US and the world, they offer local outdoor education programming for:
What K-12 education programs have we missed? Let us know by email: sharon@sharonbrodin.com