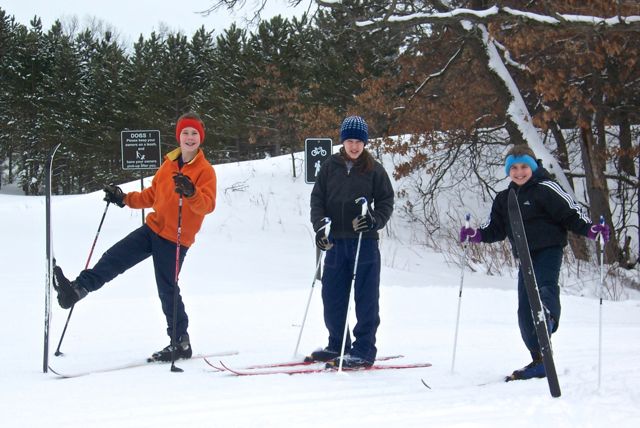 Several Twin Cities County and City Parks systems offer outdoor recreation education. They give hands-on classes for all ages.
Here's what's available out there…
Anoka County Parks & Rec
Anoka County offers a variety of educational opportunities throughout the year for all ages. One cool option is an Activity Backpack from Wargo Nature Center. Each backpack has a different outdoors/nature theme—great for families!
Go to Anoka County Parks & Rec website…
Go to the Anoka County Parks Events Calendar…
Outdoor Recreation School • Three Rivers Park District
Three Rivers maintains parks throughout Hennepin, Carver and Scott Counties. Their Outdoor Recreation School offers experiential classes at several of their locations. The classes they offer cover a wide range of activities, like:
Camping Skills & Outdoor Cooking
Stand-up Paddleboarding, Canoeing and Kayaking
Outdoor Survival Skills
Rock Climbing
even Log Rolling!
Beginners are welcome, as are groups from schools, businesses, social clubs and families. They can accommodate students with disabilities, too.
Go to the Outdoor Recreation School website…
Carver County Parks & Rec
The website page for Carver County's Adult & Family Program isn't a wealth of information, honestly. But you can start there for links to current brochures and their events calendar (also not detailed enough…but hopefully it gets updated occasionally!)
You'll find classes in stand-up paddleboarding, canoeing, cross country skiing, snowshoeing and more. Some are adult-only and others are family-friendly.
Go to the Carver County Adult & Family Programs page…
Go to the Carver County Parks events calendar…
Tamarack Nature Center • White Bear Township, Ramsey County
Tamarack Nature Center offers classes for all ages in snowshoeing and cross country skiing.
Go to Tamarack's list of programs…
Dakota County Parks & Rec
Dakota County has a variety of classes to learn and participate in outdoor activities like kayaking, canoeing, hiking, cross country skiing and mountain biking. This includes the Adventure Learning Challenge and Ropes Course in partnership with the YMCA.
They have some pretty cool multi-day camps (day camps) for kids:
Mountain Bike Camp
Wilderness Survival Camp
Ultimate Hiker Camp
Go to the Dakota County Parks Programs page…
Washington County Parks & Rec
Washington County offers a couple outdoor activity programs, although, again, not a wealth of information on the website. Their scheduling doesn't go out very far. A couple classes they offer are fitness hiking (a 3-mile hike with breaks for strength training and balance exercises) and stand-up paddleboarding.
Go to Washington County Parks Programs page…
Help us add to this list! If you know of an educational program we're missing let us know. Email: sharon@twincitiesoutdoors.com.