New in 2019 is Velo du Nord—a small locally-owned Afton business with an interesting combination of cycling, massage, homemade waffles and coffee!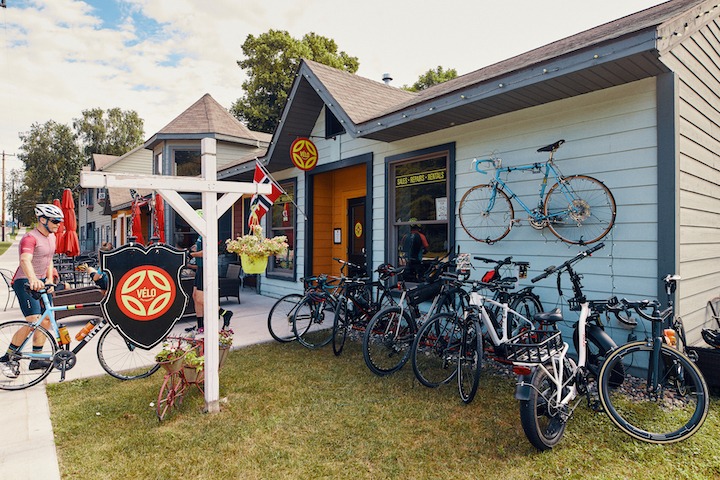 Most of us don't automatically match those four things up together. But for co-owners Bjorn Selander and Sarah Engen, the combination is perfectly natural. Their ideas came out of their personal history and passions, and what was a dream not long ago has become reality for them.
Velo du Nord's Backstory
Bjorn's Norwegian father was on his country's Olympic cycling team in 1976 and 1980. Politics prevented him from actually competing either of those times, but in 1980, the team was sent to Wisconsin to race instead.
Bjorn's mother's family was a host family for some of the team members. After one week, his dad proposed to his mom and they've been married for 39 years. (I love that story!)
Bjorn started cycling young and eventually made it to the USA national team, at one point on a team with Lance Armstrong. He raced all over the world until an injury slowed and then ended his road racing career.
From there he jumped into cyclocross racing, on-road/off-road combo style of cycling on a closed obstacle course. He continues to compete at the professional national level.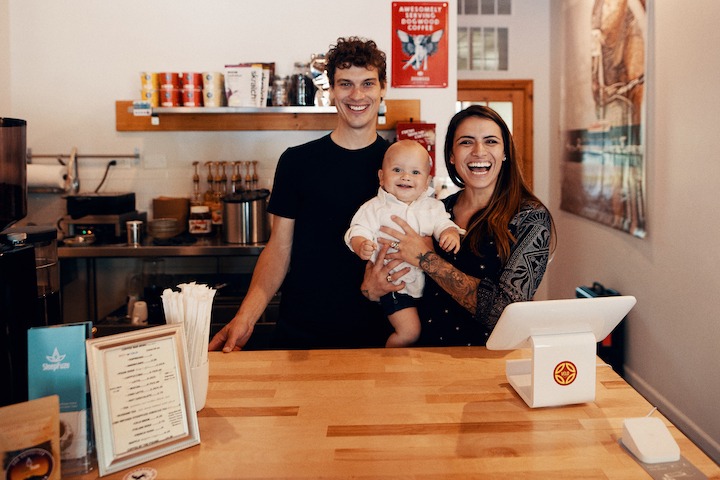 Sarah's side of the story involves biking, too, and adds the massage therapy element. Her first business was called EcoSvede. She trailered her massage table behind her bike and made house calls for her clients.
Now her massages are by appointment in their Afton shop. She has a big following in the Iron Man community as she knows sports and sports injuries. She's currently in grad school with plans to offer acupuncture and Chinese treatments in the future as well.
When Sarah and Bjorn started dating, they talked about their dream to have a bike shop, coffee shop and massage spa.
Bjorn said, "In our world, these three things go so well together, the trifecta. It's great that we have a space we can share this with people in the community."
Velo du Nord (which means bike of the north) opened on Jan 4, 2019.
"We're trying to grow organically and slowly at the pace we feel we're able to sustain. We don't want to get ahead of ourselves. We want to focus on quality. That's what matters to us. Word-of-mouth has been the only marketing we've been doing.
"We're a two-man show and one of us is in grad school and we have a baby. We only do the hours we feel we can do. Now we're getting some momentum."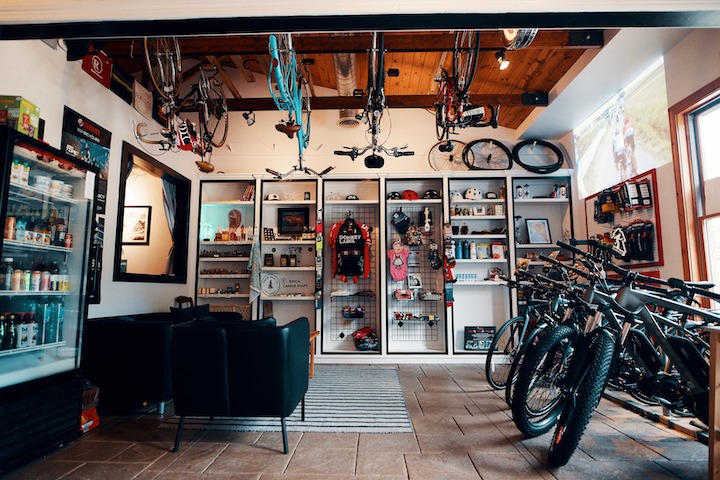 "This whole year has really been an experiment. We're listening to the needs of the people who come in. Eventually we'll have more inventory, but now we can special order an item and have in the store the next day."
What Velo du Nord Offers Its Customers
The Coffee
The coffee bar is definitely what brings people in the door. Bjorn said, "Our friends at Dogwood Coffee Co. supply us with amazing bean options for expresso drinks, pour-overs and cold brew."
There's a couch to relax, a couple of tables, free wifi and a homey atmosphere. Bjorn said, "We want you to feel at home. Come in, slow down. Give yourself some time."
The Waffles
When Bjorn and Sarah bought the business and building they're in, that included their friend's secret Liege waffle recipe. They've gotten so popular, they're running out of them many weekends. Bjorn explains:
"Liege waffles—named after a region in Belgium—are different than the Brussels waffles. Liege waffles are very flavorful and you don't even need toppings. They're sweet already. In Belgium you eat them with your hand, with or without toppings (we give people forks!). We offer powdered sugar, whipped cream, Nutella. During the Strawberry Festival we made a strawberry compote to serve with them."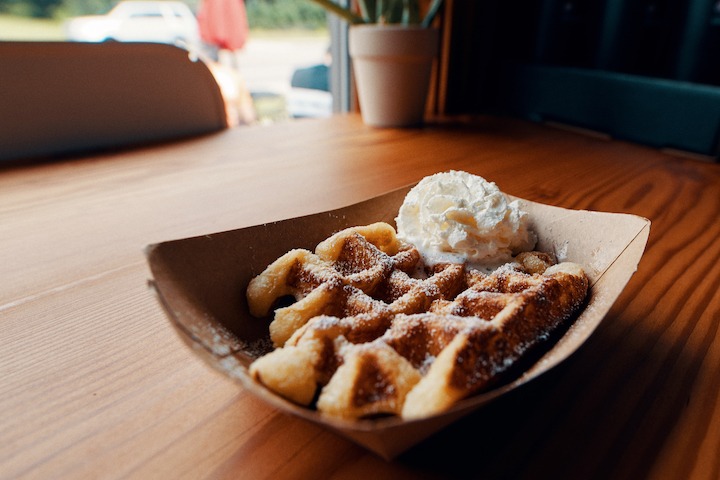 The waffles are made fresh each day the coffee shop is open. It's started to be a big draw, with people coming in because they've heard "you have good waffles!"
The Bike Shop
Once people come in their door, they realize it's also a bike shop. Bjorn calls their area a cycling haven. The river valley is an amazing place for training. "With both sides of the river you can have 6,000 feet of climbing in a few hours if you want it. There's lots of up and down and hard riding."
There's also beautiful bike trails for the average biker in their area, including Afton State Park, just a few miles away.
"We're here for the people who are out riding. A place to stop and fill up your water bottle. Get a coffee, have a waffle, get a cold drink. Repair stuff if you're having issues with your bike. We're here to help as much as you can.
"We like the racers, who want to improve. I love the families coming in. We're here for anybody who shares our passion for biking or who wants to get into it."
They carry Kona, Ridley, Yamaha and Bingham BUILT custom titanium and some used bikes for sale and rent. Whatever type of bicycle you're looking for—road, mountain, gravel, electric—they'll help you find the right one for your needs.
They carry standard, titanium and electric bikes in the shop, and every bike that's available to rent is also available to buy.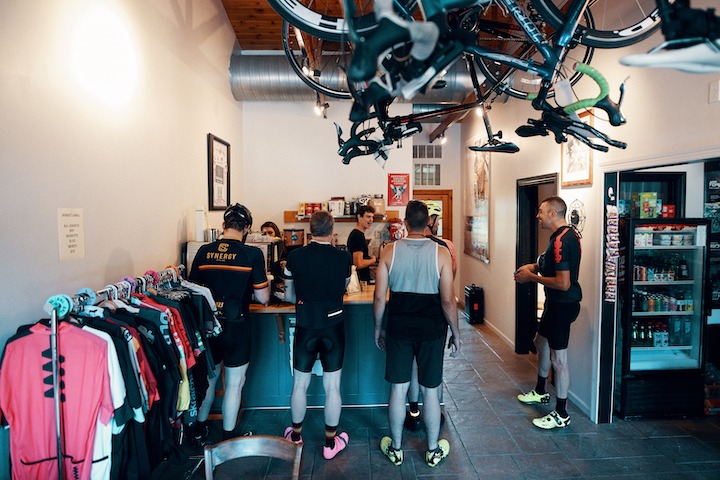 The Massage Center
Sarah is a certified massage therapist and bodyworker with ten years of experience behind her. She has a wide range of options for her clients including both light and deep massage and several types of Eastern methods.
Once she's through with her grad school training she'll incorporate new treatments as well. She welcomes all types of clients, including athletes and pregnant moms.
Velo du Nord's Hours
So far the coffee and rental shop has been open Thursday-Sunday, but Bjorn warns they may change at times. Check their website homepage before making your plans to head over!
Coffee, waffles and bike rentals are available anytime they're open (assuming they haven't run out of waffles).
Bike tours and coaching with Bjorn and massages with Sarah are by appointment only. Again, go to the website for details on how to contact them.
How to Get There
Velo du Nord is right in downtown Afton, at 3291 St. Croix Trail South.
(All photos by Joe Lemke Photography and courtesy of Velo du Nord)
Here's more…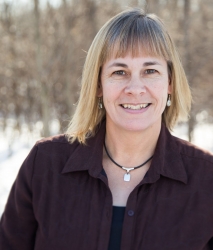 Latest posts by Sharon Brodin
(see all)