Brand New for 2020: Twin Cities Outdoors Guides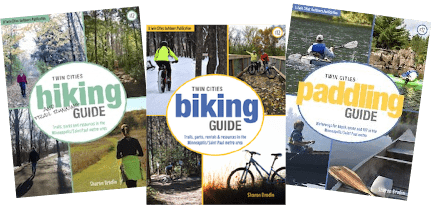 Twin Cities Hiking & Trail Running Guide, Twin Cities Biking Guide and Twin Cities Paddling Guide are the easiest way for you to find our local parks, trails and waterways
The first in our series of Twin Cities Guides, the Hiking, Biking and Paddling Guides are your easiest-to-use resources for getting outside to hike, run and bike in our local area.
Each of these digital Guide covers all 7 counties in the Twin Cities metro: Anoka, Carver, Dakota, Hennepin, Ramsey, Scott and Washington. State, regional and county parks and trails are all included.
Besides an overview of these parks and trails, each Guide includes activity-specific extras, all collected in one place for your ultimate convenience…
For hikers and runners:
Dog-friendly parks and trails
Natural-surface trails in our area
Winter hiking and running trails
Hiker-friendly local campgrounds
Best local trails for long runs
For bikers:
County overview maps of parks and trails
Local bike retailers that also rent bikes
Fat bike and mountain bike parks and trails
Trails for winter biking
The best bike trails for families with young children
Local campgrounds that are bike-friendly
For paddlers:
State, regional and county parks with a public access on lakes or rivers
Local lake chains
Best local campgrounds for paddlers
Canoe campsites in the metro area
Local state and regional river trails
Resources for rentals, outfitters and paddling skills courses
And more!
Each guide provides live links to online maps, PDF maps and other resources. The Table of Contents is also live-linked for easy scrolling.
Buy two or all three together and save!
Follow these three easy steps:
Buy one (or more) of our new Guides
Download your copy (or copies)
Get out on the trails, in the parks and on the waterways!!