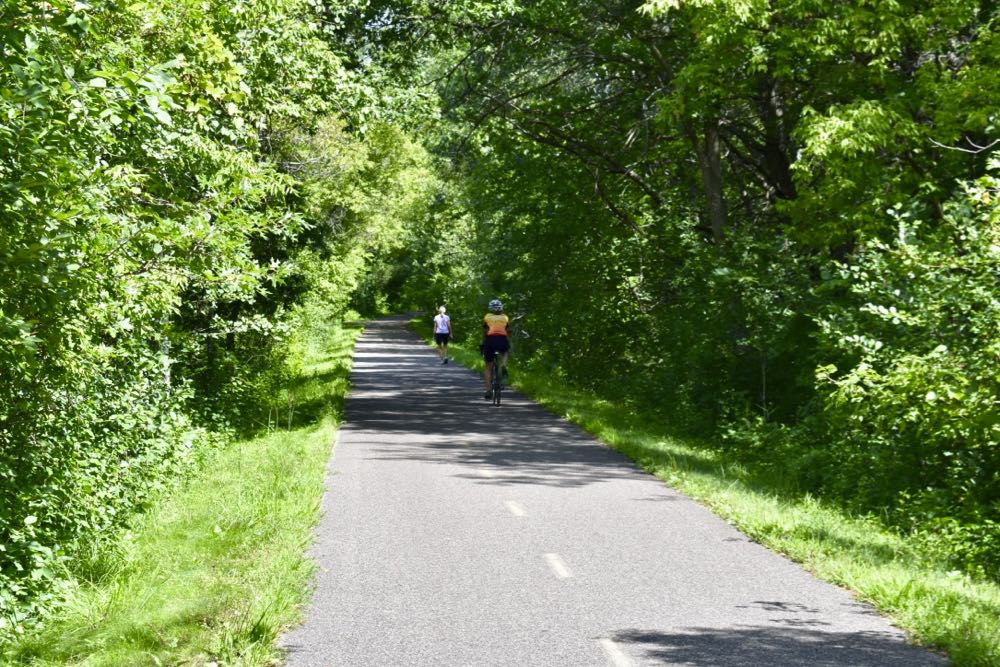 Washington County hosts a couple of the state bike trails as well as some bike trails in a few of the regional parks. There isn't the mileage as in some of the other metro counties, but if you're into hills, there are some doozies thanks to the St. Croix River valley area.
Washington County's parks brochure has additional information beyond the Park & Rec website.
You'll need a daily or annual parking pass for the state and regional parks and reserves.
Big Marine Park Reserve (Marine on St. Croix)
Biking in Big Marine will appeal to families with children or those out for a short ride. The paved trail isn't long, so you could easily meander along it, including by the lake, for as long as you wanted.
There's a playground and swimming beach there, too, so would be a great summer afternoon spot for various activities. Here's the map.
Brown's Creek State Trail (Grant to Stillwater)
Lovely 6-mile Brown's Creek State Trail is a multi-use paved trail. There's a horse trail that parallels closely along part of it so be aware of who's around you. The eastern-most mile runs along the St. Croix River with gorgeous views. It connects to the Gateway State Trail in Grant. Here's the map.
Brown's Creek is open during the winter, but not groomed. The website doesn't say whether fat bikes are welcome. It gets use from winter hikers, snowshoers and skiers.
Cottage Grove Ravine Regional Park (Cottage Grove)
Cottage Grove Ravine is a little over 500 acres of hills, woods and prairie. Bikes are welcome on the 4 miles of paved multi-use trails. These same trails are packed in the winter and open to fat tire biking along with hiking and skijoring. Here's the summer map. Here's the winter map.
Gateway State Trail (St. Paul, Maplewood, North St. Paul, Oakdale)
The Gateway State Trail is an 18-mile multi-use paved trail that starts in Pine Point Regional Park and runs southwest into Ramsey County. It offers a variety of landscape from urban to forest to rural. It isn't maintained during the winter months. Here's the map.
Lake Elmo Park Reserve (Lake Elmo)
Lake Elmo has 2,165 acres of preserved rolling hills, forest and prairie. There are over 20 miles of unpaved multi-use trails, great for mountain biking. You'll potentially share the trails with hikers and horses, so be aware!
There are also paved trails, mostly along the park's road, with undetermined mileage. Here's the summer map. It's a tad confusing about which is hiking-only and which is multi-purpose since the same colors are used. But there's plenty to go around, certainly.
This winter map of the park doesn't have any trails designated for bikers. It could just need updating (?).
Pine Point Regional Park (Stillwater)
Pine Point is the eastern trailhead for the Gateway State Trail. Start here and head west for this paved multi-use 18-mile trail. Or head east for an unpaved trail.
There's just over a mile of an unpaved loop for bikers and hikers on the east side of Norell Ave/Highway 55. Here's the summer map.
That same trail is open to fat tire bikers and hikers during the winter. The Gateway State Trail isn't maintained, but is probably bikeable at times. Here's the winter map.
William O'Brien State Park (Marine on St. Croix)
William O'Brien, a wonderful destination for hiking and skiing, isn't so much a biker's destination. There's a 1.5-mile paved trail open to biking, but that's about it.
If you're going to camp at William O'Brien, then it'd be worth it to bring your bike(s). Families with children, especially, will enjoy biking the campground roads and the paved trail. Here's the summer map.
---
Other Resources: